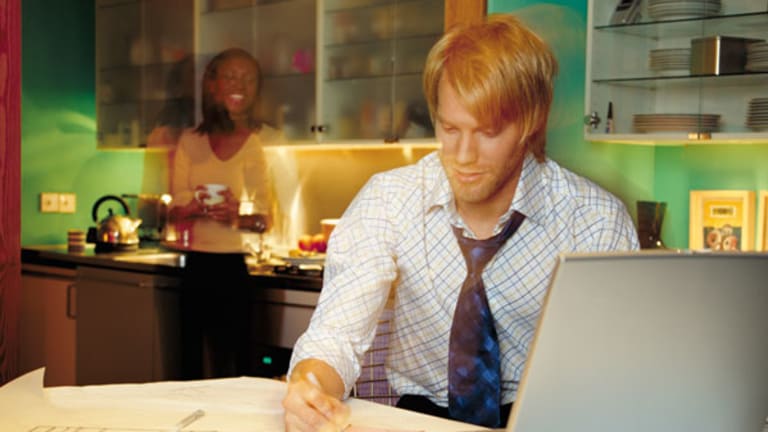 RIM's Up, Still on the Ropes
The BlackBerry maker withstands lawsuits and rivals, but the Street is looking for long-term survival.
The bear case on
Research In Motion
(RIMM)
has been that the company was going to falter because of a one-two punch.
While critically distracted by a long-running patent dispute, the BlackBerry maker was going to get hit with serious competition for the first time, bears predicted.
But the patent case is over, and the competition is here. Although the market is already betting against RIM -- the company's shares are well off their highs and down 15% over the last year -- the match is still in the early rounds, and the scorecards aren't yet in.
What is certain is that rivals such as
Motorola
(MOT)
and
Nokia
(NOK) - Get Nokia Corporation Sponsored American Depositary Shares Report
on the hardware side, and
Microsoft
(MSFT) - Get Microsoft Corporation Report
on the software side, didn't deliver a knockout blow to RIM.
What's still up in the air is whether the competition has landed -- or will land -- any big punches.
RIM's rivals "had great opportunity" during the patent suit to put the BlackBerry maker on the mat but failed to do so, notes Randy Giusto, who covers the wireless-email sector as group vice president at industry researcher IDC.
"It doesn't mean it's a bad opportunity now," says Giusto. "They
just missed the sweet spot."
Investors will get to see some of the early results on Thursday when both RIM and
Palm
(PALM)
, another one of its hardware rivals, release their latest quarterly reports. RIM's report will cover the first quarter after its
settlement with NTP in the patent dispute.
Following the company's lead, analysts have predicted that Waterloo, Ontario-based RIM will post a less-than-stellar quarter. The consensus, according to Thomson First Call, is for earnings of 65 cents a share on sales of $602.1 million.
RIM
forecast in April that it would earn 60 cents to 65 cents a share in its first quarter on sales ranging from $580 million to $610 million.
To view Street Insight's video preview of Research In Motion, please click here
.
That was far below analysts' targets at the time and would mark a decline on the bottom line from the prior year's results when the company earned $132.5 million, or 67 cents a share, on $453.9 million in sales.
But the sell side, at least, is much more bullish on the company's future prospects. Analysts have predicted that RIM will earn $3.03 a share on $2.64 billion in sales this year, up from $382.1 million, or $1.96 a share, on $2.07 billion in revenue in its prior year.
Analysts are similarly optimistic about Palm. They forecast that the company will earn 23 cents a share in its just-completed fourth quarter on sales of $401.8 million, according to Thomson First Call.
In the same quarter a year ago, the company earned $17.7 million, or 18 cents a split-adjusted share, on $335.8 million in sales.
For the coming year, analysts expect Palm to earn $1.03 a share on sales of $1.83 billion, up from an expected 85 cents a share on sales of $1.58 billion in its just-completed year.
Regardless of the short-term results, some analysts believe the outcome of the mobile-email battle won't be clear for another year or more as the market expands from the niche product it is today to the mass market.
If RIM does a good job of tapping into the mass market, "they will make sure that they are a long-term survivor," says Ken Dulaney, vice president of mobile computing at industry research firm Gartner.
"If they don't, they will be around for a bit, but they will be
a niche player, and those companies tend to fade out," he said.
The key for RIM is going to be how it does on hardware, says Dulaney. The company, which earns 70% of its revenue from sales of devices, has been attempting to expand its lineup from its traditional pagers to devices that look and feel more like phones.
The problem is that's where the competition is heading, too. In recent months, industry heavyweights Nokia and Motorola have introduced high-profile smartphones, multifunction devices that offer wireless email on a phone-shaped device.
Motorola's Q smartphone was long-awaited, and with its thin size looked to build on the success the company has had with its Razr flip-phones.
Meanwhile, Palm, whose Treos basically created the smartphone category, has rolled out a new version based on the Palm OS, long a favorite with the company's handheld-computer fans.
Thus far, RIM's success has come from selling devices and services to the enterprise market. But the growth in the wireless-email market is going to come from sales to consumers, small-business users and independent professionals, analysts say.
Motorola, Nokia and other big cell-phone makers have dominated the consumer segment, while Palm has had some success with the "pro-sumer" market. In order to stay in the fight, RIM's going to have to crack one or both of those areas, analysts say.
"They live and die by their hardware," says Dulaney. "If someone beats them on the hardware, that's potentially trouble."
But it will take a while for mobile email to hit the mass market. Right now, the devices and services are too expensive for the bulk of consumers, analysts say. But that will change in coming years.
RIM's advantage has been that it offers a highly secure, integrated solution, which has appealed to the niche markets that have adopted wireless email today: government users, financial services firms and sales organizations, says Giusto.
But future mobile-email users likely won't demand the high level of security RIM offers -- or be willing to pay for it, he says. "Their position gets challenged," he adds.
But don't count on RIM being out just yet.