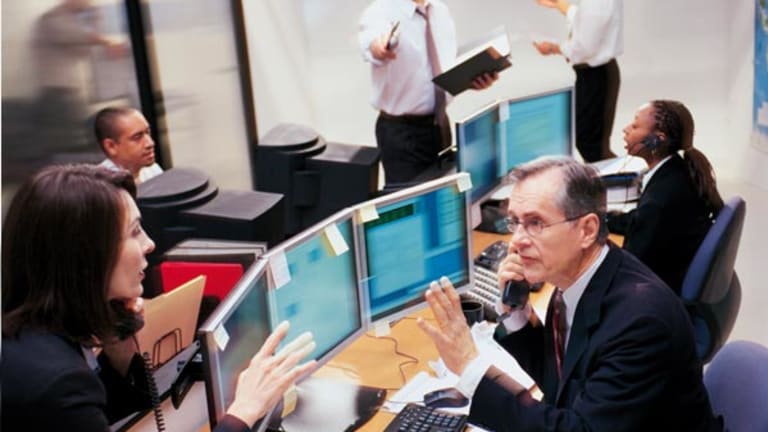 RIM's Board: Asleep at the Switch
RIM's board of directors is rightly called out for not doing its job.
This is a free preview of commentary that appeared early Dec. 28 on Real Money -- the premium service that hands out investment strategies from veteran Wall Street pros. Read it first, at Real Money. Learn how >>
NEW YORK (
) --
The Wall Street Journal
turned its eye on
Research In Motion's
(RIMM)
board of directors yesterday.
It's about time someone did.
When a company loses 75% of its market capitalization in a year, it's important to ask the question, "Who let this happen?"
The co-CEOs of RIM are justifiably targeted for the company's failures, but, ultimately, the board has the responsibility of hiring and firing the CEO(s).
RIM's board -- like most boards out there -- is handpicked by the CEO. Here's how I believe Jim Balsillie and Mike Lazaridis focused on assembling their board:
Keep the Chairman title. Following the 2005-2006 stock option back-dating scandal, Jim Balsillie -- who had been Chairman -- was forced to drop this title for a six-month period. At the time, it seemed like he might seek out someone new to be the Chairman. But, at the end of the six months -- surprise! -- Balsillie thought the best thing to do for the company would be for him to take back the title of Chairman, along with Lazaridis. Thus, the company would have co-CEOs and co-Chairmen.
Name a "Lead Director" just to keep the corporate governance gadflies away from the door. If you're going to refuse to budge on really giving up some kind of board control by relinquishing the Chairman title, it's important to present the appearance that you are truly pro-good governance. In RIM's case, a 78-year-old insurance executive named John Richardson was named as the lead director. What is a lead director? No one knows, but it sounds like someone who has all the power of a Chairman without actually being a Chairman, which, thus, gives him truly none of the power of a Chairman. Pick an older person: check. Pick someone who doesn't have a clue how the mobile device business works based on his career background: check. Pick someone who has been on the board the longest and is most deferential to Jim and Mike: check. Can you imagine sitting down with RIM's lead director to ask him what he thinks of the new QNX phones? I try to picture asking my 81 year-old father that question and I chuckle.
>>Learn more about Real Money here.
Call seven of the nine directors on the board "independent" -- which seems to be code for, "They truly know nothing about the industry to be able to challenge Jim and Mike about their obtuse strategy."
Appoint "big-name" business executives who are well known in Canada to the board. Roger Martin is the Dean of the Business School at the University of Toronto, which makes millions each year certifying corporate directors as being qualified to provide sufficiently independent-minded directors to challenge CEOs and executives on their boards. What did the dean do in his role as director at RIM? Another director is Barbara Stymiest who is the former head of the Toronto Stock Exchange and former Chief Operating Officer and former Group Head, Strategy, Treasury and Corporate Services at the Royal Bank of Canada. She likely will want to serve on at least a dozen boards in the future. But, why should anyone hire Martin or Stymiest to be on another board based on their being asleep at the switch while at RIM?
When someone challenges the co-Chairmen and co-CEO structure, agree to study the proposed challenges for six months in order to buy time.
When someone says the co-CEOs need to be replaced, set their annual cash salaries to $1, even though they are still close to billionaire status.
Of course, RIM's board was handpicked and in place to do the bidding of the co-CEOs who invited them to be a member of the board in the first place. This is true of every board.
Hopefully, these directors will suffer damage to their reputations and not be asked on future boards. This is the only way we can get the attention of other rubber-stamping directors and finally get them to do their jobs.
At the time of publication, Jackson held no positions in any securities mentioned.
Eric Jackson is founder and Managing Member of Ironfire Capital and the general partner and investment manager of Ironfire Capital US Fund LP and Ironfire Capital International Fund, Ltd. In January 2007, Jackson started the world's first Internet-based campaign to increase shareholder value at Yahoo!, leading to a change in CEOs in 2007. He also spoke out in favor of Yahoo!'s accepting Microsoft's buyout offer in 2008. Global Proxy Watch named Jackson as one of its 10 "Stars" who positively influenced international corporate governance and shareowner value in 2007.
Prior to founding Ironfire Capital, Jackson was President and CEO of Jackson Leadership Systems, Inc., a leadership, strategy, and governance consulting firm. He completed his Ph.D. in the Management Department at the Columbia University Graduate School of Business in New York, with a specialization in Strategic Management and Corporate Governance, and holds a B.A. from McGill University.
He was previously Vice President of Strategy and Business Development at VoiceGenie Technologies, a software firm now owned by Alcatel-Lucent. In 2004, Jackson founded the Young Patrons' Circle at the Royal Ontario Museum in Toronto, which is now the second-largest social and philanthropic group of its kind in North America, raising $500,000 annually for the museum. You can follow Jackson on Twitter at www.twitter.com/ericjackson or @ericjackson.
You can contact Eric by emailing him at eric.jackson@thestreet.com.