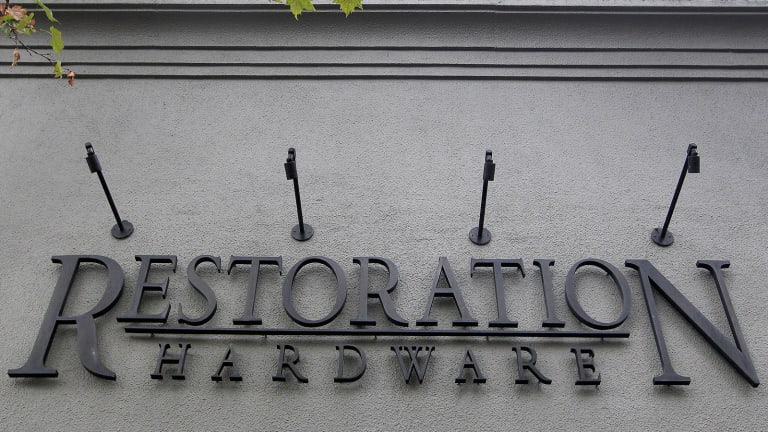 RH Stock's Wild Ride
Keep in mind that this name is highly exposed to China.
RH (RH) - Get Report , formerly known as Restoration Hardware, will report the firm's quarterly (Q3) results after this evening's closing bell, instead of after tomorrow's close as domestic financial markets will close on Wednesday in respect to the passing of former President George H.W. Bush. Projections are for EPS of $1.27 on revenue just above $637 million. Whispers are running considerably above both of those "consensus" expectations.
What a wild ride. This name, at least as of Friday afternoon's closing bell, remains about 30% off it's 2018 highs, and roughly 54% above the stock's 2018 lows. In addition, this stock is up about 35% year to date, has survived an apparent triple bottom in the $103 neighborhood, hit resistance at a precises 50% retracement off of that support from the yearly highs, all while inching toward the possibility of a technical death cross. Gee whiz.
Keep in mind that this name is highly exposed to China. While I see this stock as mildly undervalued, I can not in any certain terms guess how the share price will respond to tonight's numbers much less a 90 day truce in the trade war. About all I feel comfortable with is that this stock will not flat-line. In other words, it is probably a safe bet that the stock will not be trading at $116 in three months, or even one week. That's why as Friday drained into it's final seconds a straddle around that price expiring this coming Friday would still cost the trader a rough $20. Too much in my opinion to move risk reward in this trader's favor, yet not enough to make the sale.
My thought is that the safer money will be made through the purchase of either a bull call or bear put spread. My instinct is that the move goes higher. No promises. If I can get long a bull call spread with strike prices that span ten bucks to the upside from the last sale expiring this Friday, for a net debit of less than five dollars (preferably closer to four), I think I go that route. If I can not, then I take a hike. Rock on.
(A longer version of this column appeared at 8:01 a.m. ET on Real Money, our premium site for active traders. Click here to get great columns like this from Stephen "Sarge" Guilfoyle, Jim Cramer and other experts throughout the market day.)
At the time of publication, Stephen Guilfoyle had no position in the securities mentioned.