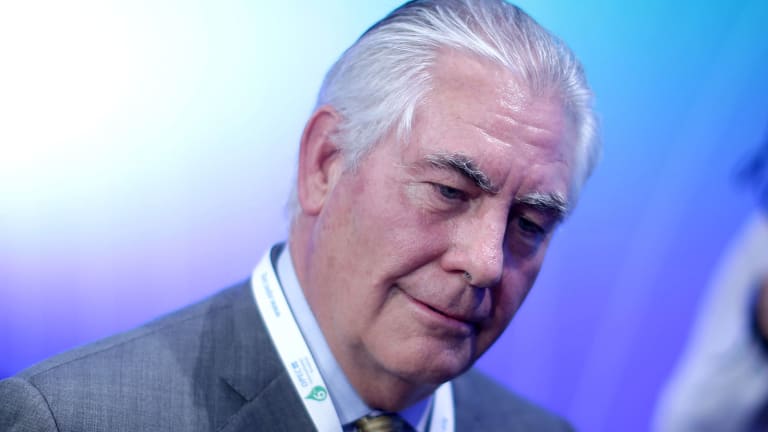 Rex Tillerson Out as Secretary of State Amid Clashes With Trump
CIA Director Mike Pompeo is set to replace Tillerson.
Rex Tillerson is leaving his role as secretary of state in the Trump White House, the president announced Tuesday, March 13. 
President Donald Trump took to Twitter to announce the change, adding that CIA Director Mike Pompeo has been nominated to replace Tillerson in the high-level position. Deputy CIA director Gina Haspel has been nominated to become the new CIA director, making her the first woman to ever hold the position if confirmed, Trump noted.
 Tillerson became the secretary of state in February 2017. Since then, Tillerson's State Department has clashed with the Trump agenda on multiple major issues, including the threat of a nuclear power battle with North Korea.
The major change comes as President Trump is preparing for possible talks with North Korean leader Kim Jong Un and upcoming trade negotiations. 
"I've worked with Mike Pompeo now for quite some time," Trump told reporters at the White House Tuesday. "Tremendous energy, tremendous intellect. We're always on the same wavelength. The relationship has always been very good and that's what I need in a secretary of state."
"I really am at the point where I am getting close to having the cabinet and other things I want," Trump said. 
When asked about Tillerson's knowledge of the changes, Trump said that he and the former secretary of state had been "talking about this for a long time." He pointed to the Iran deal as one of the two men's divergences in thought. 
"I think Rex will be much happier now," Trump added. "I really appreciate his service, but with Mike, we had a very good chemistry right from the beginning."
Following the announcement, U.S. stocks remained in positive territory just after the market open.