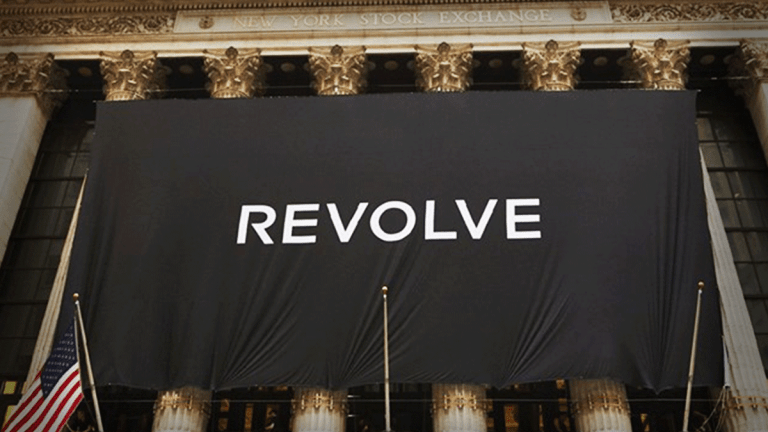 Revolve Jumps on a Slew of Bullish Notes
Revolve is given a buy rating by eight analysts who are bullish on the company's influencer marketing strategy.
Shares of online apparel retailer Revolve (RVLV)  were rising more than 8% Tuesday to $35.46 after the company, which went public recently, received a slew of analyst upgrades from Wall Street research firms.
The Cerritos, Calif.-based company was the subject of nine different initiations, with eight buy ratings and one hold rating. Barclays analyst Ross Sandler was the lone holdout, with an equal-weight rating and $32 price target. 
Analysts at Cowen initiated the stock with an outperform rating and $42 price target. 
"Cowen's national survey finds that 1/3 of RVLV shoppers shop for clothes every day, and that these shoppers prioritize fashion and trendiness. Customers are highly engaged on social media and the REVOLVE platform directly. Our survey suggests high customer satisfaction with 95% of shoppers likely to recommend REVOLVE to a friend," Cowen analyst Oliver Chen wrote.
Jefferies analyst Randal Konik issued a buy rating and a Wall Street-high price target of $60, saying that he sees Revolve's growth story and share gains "in the first inning."
Guggenheim analyst Robert Drbul rated the stock as a buy with a $50 price target. Drbul believes that Revolve can achieve 20% revenue growth with increasing profitability. 
William Blair analyst Ralph Schackart gave Revolve an outperform rating with no price target while Raymond James analyst Aaron Kessler also gave the stock an outperform rating and $40 price target.