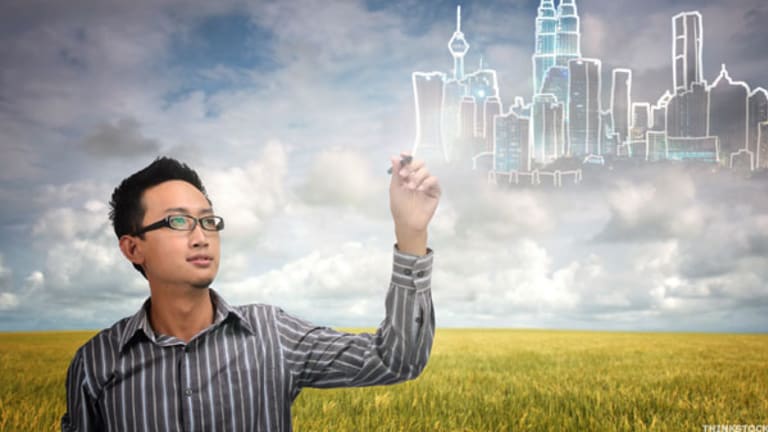 Reversal of FortuNet
After a summer slump, shares soar on the expected approval of handheld gaming devices.
Shares of
FortuNet
(FNET)
have been on a tear over the past week as investors bet that regulators are moving faster toward approval of the company's mobile gambling devices for casinos.
The company, a small-cap gaming-machine maker that went public earlier this year, won approval last week from Nevada's Gaming Control Board for an administrative license to operate the handheld gadget. Next week, the state's gaming commission is expected to grant final administrative approval for the company to become an operator of the devices.
Since last week's initial approval, the stock has more than doubled to around $16.
The shares have been on a rollercoaster ride since FortuNet's initial public offering in January. The company's IPO priced at $9, and shares soared to a high of $25.95 in May. But in late August, the stock sank below $7 as the market feared that Nevada regulators were moving slower than expected toward approving FortuNet's laptop computer-like gaming device.
FortuNet's recent jump could be a classic case of a short squeeze. In August, 20% of the stock's float was held short, representing eight days to cover.
Nevada legislators approved the use of mobile gaming in casinos in the summer of 2005, and the state's gaming commission adopted the final regulations earlier this year.
One key issue is that FortuNet still hasn't received regulators' approval for the actual gaming device; last week's preliminary approval only applied to the operation of the wireless system.
John Roy, an analyst with WR Hambrecht, expects approval of the device by the first quarter.
"There are 800,000 slot machines in the U.S., so it's a pretty big market to head into. So if it works, this is going to be a big deal," says Roy, who rates FortuNet a buy with a $30 price target. WR Hambrecht makes a market in the stock and provides investment banking services to the company.
In the long term, handheld personal electronic slot-machine devices could replace some of the traditional ones. Currently, a standard slot machine might cost a casino $10,000 to $12,000, while the handhelds will cost about $5,500, Roy says.
In the near term, the devices might be offered as supplemental gaming options that could allow a person to play blackjack on the device while drinking at the casino's lounge or hanging out by the pool.
Regulators are requiring that the devices can only be used within sight of the casino's surveillance cameras, so gamblers won't be able to play in their hotel rooms.
If FortuNet gets approval for its device in the first quarter, the company could grab $99.2 million of casino business revenue next year, plus another $17.2 million in revenue from electronic bingo, Roy says. This year, all of the company's projected $16.1 million of revenue will come from its mobile electronic bingo device, which allows casino operators like
Station Casinos
(STN) - Get Stantec Inc Report
to operate virtual bingo halls.
The gambling device will use the same hardware as the bingo device, but different software. So technically, once FortuNet gets approval from regulators, the company can simply flip a switch a get gambling technology on Station's and other casinos' bingo devices.
Nevada regulators are also currently weighing mobile gaming proposals by
International Game Technology
(IGT) - Get International Game Technology PLC Report
and Cantor Fitzgerald, which already offers wireless sports betting in the United Kingdom.
Roy says FortuNet has a leg up on its competitors because its device is the only one already being tested in the labs by gaming regulators. Next up would be field tests.
FortuNet's product is a tablet, laptop-size PC whose larger screen could be particularly popular for elderly people who are the biggest slot machine demographic.
Cantor is working with a handheld PDA-type device. IGT, the world's largest casino equipment supplier, has yet to announce its product.