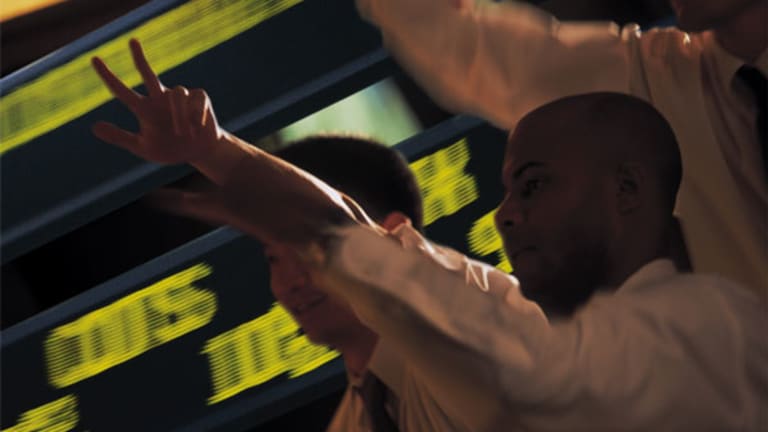 Rev Shark: Not Time to Be Trusting
If you combine the technical picture with the European uncertainty there's good reason to remain cautious.
Trusting too much to others' care is the ruin of many. -- Benjamin Franklin
The market has been making a much better upside effort this week, but the big picture remains troubled and we shouldn't be too trusting it will continue.
The
S&P 500
has managed a positive, although small, gain each day this week and we have finished near the highs three of four days for the first time since we topped out in late April. It is a nice change of pace to see some underlying support after a couple weeks of straight-down action and poor finishes.
The big question is whether this is an indication that the market has made an intermediate low and is now working to generate some sustained upside momentum. Unfortunately, the bounce we've seen this week just isn't convincing enough for us to proclaim that the worst is over. In fact, this bounce has the look of a routine countertrend move that is unlikely to last. We have worked off some of the oversold conditions and have tempered the extreme negativity that has been building, but there is no technical reason to believe that it is clear sailing to the upside from here.
It is understandable that the bulls are feeling better after the action this week since it had been so miserable recently. But you really have to be an optimist to believe we are going to see another one of those V-shaped moves and continue to go straight up.
The biggest headwind right now is the lack of clarity in Europe. We have some news every day about whether Greece is going to come or go and what the rescue plans might be and who is next in line and so on and so forth, but nothing is really certain. In fact, the only certainty out of Europe in recent months is that their plans are useless.
There definitely is the potential of a sharp rally on some positive European news, but given the complexity of the problems it is extremely unlikely that a fix for all the issues will suddenly be announced and embraced.
If you combine the technical picture with the European uncertainty there is good reason to remain cautious. The bears are counting on this recent bounce to fizzle and another leg down to develop as the Greek and other sovereign debt issues persist and the trapped bulls look for an exit into strength.
While the big picture demands caution, it is a holiday Friday and trading is likely to be very slow and random. There is no reason to expect that this week's bounce will reverse today. In fact it may entice some bulls with extra cash to keep pushing a bit, but there really is no reason to be very trusting at all.
If you want to trade this market, stay very short term and make sure you keep stops tight and are ready to hit the eject button at the first sign of trouble. I'd love to tell you that the bottom is in and it is time to load up for the big recovery, but there simply is no compelling evidence that is the case.
James "Rev Shark" DePorre is the author of
Invest Like a Shark: How a Deaf Guy with No Job and Limited Capital made a Fortune Investing in the Stock Market
. He is founder and CEO of Shark Asset Management, an investment management firm, and he also operates
sharkinvesting.com, an interactive online community that serves and educates active investors. DePorre holds business and law degrees from the University of Michigan, is a member of the Michigan Bar Association and a former tax attorney and CPA. He lives in Anna Maria Island, Fla., with his wife and two children. Under no circumstances does the information in this column represent a recommendation to buy or sell stocks. Rev Shark appreciates your feedback;
.