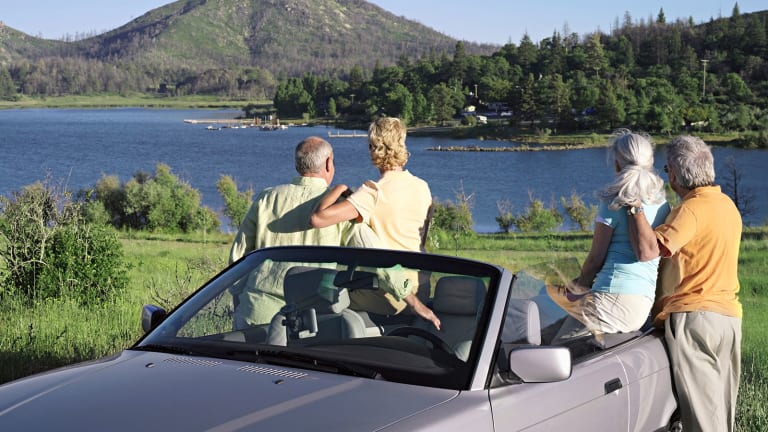 Retirement Replaces Home Ownership in the 'American Dream' of a Better Life
A healthy retirement now beats home ownership as the key piece of the American dream though achieving it may be tough, according to a Wells Fargo/Gallup poll.
NEW YORK (TheStreet) -- Most people still believe they can achieve the American dream, even after slow employment growth following a harsh recession, but many now define it as having a comfortable retirement rather than owning a home.
About 96% of people responding to a Wells Fargo/Gallup poll conducted at the end of May cited a financially secure retirement as their version of the American dream. That's an increase from 92% a year ago, and higher than the 93% of people who identified success as buying a home. The poll surveyed a mix of retired (28%) and non-retired (72%) adults with at least $10,000 in savings and investments. Forty-one percent of respondents reported an annual income of $90,000 or more.
The exact definition of the American dream has changed somewhat since the term was popularized in James Truslow Adams' 1931 book The Epic of America. In it, he wrote: "The American Dream is that dream of a land in which life should be better and richer and fuller for everyone, with opportunity for each according to ability or achievement."
Since then, social and economic mobility have generally been associated with such markers as owning a home, attaining higher education, and living as well as -- if not better than -- one's parents. Specifying a comfortable retirement as part of that goal wasn't necessary in previous years as many retirees were almost guaranteed one via their employer's pension plans. As 401(k)s became more the more popular employer-sponsored retirement plan following the Revenue Act of 1978, workers increasingly found themselves on the hook for ensuring that they had enough money to last them through old age.
"There has been a rapid, systemic shift in risk and responsibility from the government to the individual in managing retirement," said Andrew Eschtruth, an associate director at Boston College's Center for Retirement Research. "Most individuals don't yet fully grasp this change."
In fact, data from the center pinpoints when that shift occurred. In 1983, of workers surveyed who had access to an employer-sponsored retirement plan, 62% were relying solely on a pension plan, 12% were relying on a 401(k) plan, and 26% were relying on a mix of the two. Less than ten years later, in 1992, workers were almost split in how they received their retirement benefits, with 44% citing a pension, 40% using a 401(k), and 16% relying on a mix. Today, 72% of employees rely on a 401(k), and only 17% rely on a pension.
While an encouraging 84% of respondents to Wells Fargo's poll said they believe they can achieve the American Dream, only 69% of non-retired respondents said they have a specific plan to reach their retirement goals. And, of the respondents with a plan, only half of them have it in writing.
Of course, a plan is only good if followed, but having one in writing suggests that risks and other contingencies have at least been considered. Those who do not have a written plan say they haven't had the time to create one (35%) or they haven't given it much thought (26%). Even so, written plans are hardly foolproof. Only 37% of those with a written financial plan are highly confident that it will ensure they reach their goals. 
"While the number of people with written plans is slowly trending higher, it's still less than half of investors. It is critical to have a financial plan in place that spans life's major milestones in order to reach your financial goals," said Mary Mack, President of Wells Fargo Advisors. 
Despite the seeming optimism Wells Fargo survey participants reported about achieving the American Dream, there are reasons to be less sanguine. The 401(k) generation is just starting to retire and data from the Boston College center suggests that they may not have saved enough. Of workers aged 55-64 with 401(k) accounts, the combined balance is just over $100,000, which only offers about $400 a month, according to Eschtruth. For most people, $400 a month combined with social security may still not be enough to support them through retirement.
Workers need to save more to meet the demands of increasing life expectancy and rising healthcare costs before retiring, Eschtruth said. Unfortunately, workers who are near retirement age have had to do the last years of their retirement saving in a low interest-rate environment in which yields on traditionally safer investments lagged normal inflation rates. Workers have had to save more or invest in traditionally riskier assets to make up for the shortfall.
"The problem with retirement is twofold," Eschtruth said in an interview. "People need more and they expect less."