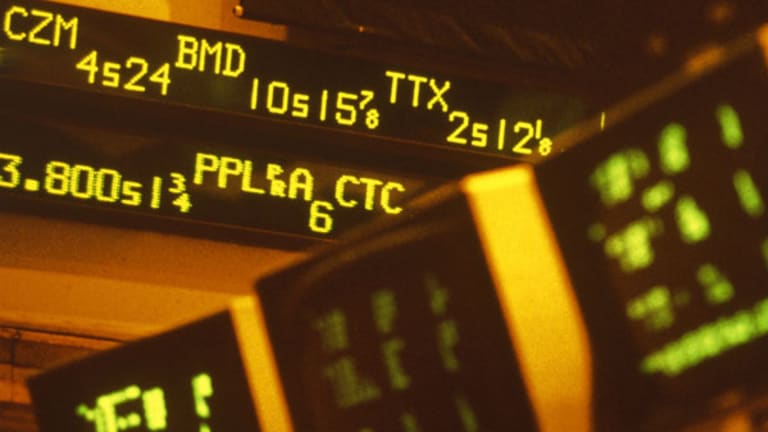 Retail Rocket Stocks for the Week
Home Depot, Saks and Costco head the list of major retailer reporting earnings this week.
By Jonas Elmerraji
A new set of economic numbers stand to buoy the markets this week after lackluster performance in stocks over the course of the last five trading days.
A strong proxy for the broad market, the
S&P 500
index tumbled nearly 4% during the second trading week in August -- a significant intra-week decline, to say the least.
Company fundamentals have largely improved this earnings season as widening margins improve profitability in spite of flat revenues for many firms. But those economic data points continue to plague the market, giving investors plenty of cause for concern.
This week, Thursday's jobless claims and leading indicators release should help give the market direction to finish the month.
In the mean time, we'll be turning toward the Rocket Stock plays to deliver performance in an otherwise sideways-churning market. For the uninitiated, Rocket Stocks are our weekly list of companies with short-term gain catalysts and longer-term growth potential. In the last 56 weeks, Rocket Stocks have outperformed the
S&P 500
by 51.32%.
This week, we'll be focusing on retail stocks set to announce earnings data this week. Here's
.
Despite fallout from the bursting of the housing bubble, retail home improvement firms like
Home Depot
(HD) - Get Home Depot Inc. (The) Report
finally look like it's in the midst of a recovery.
The company, which operates more than 2,000 stores in the U.S., has seen its shares struggle to keep up with the market since May, when increased volatility became prominent across equities. Still, if Home Depot can provide earnings surprise this week, this stock should finally get a chance to push in to positive territory for the year.
Home Depot has been working hard to re-shape its business in the face of a disastrous few years for the housing market and those who service it. As a result, management has revamped the firm's distribution network, sold off underperforming business segments, and developed more lucrative merchandising strategies to fix its woes. Those changes appear to be paying off as consumers ramp up their do-it-yourself home improvement projects in 2010.
With a long history of returning capital to shareholders, both in the form of share buybacks and a generous 3.46% dividend yield, this stock should continue to be a go-to option for investors who want exposure to a retail space that's in recovery mode. We'll get a better glimpse of Home Depot's recovery Tuesday, when management reports its second-quarter results.
Naturally, home improvement isn't the only industry that's seen tough times; upscale retailers like
Saks
(SKS)
have had an equally tough time performing post-2008 as cutbacks in consumer spending disproportionally hit aspirational shoppers who were once a major contributor to the store chain's top-line growth. But as consumer money starts to make its way back to stores, Saks' recovery is well under way.
Saks, which operates more than 50 luxury department stores as well as 55 outlet stores, has major equity in its 86-year old brand name. The company has wisely been leveraging that name abroad, tapping the lucrative, consumption-hungry new middle class emerging in China. Saks opened its first Chinese store in 2008, making it one of a limited number of U.S. luxury retailers to open its doors in China. Right now, the People's Republic promises the most enticing growth potential for the industry.
That's not to say that U.S. performance -- the bulk of Saks' business -- is expected to languish for the rest of 2010. Consumer dollars have been flowing into Saks' registers at an increasing pace, though we can most likely expect the increased volatility of 2010's second quarter to have a noticeable effects on top-line luxury spending. We'll get a full glimpse of the company's performance Tuesday.
While
BJ's Wholesale Club
competes with much larger companies in the club store business, this chain has significant economic tailwinds pushing its performance. In 2010 alone, shares are already up more than 30% on positive performance -- and they could be headed significantly higher if the company manages to pull off impressive performance this week.
Though
Costco
(COST) - Get Costco Wholesale Corporation Report
and
Sam's Club
(WMT) - Get Walmart Inc. Report
are the perennial giants in the club store business, BJ's is the league leader with respect to store size and the number of products on the shelves -- BJ's carries nearly twice as many SKUs as its more prevalent competitors.
A large chunk of those products are BJ's own private label offerings, which provide a bigger contribution to the company's bottom line than alternative offerings. And because the company's geographical footprint is markedly smaller than those of its competitors, the opportunity for sizable domestic growth is very real.
Last month, a private equity firm announced that it was holding a nearly 10% stake in BJ's, and was considering strategic options for the firm -- including the possibility of a going private transaction. That's a deal that could produce substantial gains for shareholders. Hopefully we'll hear more following the firm's earnings data this week.
For more stocks that made this week's cut, including
Target
(TGT) - Get Target Corporation Report
and
Lan Airlines
(LFL)
, check out the
at Stockpickr.
At the time of publication, Elmerraji held no positions in the stocks mentioned. Jonas Elmerraji is the editor and portfolio manager of the
Rhino Stock Report
, a free investment advisory that returned 15% in 2008. He is a contributor to numerous financial outlets, including
Forbes
and
Investopedia
, and has been featured in
Investor's Business Daily
, in
Consumer's Digest
and on
MSNBC.com
.