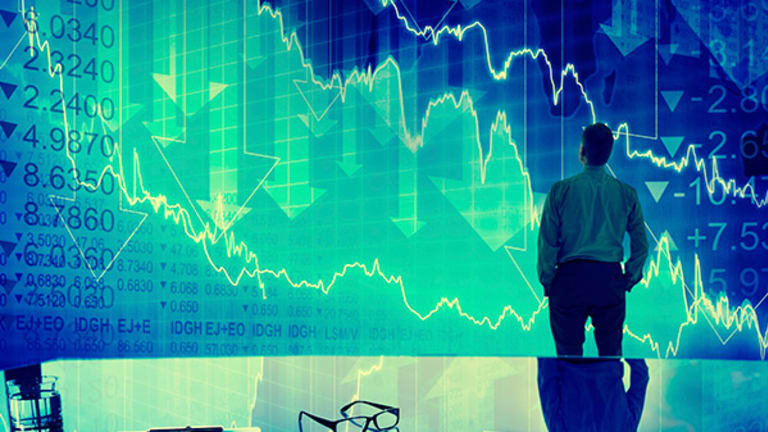 Publish date:
Remember 'Black Monday'? It Can Help You Gauge Recession Risk Now
One of the darkest days in Wall Street history, nearly 30 years ago, can help investors evaluate the odds of a recession in the U.S. today, a KBW researcher says.
One of the darkest days in Wall Street history, nearly 30 years ago, can help investors evaluate the odds of a recession in the U.S. today, a KBW researcher says.
A single day of panicked trading had just wiped out one-fifth of the U.S. market's value, a troubling reminder to investors of the stock market crash decades earlier that ushered in the Great Depression.
"The worst day ever on Wall Street," anchor Tom Brokaw proclaimed on the NBC Nightly News. "It is a day that will be in bold print in history books: Black Monday, Oct. 19, 1987, when the stock market went into a free fall, losing more in one day than it did on Black Tuesday in 1929."
A few days later, President Ronald Reagan dismissed the drop as a "long overdue correction" and said there was no reason it should lead to a recession. History proved him right: There was no recession, although it took more than a year for slow but relatively steady gains to push the markets back to pre-crash levels.
Investors may take some comfort from that, since the period is an apt analogy for what's happening in financial markets today and the potential effect on the U.S. economy, says Fred Cannon, head of research at investment banking firm Keefe, Bruyette & Woods.
While not optimal, perhaps, it's far more optimistic than 2008, the period when bad mortgage loans sparked a financial crisis that wiped out more than a third of the market's value and led to massive government bailouts of finance companies.
Consider that in 1987, Black Monday's 500-point drop took the Dow to a trough. It didn't sink that low again, and in fact, ended the year 2.3% higher than its 1986 close.
New Year's Eve 2008, on the other hand, saw the index 33% lower than the year before; it didn't match or top its 2007 close at 13,264 for another five years.
Unlike the fall of 1987, "we haven't had a big one-day move, but certainly the big drop since the beginning of the year" is reminiscent, Cannon said in a telephone interview.
It's common, he said, for investors to analyze a large drop in stock prices through the lens of the most recent similar event, but that can cause them to overlook large differences in underlying economic reality.
In 1987, he said, "what people were looking back to was the 1980-81 recession that had been extremely severe" and worrying about a recurrence. The period from December 2007 to June 2009 is the most recent slump today, and it's linked to the current stock-market slide by concern about the health of U.S. banks.
An slump of more than a year in oil prices, which have fallen about 68% from their most recent high to around $34, has eroded profits for producers and sparked concern that they may eventually be unable to repay loans taken out when prices were higher, threatening finance companies. 
"There's what I would call a mistaken fear that there's some kind of credit event on the horizon," said Cannon, joining a chorus of regulators, executives and analysts who have said U.S. banks are far stronger now than in the build-up to the financial crisis, thanks to years of increasing regulation intended to prevent another such event.
Loans to energy companies by the five megabanks from Citigroup (C) - Get Report  to JPMorgan Chase  (JPM) - Get Reportaccount for no more than 40% of common equity capital, a measure used by regulators to assess a finance company's strength, ratings firm Moody's has said.
Further, Cannon and others have noted, the oil- and gas-lending market is a fraction of the size of the mortgage market that played a pivotal role in the 2008 crisis. Lending standards then had loosened considerably as mortgages of widely varied credit quality were packaged into securities and sold, enabling primary lenders to book the profits without worrying about borrowers' ability to repay.
That pushed up demand for houses as well as prices; buyers could borrow money for a home, then refinance it or sell it after a few years when the price had gone up, boosting their personal wealth in the process. 
When the bubble collapsed, however, many of the riskiest borrowers found themselves owing more than their homes were worth and unable to make their payments or refinance. That made mortgage-backed securities impossible to value and crippled companies like Lehman Brothers that invested in large amounts of them.
Lehman's bankruptcy, in September 2008, precipitated a global crisis that prompted massive government bank bailouts and wiped out trillions of dollars in value. Homeowners alone saw the value of equity in their houses drop by $9.1 trillion between 2005 and 2011, according to a study by the Government Accountability Office. 
A key difference between that scenario and what's happening today is one of proportion. Total U.S. mortgage debt is about $12 trillion, while total oil and gas debt (not limited to bank lending) is $620 billion, Cannon noted.
"That's not a perfect comparison, but it does scale the the issues in a meaningful way," he said. "If energy is the mortgage issue of this downturn, it's not going to be the same as what the mortgage situation was."
Federal Reserve officials have offered similar assessments of the economic outlook. The U.S. appears resilient, with unemployment poised to drop as low as 4.7% from a high of 10% at the height of the crisis, despite this year's financial-market volatility.
"If the recent financial market developments lead to a sustained tightening of financial conditions, they could signal a slowing in the global economy that could affect growth and inflation in the U.S.," Vice Chairman Stanley Fischer said at an energy conference in Houston this week. "But we have seen similar periods of volatility in recent years -- including in the second half of 2011 -- that have left little visible imprint on the economy, and it is still early to judge the ramifications."
Indeed, Scott Minerd, chief investment officer at Guggenheim Partners, said in a post on the firm's website that current speculation about an economic slump will probably be remembered as "The Great Recession Scare of 2016."
While the firm's analysis shows the S&P 500's bottom might be as low as 1,600, "investors should remember that such a market decline does not necessarily portend a recession," he wrote. "For those of us who remember, after the market crash of October 1987, the next U.S. recession was still two years away, creating a great buying opportunity."