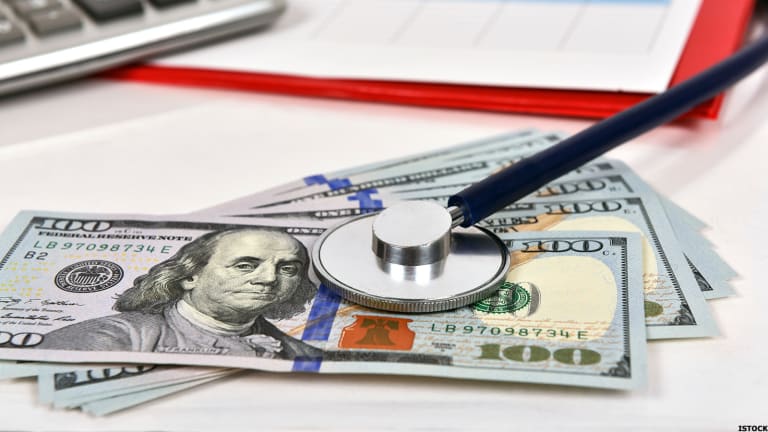 Want a Stable REIT With Super-High Yield? Look No Further
Real estate investment trusts can be a way to enjoy steady dividend income. Is HCP the safest and quickest way to profit from REITs?
Real estate investment trusts can be a way to enjoy steady dividend income. Is HCP the safest and quickest way to profit from REITs?
Investing in real estate investment trusts is a surefire approach for accumulating solid and stable dividends, even as investors position themselves for stock appreciation growth.
Blessed with favorable demographics, increased health care spending and large market opportunity, HCP (HCP) - Get Report is a REIT that deserves a place in long-term portfolios.
HCP's selling points include a nearly 6% dividend yield backed by 30 years of rising payouts, benefits from the HCR ManorCare spin-off expected to close this year, a reasonable valuation and no expectation of even one interest rate hike this year.
This is a stock that should keep investors' war chests full.
HCP, the first health care REIT added to the S&P 500, has a portfolio of assets covering senior housing, post-acute/skilled nursing, life science, medical offices and hospitals.
The company's HCR ManorCare real estate portfolio of skilled-nursing and assisted-living facilities will be spun off into a separate publicly traded REIT, leaving HCP able to focus on core growth businesses such as senior housing, life science and medical offices.
The new entity is expected to have a portfolio of more than 320 properties, while HCP will have more than 860.
HCP has also witnessed a number of important management changes that should keep the company in good stead.
Lauralee Martin left the board and the chief executive spot at HCP after three years on the job. The process of finding a permanent chief is expected to take three to six months, and Executive Chairman Michael McKee is at the helm in the interim.
Her departure follows the completion of the company's strategic portfolio review in May and is ahead of the HCR ManorCare spin-off. HCR ManorCare has some troubled assets, and Martin faced criticism for not taking the sale route to capture the full value of the assets.
The spun-off company will be led by Mark Ordan, who hails from WP Glimcher, another health care REIT. Once the spin-off has been completed, HCP will likely focus on dividend growth.
Dividends are and remain a big draw for shareholders of HCP, which was the first REIT included in the S&P 500 Dividend Aristocrats index.
Its yield of 5.91% and $2.30 annual payout generate steady income possibilities.
Although there are dividend alternatives such as Omega HealthCare Investors,Sabra Health Care REIT and Senior Housing Properties Trust, none of these carry a record as impressive as HCP's years of dividend growth. 
So far this year, HCP's shares have under-performed its peers. The stock is up just 1.73%, compared with more than 37.2% for Medical Properties Trust, 19.4% for Sabra Health Care REIT, 47.8% for Senior Housing Properties Trust and 15.76% for Welltower.
This under-performance is in sync with the eventual HCR ManorCare spin-off. Trading at a forward price-earnings ratio of 4.09 times, the company's shares are reasonably valued compared at 20.79 times for Healthcare Realty Trust, 16.48 times forLTC Properties,15.06 times for National Health Investors,17.17 times for Physicians Realty Trust and 16.6 times for Welltower. 
In other words, HCP is a high-quality health care-focused REIT that is poised to charge forward as the company renews focus on its core. While investors wait for the stock price to go up, the nearly 6% yield should keep them hooked on this smart player.
---
An 85% accurate trader gives his personal guarantee: "Give me nine minutes a week, and I guarantee you $67,548 a year." He turned $50,000 into $5 million trading this way, and for a limited time, he is guaranteeing investors at least $67,548 per year in profitable trades if they follow this simple step-by-step process. Click here to see how easy it is to collect thousands of dollars in free money every month.
This article is commentary by an independent contributor. At the time of publication, the author held no positions in the stocks mentioned.