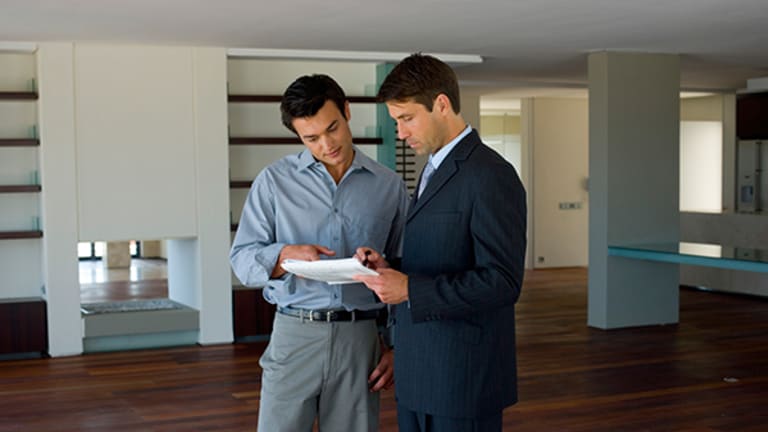 Why Mortgage REITs Are Only for Those Willing to Risk
For yield-starved investors, the attractions of a mortgage REIT can be mouthwatering, but high returns always come with risk.
For yield-starved investors, the attractions of a mortgage REIT can be mouthwatering, but high returns always come with risk.
NEW YORK (TheStreet) — Mortgage lenders have the greatest racket: Pay virtually nothing to borrow from savings and checking depositors, then lend at 4% or 5%. If only there were some way ordinary investors could do the same.
In fact, there is, through a type of mortgage-owning Real Estate Investment Trust suitable for investors willing to take more risk than they would with bank savings.
REITs are better known for owning actual real estate such as apartment buildings, malls and strip shopping centers. Those traditional "equity REITS" pass rental income on to investors. But a less well known variety called a mortgage REIT backs mortgages, passing to shareholders the profits from homeowners' monthly payments. Some operate like mutual funds, others as exchange-traded funds bought and sold like stocks. 
For yield-starved fixed-income investors, the attractions can be mouthwatering. Top payers such as iShares Mortgage Real Estate Capped EFT and Market Vectors Mortgage REIT Income ETF have yielded more than 12% over the past 12 months, according to Morningstar, the market-data firm.
"Mortgage REITs have exploded in popularity in recent years, in part because their yields can be attractive," says Adam Zoll, an editor at Morningstar. At the end of 2013 there were 45 mortgage REITS listed on the New York Stock Exchange and Nasdaq, with a total market capitalization of $62 billion. That's a tiny slice of the fund and ETF markets, but it's growing fast.
Savvy investors know that high yields typically come with high risks, and that's definitely the case with mortgage REITS. The biggest is interest-rate risk, the same hazard that afflicts bonds. As interest rates rise, older securities that pay less lose value. Mortgage rates have been unusually low for years, helping boost returns on mortgage REITS. But most experts think rates will rise gradually. Many of these REITs amplify their interest-rate risk with high levels of borrowing, or leverage.
Also, if short-term rates rise faster than long-term rates, these REITS could face higher borrowing costs while mortgage rates remain flat, reducing profits. 
Finally, mortgage REITs suffer from prepayment risk, or a loss of expected income. If mortgage rates fall, homeowners refinance, using new loans to pay off the old ones. That means a REIT that owns mortgages stops getting interest payments from those homeowners. It gets a surge of principal payments that it must re-invest in new mortgages that will yield less than the old ones.
For the moment, prepayment risk does not seem very high, since mortgage rates are more likely to go up than down. Still, long-term investors should consider this hazard.
"Mortgage REITs typically try to account for various potential short-term scenarios by using hedging strategies based on derivatives such as interest-rate swaps," Zoll says. "But their high degree of interest-rate sensitivity generally makes mortgage-REIT yields more volatile than those paid out by equity REITs or stocks.
So although mortgage REITs would seem to appeal to fixed-income investors, they are actually riskier than dividend-paying stocks.
Investors should also consider the fact that REIT earnings are taxed as ordinary income, not at the lower capital gains and dividend rates.
Nonetheless, mortgage REITs can be useful investments for those willing to take some risk. And because the mortgage market marches to its own beat, mortgage REITs can help diversify a portfolio.