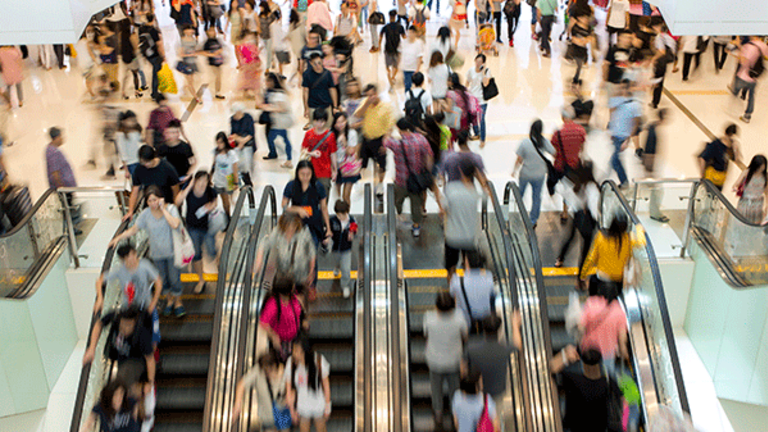 Publish date:
What to Watch for When This Shopping Mall REIT Releases Earnings
General Growth Properties, a high-quality, high-dividend real estate investment trust, will report results late Monday. Here is what investors should key in on.
General Growth Properties, a high-quality, high-dividend real estate investment trust, will report results late Monday. Here is what investors should key in on.
Shares of real estate investment trusts have been punished as U.S. Treasury yields have risen.
The country's second-largest mall owner, General Growth Properties (GGP) , has declined more than 8% this year and under-performed most of its peers, including Brixmor Property,Realty Income and Simon Property.
Against this backdrop, General Growth Properties' third-quarter results, which are slated for release late Monday, are key. With department chains closing stores in malls, business has been under strain for shopping mall REITs. 
General Growth Properties and Simon Property did the unthinkable recently when they teamed with Authentic Brands to buy Aeropostale, a teen-apparel retailer based primarily in malls. Aeropostale filed for bankruptcy protection in May.
General Growth Properties must tell investors what it plans to gain by becoming the owner of a retailer. 
The company could argue that a bankruptcy for the retailer would mean eating the leases. But given the deal's $240 million price tag, we want to know what General Growth Properties thinks about Aeropostale's future.
This is important because if Aeropostale eventually fails, General Growth Properties' exit plan will be crucial.
During its second-quarter earnings call, General Growth Properties talked about its debt repayments and liquidity situation. From total debt at the beginning of the year of nearly $20 billion, it had projected that to fall to $18.5 billion by year end.
Is the company on course to achieve the target?
Also, the REIT had expected to end the year with about $700 million to $800 million in cash, without the $250 million special dividend in cash. With the Aeropostale deal, does the cash position change?
Cash is necessary to invest in properties, and the debt issue is vital because the company had previously given guidance that kept its net debt-earnings before interest, taxes, depreciation and amortization in the mid-7s by the end of next year.
And ecommerce is putting additional pressure on mall stores and the REITs that own and operate malls.
For instance, Macy's said in August that it is closing 100 full-line stores of 675 total, and Nordstrom's earnings have been under pressure. Bankruptcy protection filings, such as the one by Sports Authority, have also hurt.
As a result of these challenges, General Growth Properties reported disappointing second-quarter fund from operations of 35 cents a share, which missed expectations by a penny. 
Second-quarter revenue of $574.58 million down 0.9% from a year earlier also missed estimates.
For the third quarter, revenue is expected to come in $559.70 million, which would be down 4.4% from a year earlier. If General Growth Properties beats the revenue forecast, it could do wonders for investors' confidence.
---
If you're looking for new investment opportunities, we've found a genius trader who turned $50,000 into $5 million by using his proprietary trading method. For a limited time, he's guaranteeing you $67,548 per year in profitable trades if you follow his simple step-by-step process. Click here now for details.
The author is an independent contributor who at the time of publication owned none of the stocks mentioned.