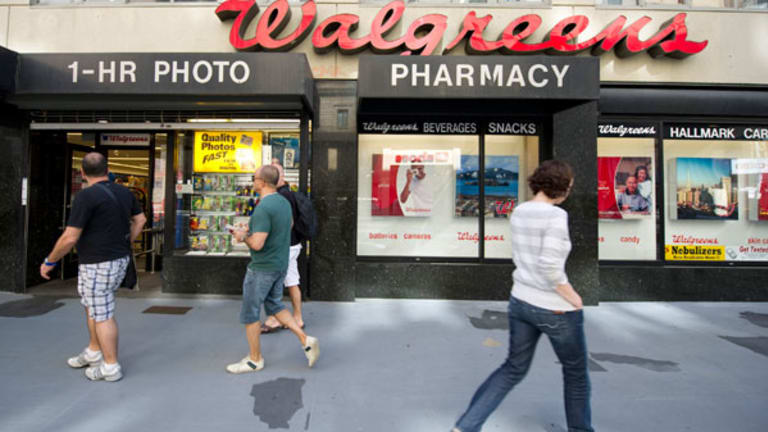 Publish date:
Two Triple Net REITs That Score From Half Court
COLE and GPT have large hedge fund ownership but they also have management incentives to create shareholder value.
COLE and GPT have large hedge fund ownership but they also have management incentives to create shareholder value.
NEW YORK (TheStreet) -- As I have often explained, triple net REITs are great dividend stocks since they own and invest in free-standing properties with long-term contractual leases.
For the average investor, it's easy to get close to the value creation of a triple net REIT since all of us have visited a
Walgreen
(WAG)
or shopped at a nearby
Wal-Mart
(WMT) - Get Walmart Inc. Report
store. Other properties owned by triple net REITs and leased to corporate users include
FedEx
(FDX) - Get FedEx Corporation Report
,
Dollar General
(DG) - Get Dollar General Corporation Report
and literally thousands of other corporate brands across the nation.
In fact, Walgreen recently completed the sale of six office buildings in its Deerfield headquarters to
Realty Income
(O) - Get Realty Income Corporation Report
as part of an effort to monetize the drug store chain's balance sheet comprising of 574,605 square feet on 38 acres (according to the
Los Angeles Times
). Although the sales price is not confirmed, industry sources indicate the property would trade for around $85 million or higher.
Owning investment grade triple net real estate is comparable to investing in a bond; however, there are notable differences since real estate is a tangible asset that does appreciate and bondholders are creditors and they have no ownership in the companies. Notably, bond investors enjoy the interest income as well as the return of principle. Conversely, REIT investors like dividends and having an equity stake.
Triple net REITs offer a hybrid of sorts. Due to lower bond yields, many investors have substituted REITs for bonds to replace interest income with dividend income. It's important to recognize the difference between being a creditor (a bond holder) and an owner (a REIT owner), especially when dividends are cut or eliminated.
Two Net Lease REITs That Shoot More Than Layups
The landscape of triple net REITs is getting much larger as many companies look for ways to monetize the premium pricing in REIT-dom. Of course, driving the demand for income seems to be the biggest attraction as REITs pay no corporate taxes and instead are forced to pay out at least 90% of taxable income in the form of dividends.
Since triple net REITs lease buildings to corporations on a net-net-net basis (meaning the tenant pays for taxes, insurance and maintenance costs), the income stream is less volatile and the costs to operate (i.e. G&A costs) are minimal. That translates into higher and more predictable dividends. According to Nareit, the triple net REITs pay out some of the highest dividends in the equity REIT sector -- around 4.66% for triple net REITs compared to 3.68% for the entire equity sector.
Some of the more widely held triple net REITs include Realty Income,
National Retail Properties
(NNN) - Get National Retail Properties, Inc. Report
and
WP Carey
(WPC) - Get W. P. Carey Inc. Report
. All have never cut an annual dividend and they have all raised their annual dividend without cutting.
While most look to invest in triple net REITs for income, I want to tell you about two triple net REITs that could also provide strong growth. Remember, a stock's total return consists of dividend income and capital appreciation and for REITs, the majority of total return comes from the high dividends (around 60% of a REIT's total return consists of dividend income).
What makes these two triple net REITs interesting -- and arguable unique -- is the fact that they both have large hedge fund ownership and they also have management incentives to create shareholder value.
Cole Real Estate Investments
(COLE)
and
Gramercy Property Trust
(GPT)
are both triple net REITs; however, they are differentiated in that they have a high degree of hedge fund owners (Luxur Capital) and they also have strong potential for share price growth.
Let's face it, hedge funds aren't looking to collect just dividends. They are looking for a bigger bite of the apple and that means they are looking for some juicy total returns. Don't get me wrong, I love triple net REITs. Because of the durable dividend income, I have over-weighted the shares in my "sleep well at night" portfolio (see my newsletter
). However, I believe that Cole and Gramercy can score more than layups -- these two "ballers" should be able to outperform in the final quarter of the year.
Cole has a current price of $11.99 and a market cap of around $5.628 Billion. The valuation based on a price to funds from operations (or P/FFO) multiple seems fairly valued at 15.3x. The current dividend yield is 6.01%. Gramercy recently announced a $47.4 million private placement of 11,535,200 shares of common equity. That strategic plan should boost the pipeline of deals and get the smaller cap ($307 million) REIT in a position to fund a dividend (in 2014). Gramercy shares are trading around $4.37.
Bring on the three-point shooters! There's nothing like owning a bond-like alternative that can also score big. Cole and Gramercy offer the potential for solid growth rooted by a stable and consistent revenue stream. I like to see "nothing but net" and it's even better when I see the three-pointers landing the bombs from half court.
At the time of publication the author had positions in O and GPT.
Follow @swan_investor
This article was written by an independent contributor, separate from TheStreet's regular news coverage.