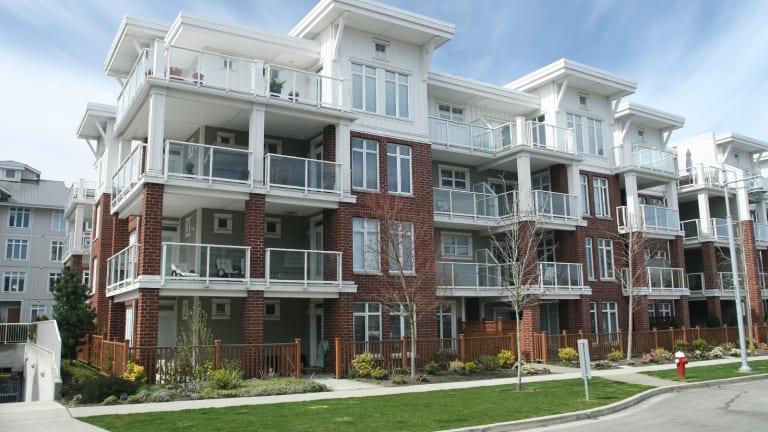 These 5 Dividend-Paying REITs Are Breaking Out
These real estate investment trusts look ready to blast off with another leg higher this fall.
Just six months or so ago, higher interest rates from the Fed seemed like a near-certainty, sending interest-sensitive stocks such as real estate investment trusts, utilities and MLPs plummeting at the start of 2016. Since then, though, things haven't quite worked out the way Wall Street expected.
Interest rates, for instance, haven't been touched since last December, when Janet Yellen & Co. increased the fed funds rate for the first time in about a decade. One result of that do-nothing interest rate has been that REITs have been playing catch-up all year long, rebounding from the rate hikes that never happened and making up for the mispricing.
For instance, the SPDR Dow Jones REIT ETF (RWR) - Get SPDR DJ Wilshire REIT ETF Report  , which tracks a basket of REITs, is up 9.5% year-to-date, stomping the broad market on top of a whopping 4.2% dividend yield.
But don't worry if you've missed the upside in the REIT world lately. As strong as the price action has been in REITs in 2016, many of these issues look ready to blast off with another leg higher this fall. To figure out which REITs are in play here, we're turning to the charts for a technical look at five big real estate investment trusts to buy for gains…
In case you're unfamiliar with technical analysis, here's the executive summary: Technical analysis is a way for investors to quantify qualitative factors, such as investor psychology, based on a stock's price action and trends. Once the domain of cloistered trading teams on Wall Street, technicals can help top traders make consistently profitable trades and can aid fundamental investors in better planning their stock execution.
Without further ado, here's a rundown of five technical setups that are showing solid upside potential right now.
Senior Housing Properties Trust
Up first on the list is $5 billion senior living community landlord Senior Housing Properties Trust (SNH) - Get Senior Housing Properties Trust Report . SNH has been a serial outperformer in 2016, rallying more than 47% since the calendar flipped to January. Despite the size of the up-move, this trust still pays out a huge 7% dividend at current price levels. Even better for SNH shareholders, this stock could be heading even higher in the near-term thanks to a bullish price setup on the chart.
SNH is currently forming an ascending triangle pattern, a bullish continuation setup that's formed by horizontal resistance up above shares at $22.50, and uptrending support to the downside. Basically, as SNH bounces in between that pair of technically significant price levels, it's been getting squeezed closer and closer to a breakout through our $22.50 price ceiling. When that breakout move happens, we've finally got a buy signal shares.
Relative strength, which measures Senior Housing Properties Trust's price performance vs. the rest of the stock market, is an extra indicator to keep an eye on here. That's because SNH's relative strength line is holding on to an uptrend since the end of last year, an indication that this big REIT is continuing to outperform this spring. As long as that relative strength uptrend remains intact, expect to see continued outperformance from this stock.
Lexington Realty Trust
We're seeing the exact same price setup right now in shares of Lexington Realty Trust (LXP) - Get LXP Industrial Trust (Maryland REIT) Report , a $2.5 billion diversified REIT. Like SNX, LXP is currently forming a textbook example of an ascending triangle pattern. For this REIT, the big buy signal comes on a push through highs up at $11.
Why is the $11 price level so significant in this stock? It's because $11 is a price where there has previously shown us an excess of supply of shares; in other words, it's a spot where sellers have been more eager to step in and take gains than buyers have been to buy. That's what makes a breakout above $11 so significant -- the move means that buyers are finally strong enough to absorb all of the excess supply above that price level.
Once that happens, we've got a clear-cut buy signal in Lexington Realty Trust. If you decide to take the trade at that point, the 50-day moving average becomes a logical place to park a protective stop.
Colony Capital
Things have been a little more complicated in shares of real estate and investment management firm Colony Capital (CLNY) - Get Colony Capital, Inc. Class A Report . Unlike most other REITs, Colony has been under pressure in 2016, down 7.3% since the start of the year. That's the bad news. The good news is that this $2 billion real estate stock is starting to look "bottomy" in the very long-term.
Colony is currently forming a double bottom pattern, a bullish reversal pattern that looks just like it sounds. The double bottom is formed by a pair of swing lows that bottom out at approximately the same price level - the buy signal comes when shares are finally able to catch a bid above the price peak that separates that pair of lows. For Colony Capital, the breakout level to watch is resistance up at $18.50.
Momentum, measured by 14-day RSI up at the top of the chart, is the side-indicator to be watching for the Colony trade. Our momentum gauge has been trending higher over the course of the double bottom in shares, a positive divergence that indicates buying pressure is building in this big stock. Keep a close eye on $18.50 from here; the long-term nature of this price setup comes with long-term upside implications once the breakout happens.
Spirit Realty Capital
It doesn't take much technical trading know-how to figure out what's going on with shares of Spirit Realty Capital (SRC) - Get Spirit Realty Capital Inc. Report  right now. Instead, the price action in this $6.3 billion REIT is about as simple as it gets. Shares have been bouncing their way higher in a well-defined uptrending channel since Spirit Realty bottomed back in January -- and this stock is still a "buy-the-dips stock" as we head into September.
The uptrend in SRC is formed by a pair of parallel trend lines that have managed to corral this stock's price action all year long. Every time Spirit Realty's share price has tested trend line support, the subsequent bounce has provided an optimal entry from a risk/reward standpoint. And now, as shares touch that support level for a fourth time, it makes sense to buy the latest bounce higher.
Actually waiting for a bounce is important for two key reasons: It's the spot where shares have the most room to move up before they hit resistance, and it's the spot where the risk is the least (because shares have the least room to move lower before the channel breaks, invalidating the upside trade). Remember, all trend lines do eventually break, but by actually waiting for a bounce to happen first, you're ensuring SRC can actually still catch a bid along that line before you put your money on shares.
Essex Property Trust
Last, but certainty not least is $14.5 billion housing REIT Essex Property Trust (ESS) - Get Essex Property Trust Inc. Report . This year, Essex's price action has been pretty choppy, tracking sideways after a steep correction in January. But shares are finally showing signs that they could become a lot more directional this fall. Here's how to trade it.
Essex Property Trust is currently forming an inverse head and shoulders pattern, a bullish price setup that signals exhaustion among sellers. The pattern is formed by two swing lows that bottom out at approximately the same level (the shoulders), separated by a lower low (the head). The buy signal comes on a move through Essex's neckline at $235.
The price setup in Essex Property Trust isn't exactly "textbook." That's because the inverse head and shoulders is typically a reversal setup that shows up at the bottom of a sharp downtrend, not after a multi-month sideways grind. But while the pattern in ESS isn't textbook, it's still tradable. Once $235 gets taken out, we've got our signal that buyers are back in control of shares and that it's time to join them.
This article is commentary by an independent contributor. At the time of publication, the author held no positions in the stocks mentioned.