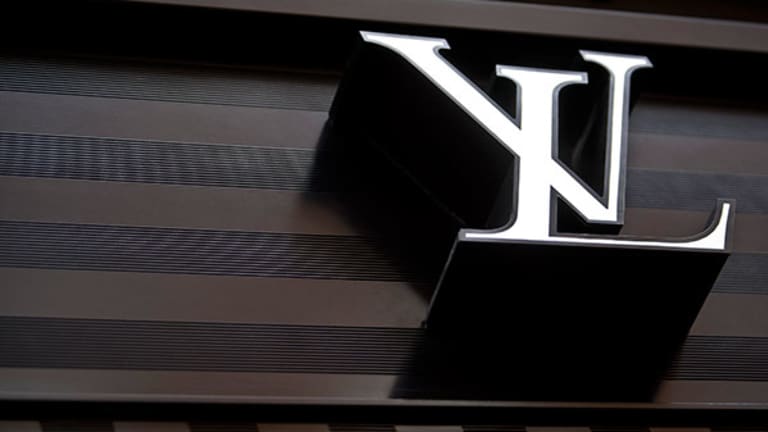 The 'Louis Vuitton' REITs of the Investment World
Luxury brands sell, whether they be in fashion or in real estate investment trusts.
NEW YORK (TheStreet) -- In its 2013 Best Global Brands report, Interbrand crowned LVMH Moet Hennessy's Louis Vuitton the world's most valuable luxury brand for the eighth consecutive year. The Louis Vuitton brand is valued at a massive $23.58 billion.
Customers rely on brands when comparing choices, providing a powerful tool and competitive advantage that is hard to beat -- as long as that advantage can withstand the test of time. As Warren Buffett said, "Your premium brand had better be delivering something special, or it's not going to get the business."
So where do you find the Louis Vuitton of real estate investment trusts that could provide long-term wealth creation and reliability synonymous with "best-in-class" premium brands?
REITs are just a form of security in which any investor can own one share of stock. You don't have to be worth billions to buy that stock, though the benefits of owning a REIT can be luxurious. Because REITs, by law, must pay out at least 90% of taxable income to shareholders, investors enjoy a highly dependable product that is driven by dividend repeatability.
Unlike C Corporations, REITs were designed to provide investors with reliable sources of income and today there are over 180 U.S. REITs (equity and mortgage) that collectively make up over $700 billion of value. There are many different types of REITs today and while there are leaders and laggards alike, the most successful REIT brands have been able to build their strategies on vivid and hardy forms of differentiation.
By owning shares in a high-quality REIT, there's a feeling of security knowing there's superior value behind the brand and that the source of income is everlasting. The most intelligent investors will recognize the unique aspects of a brand and build a dividend empire with investments that offer the strongest sources of differentiation.
It's important that investors recognize that a company's strongest sources of differentiation are also its crown jewels. By investing in REITs with a long track record of profitable operations, intelligent investors will benefit from the trusted brands that offer the most reliability and predictability.
Ben Graham explained: "It is the consistency in the products that creates consistency in a company's profits. Consistency and durability are attributes for competitive advantage."
Here are the REITs that offer some of the strongest sources of differentiation: Tanger FactoryOutlets (SKT) , Federal Realty (FRT) , Realty Income (O) , W.P. Carey (WPC) and HCP (HCP) .
These five REITs have never cut an annual dividend and, in fact, all of them have increased annual dividends for over 15 years in a row, which is why they are my "Louis Vuitton REITs."

For more information these "best in class" brands, check out my newsletter The Intelligent REIT Investor.
At the time of publication the author is long O and WPC.
Follow @swan_investor
This article represents the opinion of a contributor and not necessarily that of TheStreet or its editorial staff.