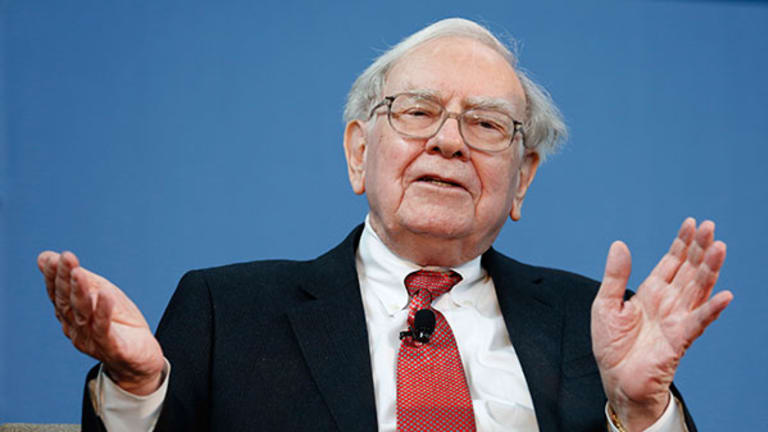 Should You Follow in Warren Buffett's Footsteps on Sears REIT Seritage?
The Oracle of Omaha has made a big bet on Seritage Growth Properties. Is the stock right for you?
The Oracle of Omaha has made a big bet on Seritage Growth Properties. Is the stock right for you?
Without a doubt, a major thumbs-up for a stock is to have "master investor" Warren Buffett personally pick up a large slice of it.
Buffett has just disclosed an 8.02% stake in Seritage Growth Properties (SRG) - Get Report , a real estate trust created by the hedge fund billionaire Edward Lampert-led struggling retailer Sears Holdings Corp. (SHLD) .
data by
The revelation has made existing Seritage investors enjoy a huge and sudden jump, with a nearly 17% spurt on Thursday. Before this action, however, the stock was down year-to-date.
And so we come to the big question -- should you buy in and come aboard the Seritage express? Is there any more room for profit? Let's apply the sort of value criteria that Buffett uses for his own stock picking.
The Earnings Landscape
For the uninitiated, Seritage Growth Properties is a Real Estate Investment Trust (REIT) engaged in the real property business via its investment in its operating partnership, Seritage Growth Properties, L.P.
Simply put, it's a national owner of 266 retail properties (235 wholly-owned properties and 31 properties owned through investments in unconsolidated JVs) totaling over 42 million square feet of gross leasable area.
The stock started trading in the first week of July 2015.
Its recent third-quarter earnings shows that Seritage's total net operating income stood at $42.5 million. Funds from operation were at $4.8 million, or $0.09 per diluted share. Normalized funds from operation were at $29.0 million, or $0.52 per diluted share.
Third-party tenants other than Sears Holdings Corp represented 22% of Seritage's annual base revenue. Base rents across the portfolio averaged $18.95 per-square-feet (PSF) for signed but not yet opened leases, $11.23 PSF for existing third-party leases and $4.31 PSF for Sears Holdings. Third-quarter earnings were the first quarter as a public company for Seritage.
As of September 30, the company had $51.5 million of unrestricted cash on hand, as well as restricted cash of $100.3 million. The company also has $100 million of investment capital available through an undrawn future funding facility.
The company expected to declare a common dividend prior to the end of 2015 to meet its REIT distribution requirements. The amount and timing of the 2015 dividend are not yet known.
While Seritage has completed the formation of its senior management team and added key professionals to various departments, it expects the transfer of the remaining support functions provided by Sears Holdings under the transition services agreement to be over by the end of 2015.
The Valuation Scenario
How does Seritage stack up on valuation?
Specifically, earnings-per-share (EPS) and associated metrics like a price-to-earnings ratio are not good indicators of a REIT's profitability.
A better metric to use is price-to-funds-from-operations (FFO) per share. It's third-quarter normalized FFO per diluted share was $0.52. If this trend holds for the next three quarters, it will have a 12-month figure of $2.08.
Based on this figure and current price, the price to FFO per share metric would come to 19.75 times.
Let's now see how some other retail property REITs stand on the same parameter. Brixmor Property Group Inc. trades at 13.6 times, Simon Property Group Inc. trades at 18.6 times and Acadia Realty Trusttrades at 21.9 times.
So then, should you follow Buffett's lead and dive in?
Your long-term decision to buy Seritage must take a few things into account:
1. Once the Buffett halo has faded, the stock must perform effectively to meet expectations -- those who've rushed in after the Oracle of Omaha disclosed that he is betting on Seritage. Bear in mind, the Seritage investment is a drop in the ocean for Buffett, who has other investments to lean on.
2. One quarter of earnings history is hardly anything in the world of hard financial numbers. To reach a more refined and clearer space, we recommend at least eight-to-12 quarters. However, that comes with the predicament that you would miss out on the momentum.
3. The REIT spin-off from Sears Holdings was aimed at cutting costs. The per square feet base rent charged by Seritage for Sears is much lower. Lampert has gone on record about transferring more Sears' properties to Seritage in 2016. It remains to be seen if the strategy will benefit Seritage, Sears or both.
4. If the ailing old-line retailer Sears goes belly up, Seritage would be massively hit. If you're betting on Seritage, you are indirectly betting on Sears as well.
The Final Analysis
Our verdict: Seritage could have captured the mood of the moment, but it's most definitely a risky proposition. If you have an appetite for risk, (and can stomach the turbulence), jump in. Otherwise, we suggest it's better to hold on and see if that 17% upswing manages to stay for a while longer.
Warren Buffett, the greatest investor of all time gets sentimental about a specific investing strategy. How come? Because it helped him make his first million back in the day. In fact, the founder of Berkshire Hathaway BRK.A wishes he could still use this system. But Buffett's immense wealth makes the strategy off-limits to him. Luckily, there's nothing stopping you. Buy these fast-growing stocks and watch your portfolio beat the market year after year; just like the Oracle himself. Click here to learn more.
This article is commentary by an independent contributor. At the time of publication, the author held no positions in the stocks mentioned.