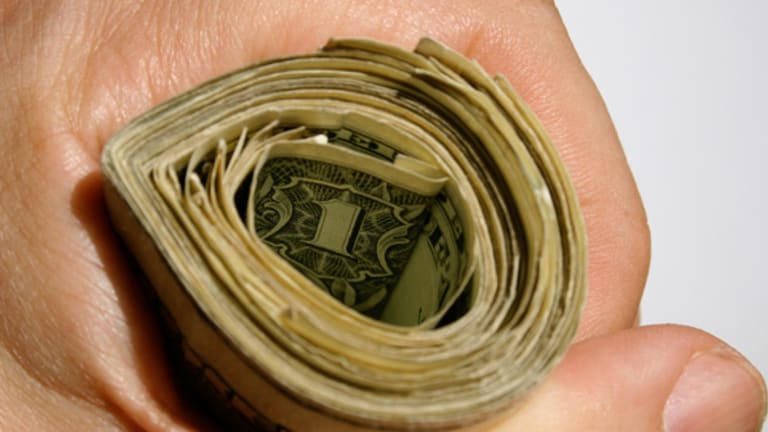 NEW YORK (TheStreet) -- Thanks in large part to the mere threat of rising interest rates, bond yields have clearly bottomed and will soon move closer to normal levels.
What some have referred to as a "taper tantrum" -- a pullback in higher-yielding assets that thrive on record-low rates -- has subsequently led to a more robust environment for collecting dividends.
Real estate investments trusts are one such asset class that has been hit hard, and the selling pressure doesn't match the risks of a rising interest rate environment,- particularly for those REITs with low leverage, termed-out debt structures and visible growth.
As we have seen, REIT exchange-traded funds sold out of the larger, more liquid names across the board with no regard for the strong REIT fundamentals, and hedge funds have since piled on with short positions (i.e.
Digital Realty
(DTR)
).
But hold on a minute.
Read: The Credit Score You're Buying Probably Isn't Worth It
Remember, the attraction for most REIT buyers are dividends, not robust growth in shares. For those of you looking for the same bear market REIT returns we saw in 2010-2012, don't hold your breath. Those days are over, at least for a while.
However, income investors should begin to examine REITs for their juicy dividends and, thanks to Mr. Market, we are now seeing some very attractive entry points (with a wider "margin of safety"). For REIT investors, obtaining a dividend is not just icing on the cake since for most REITs, the dividend represents a substantial (average around 60%) ingredient for a REIT's total return. Although share price appreciation is nice, the most important attribute for REIT investors are high and growing dividends.
In fact, REIT dividends remain a key differentiator for performance and over the next few years it will be crucial to own stocks (like REITs) that can deliver consistent growth. Simply put, we are now approaching an excellent buying opportunity for REITs and they should be a "core" component for your overall income strategy.
The REITs That Pay Monthly
Several REITs recently announced a "monthly pay model." I find that especially attractive for income investors. Why? Because by investing in REITs that pay monthly you're able to better match fund your living expenses and create a more disciplined approach to saving and investing. If you're like me, I like receiving monthly rewards as that provides me with the flexibility of paying a household bill, enjoy a round of golf, or simply putting my money back to work -- like owning a free share machine.
Realty Income
(O) - Get Realty Income Corporation Report
isn't new to the monthly dividend game. The Escondido-based REIT has been paying monthly dividends for around 19 years and in fact, this Triple-Net REIT has a trademark for the words "The Monthly Dividend Company". The branding has performed well as the stalwart performer has increased its annual dividend ever since it began trading (over 19 years in a row). Realty Income shares are trading at very reasonable entry points ($40.10) and the dividend yield of 5.43% makes for a very attractive blue chip investment.
Whitestone REIT
(WSR) - Get Whitestone REIT Report
(WSR), a Houston-based shopping center REIT, also pays monthly dividends. The small cap ($256 million market capitalization) REIT is trading at fair valuation (P/FFO of 14.2x) with a current price of $14.87. The dividend yield is 7.67%.
Inland Real Estate Corp.
(IRC)
, based in Chicago, also pays monthly. The shopping center REIT has a market capitalization of $1.02 billion and shares are trading at $10.21. Also, Inland is trading at the lower end of the valuation range with a P/FFO of 11.x and the current dividend yield is 5.58%.
Read: Can Pandora Hit $40 a Share?
American Realty Capital Properties
(ARCP)
also pays monthly dividends. The New York-based REIT has a market cap of around $2.4 billion with shares trading at $12.94. The high growth Triple Net REIT is also trading at a fair valuation range (14.5x) and the current dividend yield is a highly attractive 7.03%.
Stag Industrial
(STAG) - Get STAG Industrial, Inc. Report
announced last week that the industrial REIT was moving closer to the monthly pay model. The Boston-based REIT has a market cap of around $819 million and shares closed (on Friday) at $19.35. In addition to the higher yielding dividend of 6.20%, the newly announced monthly pay model should be an attractive feature for income investors.
Ben Butcher, CEO of STAG, recently commented on the new dividend policy:
"We make this change principally in recognition that these dividends belong to our shareholders and should be delivered to them sooner rather than later."
Finally,
Chambers Street Group
(CSG)
recently announced (in its second-quarter results) that "the board of trustees decided that beginning in the fourth quarter of 2013, the company will pay its dividend on a monthly basis." Chambers Street is fairly new to public REIT-dom as I have covered the listing for The Street when shares were priced a few weeks ago (see my video with the CEO
)
Since the public listing on May 21, Chambers Street shares have declined by 24% (from $10 to $7.57) while the dividend yield has climbed from 5% to a whopping 6.61%. Chambers Street looks like a bargain at $7.57. I really like the thoughts of getting a juicy 6.61% dividend each month.
So no matter how you stack'em up (monthly or quarterly), REIT dividends should be on your radar screen. Turn your fear of rising rates into opportunity for income. After all, compounding works while you sleep and that's just another reason why REITs help me to sleep well at night.
Courtesy of SNL Financial
At the time of publication the author had a position in O.
Follow @swan_investor
This article was written by an independent contributor, separate from TheStreet's regular news coverage.
Brad Thomas is a contributing writer for The Street and Editor of a monthly newsletter,
.