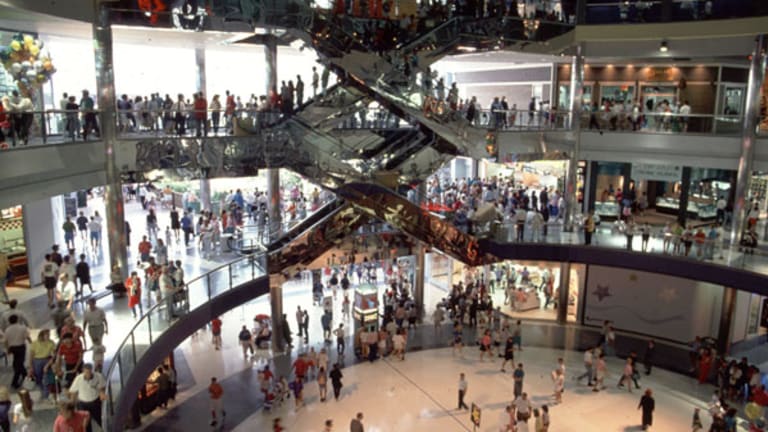 NEW YORK (TheStreet) -- It's simple. If you think the economy is going to improve in 2014, in my view you should own REITs. Now is a great time to have more tactical REIT exposure, as REIT prices are down considerably, but the economy isn't. And dividend investors should consider REITs as part of their New Year's strategy to build a solid portfolio of income stocks that will pay off over time.
Remember that it's much better to be in an environment with increasing fundamentals and rising rates, vs. decreasing fundamentals and lowering rates. Over the long term, REITs have proven to be a good hedge against inflation because of the possibility to raise rents in an inflationary environment. Real estate has low correlation with the broader market, which increases return and reduces risk, and really diversifies asset allocation.
As you consider your tactical REIT investments in 2014, I wanted to offer you a few tips.
Tip #1: Choose dividend growth over dividend yield.
One of the most tempting things for new dividend investors are high-yielding stocks. Many of the highest-yielding stocks are made up of companies ready to make a dividend cut, as banks did a few years ago. Instead of focusing only on dividend yield, investors should be looking at dividend growth. A REIT that continues to increase its dividend by 10% every year with a low yield is much better than investing in an unstable company with a current 10% yield.
[Read: Check In to Hilton With Blackstone for the Long Term]
One example of a quality REIT that has a track record of growing its dividend is Ventas (VTR) - Get Ventas, Inc. Report. Over the last twelve years, the $18 billion healthcare REIT has increased its dividend an average of 9.5% per year. Also, including the latest dividend increase of 8%, Ventas has increased its dividend by 10.3% in 2013. Ventas is trading at $57.24 a share -- a sound valuation multiple of 13.8 times price to funds from operations (P/FFO) -- with an attractive dividend yield of 5.07%.
Tip#2: Dividend history.
Most of the time, the past is no prediction of the future. However, when it comes to top dividend-paying stocks, a company's dividend history can give investors hints about the future.
[Read: What Could Go Right in 2014]
There's no better example of a REIT's dividend durability than Federal Realty (FRT) - Get Federal Realty Investment Trust Report. The Baltimore-based shopping center REIT has a record of increasing its annual dividend for 46 years in a row. Federal has a healthy development pipeline of over $1 billion that should enable the company to generate around 7% growth in 2014. Federal's share price of $101.69 is a bit pricey at 22.3 times P/FFO. But it's clear that Mr. Market sees the value in Federal's fortress balance sheet, with an S&P rating of A-, as well as its earnings reliability. But value investors should wait patiently for a better margin of safety.
Tip #3: Don't overpay for dividend stocks.
Investors should never overpay for a dividend stock. But even the best investments go on clearance every once in a while. That's the case today for Realty Income (O) - Get Realty Income Corporation Report. The Escondido-based REIT has a dividend track record like Ventas and Federal Realty: Realty Income has increased dividends for over 19 years in a row. However, Mr. Market is not giving it the same attention as Federal Realty. That has resulted in Realty Income falling from a moderately expensive valuation back in May to a sound valuation today.
[Read: 3 Common Purchases You'll Pay Less for in 2014]
Analysts and investors use the price to funds from operations (P/FFO) ratio as a standard metric for valuing REIT securities. Based on that metric, Realty Income is a buy. Shares are currently trading at $37.86 with a P/FFO of 15.8. In addition, the dividend yield is 5.77%. I would make the case that this triple net REIT is trading in a sound margin of safety range.
Tip #4: Diversify.
As much as I love REITs, it's important to own stocks from different sectors in order to limit exposure to one particular industry. Diversification is probably even more important to a dividend investor.
Given the more recent declines in REIT values, I have modified my target REIT allocation from 10% to 15%. Note: that does not include mortgage REITs, as I consider the volatility to be dangerous. I only recommend mortgage REITs for experienced REIT investors.
How much diversification should one have? It depends on your individual risk tolerance. I generally recommend 65% of assets in equity and 35% in bonds and cash. 
Tip #5: Discipline.
Having discipline is important for all investors, no matter what type of investment strategy they use. Dividend investors are no different. If you believed every rumor you hear, you would probably be tempted to buy stocks that are overpriced and sell at the wrong time. Educate yourself, develop a trading strategy, and stick to it.
By the same token, I urge you not to panic about the potential impact of rising interest rates. Don't make that mistake of labeling commercial properties -- and equity REITs -- as "interest-rate-sensitive investments". REITs just aren't very sensitive to interest rates, mainly because interest rates tend to move up with a strengthening economy and down with a weakening economy. However, mortgage REITs are much more sensitive to rates since they are essentially a spread business. Don't give up on REITs too soon. Before you make big allocation changes, think calmly and carefully first.
For more information make sure to check out my monthly newsletter, The Intelligent REIT Investor.
At the time of publication the author had a position in O and VTR but no other stocks mentioned in this article.
Follow @swan_investor
This article was written by an independent contributor, separate from TheStreet's regular news coverage.
Brad Thomas has more than 25 years of experience in the commercial real estate brokerage, development, finance, and investment analysis and the majority of his experience has been research and consulting. Throughout the years Thomas has provided nationwide real estate brokerage, construction services, development services and capital market solutions for a variety of clients and investors. 
Thomas has written for Forbes, The Street, Seeking Alpha and The Motley Fool, whereby he maintains "real time" research on many US REITs. In addition, Thomas is the editor of The Intelligent REIT Investor, a monthly subscription-based newsletter. Thomas also owns a research website called iREIT Investor where his company provides REIT research and current REIT valuation analytics.