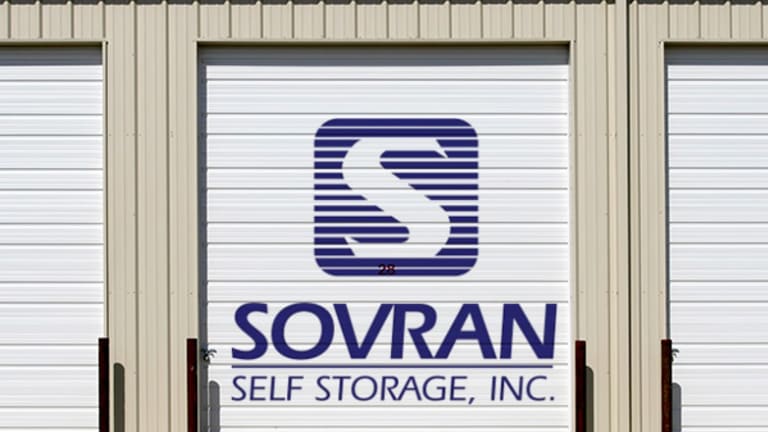 REIT Sovran Self Storage Poised to Soar in These Transient Times
This turbulent stock market remains overvalued, despite recent Brexit swoons. This undervalued real estate investment trust throws off great income and is set for market-beating growth.
Self storage is increasingly popular during these transient times, and one real estate investment trust is in the best position to benefit: Sovran Self Storage (SSS) .
With 550 self-storage facilities, consistent growth in sales and profits, a big acquisition of LifeStorage and an enticing 3.6% dividend yield, Sovran is an undervalued growth-and-income play.
What's more, the stock has fallen more than 10% in the past three months. Scoop up this rare gem before the rest of the herd catches on.
Wall Street has been so enamored with CubeSmart,Extra Space Storage and Public Storage that it failed to notice the deepening valuation gap in favor of Sovran.
Over the past 41 quarters, the average same-store net operating income growth for Sovran has been 5.1%. This is higher than many of the company's peers such as CubeSmart at 4.2% and Public Storage at 4.6%.
This consistent higher growth rate of NOI is a positive sign, and being able to maintain this over a long period of time, speaks volumes about Sovran's time-tested business model and disciplined approach to expansions.
The company hasn't chased business and sacrificed margins.
In the trailing 12-month period, Sovran had a 40.1% operating margin. This level of high and sustained profitability is unmatched by its rivals.
Smart strategy and better utilization are key levers that Sovran has used perfectly. Even though Extra Space Storage has higher gross margins, its operating margin at at 37.3% is quite a few percentage points away from Sovran, and CubeSmart's operating margin is 29%.
REITs are mostly about dividends.
On that front, Sovran is poised to maintain its excellent track record of returning wealth to investors. Between 2011 and 2015, Sovran has expanded its annual dividend by 78%, in line with peers such as Public Storage.
Although many can argue that Extra Space Storage has offered a 300% hike to its dividend in the same time frame, the fact is that Sovran's yield is more sustainable. To outsmart everybody in the dividend game, Extra Space Storage has stretched its payout ratio to 83%, and any number beyond 75% raises red flags.
Sovran's ratio, meanwhile, is at less than 70%. The company looks like it will pay about $3.60 as dividends this year, judging by quarterly trends, a nice 12.5% jump.
The company's $1 billion-plus LifeStorage portfolio acquisition may appear expensive, but according to Fitch, the acquired portfolio is stronger than Sovran's existing one going by any metric such as asset age, rent per square foot and nearby demographics.
This may well narrow the quality gap between Sovran's portfolio and its public peers. With double-digit revenue growth projected for Sovran, the company is set to edge out rivals such as CubeSmart, Extra Storage and Public Storage over the next five years in terms of year-over-year earnings growth.
Finally, it all boils down to whether Sovran offers bang for the buck.
A good way to assess the valuation of REITs is by checking price to cash flow. The stock trades at a price-cash flow ratio of 19.8 times, compared to CubeSmart (22.6 times), Extra Storage (31.5 times) and Public Storage (24.6 times).
This discount in the valuation gap is unsustainable, given that LifeStorage acquisition benefits will appear quickly and the 7% to 8% full-year projected growth rate for Sovran's 2016 same-store NOI.
Sovran is the best storage REIT out there, and what's more, it offers absolute value for the money. Analysts expect the stock to gain nearly 15% in the next year, while the 3.6% yield can provide nearly 19% to 20% in total returns.
By comparison, Extra Space Storage's stock is projected to rise less than 6%, while its dividend yield stands at about 3.4%.
The total return potential of CubeSmart is between 12% and 13%. Public Storage is already above its 12-month analysts' median price target, which could indicate a stock decline if the company fails to beat expectations.
---
Post-Brexit anxiety has been pummeling global markets. For those who would rather avoid stocks, bonds and funds altogether during this period of extraordinary volatility, here is a way to make a guaranteed $67,548 over the next 12 months. In fact, this moneymaking technique is so successful and simple, those who try it might want to give up conventional investing. Click here to learn more.
This article is commentary by an independent contributor. At the time of publication, the author held no positions in the stocks mentioned.