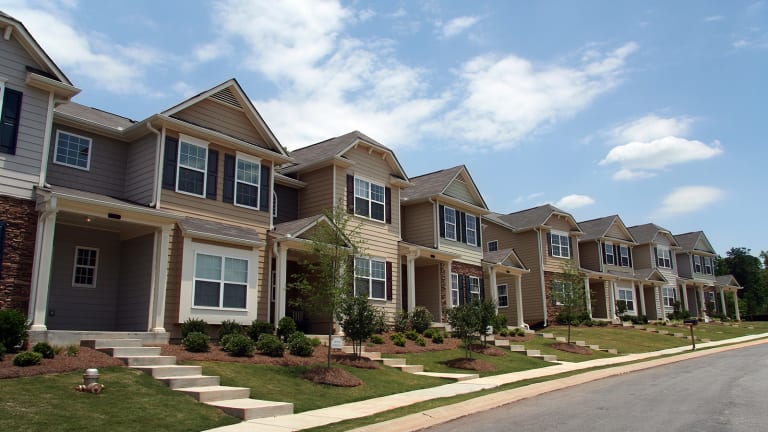 Income-REIT New Residential Investment Looks Worth It
Mortgage REITs can get stellar gains when the housing market is booming. And with the market gaining steam today, here's one of the biggest bangs for your buck.
The $21 trillion U.S. residential housing market is generating significant investment opportunities. And investors looking to tap into this lucrative market should check out real estate investment trusts that focus on investing in residential mortgage-related assets.
In the mortgage REIT space, there are many investments worth considering: Annaly Capital Management (NLY) - Get Annaly Capital Management, Inc. Report , American Capital Agency (AGNC) - Get AGNC Investment Corp. Report , Starwood Property Trust (STWD) - Get Starwood Property Trust, Inc. Report , Blackstone Mortgage Trust (BXMT) - Get Blackstone Mortgage Trust, Inc. Class A Report  and Invesco Mortgage Capital (IVR) - Get Invesco Mortgage Capital Inc. Report  included.
However, there's one REIT that stands above the others because of its proven expertise in delivering striking financial results, its growing dividends, and its capacity to target assets that produce steady long-term cash flows: New Residential Investment (NRZ) - Get New Residential Investment Corp. Report .
Offering investors an incredible 11%-plus yield with growing dividends, this REIT is an attractive moneymaking opportunity.
New Residential Investment aims to "drive strong risk-adjusted returns" mainly through three investment routes.
First, it buys excess mortgage servicing rights. Typically, REITs buy MSRs and get the right to collect monthly mortgage payments. But by buying an excess MSR, New Residential amasses cash flows monthly from the MSR without assuming any servicing duties.
The second type of investment is a servicer advance, which is a reimbursable cash payment made by a servicer upon certain conditions. Generally, servicer advances are repaid from amounts received with respect to the related mortgage loan. Since these instruments are first in line to be repaid, they have high credit quality.
The third investment avenue is non-agency residential mortgage-backed securities, or RMBS, and associated call rights. These instruments are extremely valuable when the U.S. economy and housing market strengthen, as they are doing now.
New Residential is also known to use conservative capital structures in a bid to generate returns across various interest rate environments. This is important because interest rates may change over the years, but a conservative mindset can protect you from the downsides. As they say on Wall Street, whoever loses the least wins the game.
Among residential REITs, New Residential Investment's dividend yield is more than double the industry average of 5.2%. None of the larger REITs in this space pay such generous dividends. 
The yield on New Residential is not a mirage, since the stock has gained nearly 50% in the past 12 months. The yield, supported by three years of rising dividends, is stable, and the company is paying about 90% of its profits as dividends.
Recent earnings have showed how New Residential Investment beat Wall Street expectations in the second, third and fourth quarters. Given that the U.S. housing market is slowly building some strength and that the economy is looking better, New Residential should be a good mortgage-focused REIT to put in your portfolio.
Pocket $67,548 EXTRA With This One Simple Investment Change

Warren Buffett made $4.9 billion by making this one small change to his investment strategy. It's the closest you'll ever get to NEVER losing money while investing. I made $185 every day over 1,586 days doing this. Is it time for a change that will lead to more money in your pocket? Get the full details here.
The author is an independent contributor who at the time of publication owned none of the stocks mentioned.