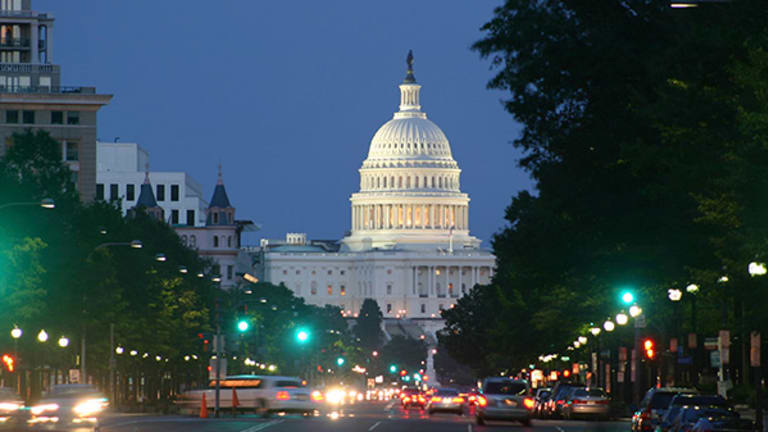 Hungry for High Yield? Look to This REIT in the Heart of the Nation's Capital
This real estate investment trust is one of the most reliable income-and-growth packages you can find.
This real estate investment trust is one of the most reliable income-and-growth packages you can find.
Real estate investment trusts (REITs) are especially powerful dividend plays because they must distribute at least 90% of their taxable income each year to shareholders as dividends. But not all REITs are sound investments; you need to be diligent or you'll get burned by a robust yield that's unsustainable.
Here's the homework done for you, pinpointing one of the most durable dividend leaders of the REIT pack: Washington Real Estate Investment Trust (WRE) - Get Report .
For high yield in a low-yield world, it's hard to find a better income-generating machine than Washington Real Estate Investment Trust. Low interest rates and booming commercial real estate property values have been buoying this best-of-class REIT. When the Federal Reserve finally does hike rates (probably after the presidential election), this REIT boasts inherently strong fundamentals that can weather any turbulence.
Based in Washington, D.C., WRE is the oldest publicly traded REIT in the U.S. WRE reported second-quarter fiscal 2016 earnings on July 28 that blew away expectations, reflecting its solid financial shape as well as continuing tailwinds from the thriving real estate sector.
WRE reported that it had funds from operations of $33.4 million, or 46 cents per share, in the quarter. The average analyst estimate had called for funds from operations of 43 cents per share. Funds from operations is a key financial yardstick in the REIT industry. It takes earnings and adds back items such as depreciation and amortization.
The company reported second-quarter earnings of $31.8 million, or 44 cents in earnings per share (EPS). WRE racked up revenue of $79.4 million in the quarter, again surpassing Wall Street's expectations, which pegged revenue at $77.8 million.
WRE's current dividend yield is a juicy 3.63%. The stock has risen 27.09% year-to-date and 28.13% over the past 12 months, compared to 6.46% and 3.11%, respectively, for the S&P 500 (SPY) - Get Report .
WRE's performance even beats the REIT sector, which has been on a tear lately as real estate prices soar and the Federal Reserve keeps interest rates in place. During the same time frames, the SPDR Dow Jones REIT ETF (RWR) - Get Report , a benchmark for the sector, has risen 13.34% and 16.20%, respectively.
With a market cap of $2.51 billion, WRE has been able to pull off this remarkable performance because of its diversified portfolio of premium property holdings. Since inception in 1960, WRE has operated in the affluent and recession-resistant Washington Metroplex. WRE's portfolio is comprised of about 50 properties, totaling 7.2 million square feet of commercial space and over 3,260 residential units, and land held for development. Its approximately 50 properties consist of 20 office properties, 10 multifamily properties and 20 retail centers.
WRE's strategically balanced portfolio provides stability during troubled real estate conditions, doling out to investors a highly sustainable income stream and a defensive margin-of-safety. WRE's conservative strategy is to acquire existing income-producing properties with limited redevelopment risk in prime locations that generate solid growth potential through cost-effective property management.
The result is consistently superb occupancy rates that have averaged more than 90% over the past 20 years, helping drive operating margins (trailing 12-month) to 21.17%. WRE continues to acquire and develop high-quality assets around the Capital Beltway that are adjacent major transportation hubs (e.g., the Washington Metro system) and in areas with strong employment drivers. The federal government and complementary information industries continue to attract well-educated, highly paid professionals. These characteristics buoy WRE's holdings despite the gyrations of property values.
WRE has been systematically divesting its portfolio of industrial, suburban and other properties, to focus on commercial real estate in the greater Washington/Baltimore corridor. WRE this year sold to Brookfield Property Partners (BPY) - Get Report its suburban Maryland office portfolio for $240 million to emphasize more profitable investment opportunities, such as apartment buildings (which are enjoying rising rents).
This REIT is not only cheaper than its counterparts but its strong territory in the nation's capital and fortress-like finances make it far safer as well. With a trailing 12-month price-to-earnings ratio of 37.77, WRE is cheaper than direct peers Vornado Realty Trust (42.15) and Apartment Investment and Management (42.31).
---
A blistering financial storm is about to hit our shores! When it hits, weak companies and their investors will be washed away. You need to put yourself on solid ground. And that doesn't just mean changing your investment allocations or loading up on cash. I'll show you how to protect yourself and prosper when you click here.
John Persinos is an editorial manager and investment analyst at Investing Daily. At the time of publication, the author held no positions in the stocks mentioned.