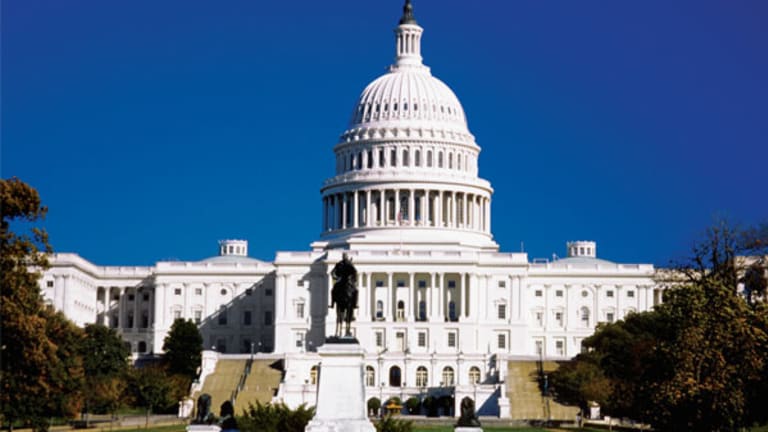 Blue Chip REITs on Blue Chip Streets
Check out the top office rents for San Francisco, Silicon Valley, New York's Fifth Avenue and DC's Pennsylvania Avenue.
NEW YORK (TheStreet) -- Jones Lang LaSalle (JLL) - Get Free Reportrecently published a report titled, "Biocoastal Cities Top List of Most Expensive Streets for Office Rents". In that report the company wrote that the country's most expensive street for office space is in a San Francisco suburb called Menlo Park. As the most luxurious office space in Silicon Valley, Sand Hill Road boasts annual rent per square foot of $111.00.
Read: Why Investors Shouldn't Panic if the Government Shuts Down
Many people aren't surprised to know that the nation's second most expensive address is Fifth Avenue in New York City. Consistently ranked as a top "blue chip" street, Fifth Avenue is also a familiar name for many office REITs including
Vornado
(VNO) - Get Free Report
- owner of 609, 640, 666, and 689 Fifth Avenue,
SL Green
(SLG) - Get Free Report
- owner of 461 and 521 Fifth Avenue, and
Boston Properties
(BXP) - Get Free Report
- owner of 767 Fifth Avenue. According to LaSalle, the average office space along Fifth Avenue is around $102.00 per square foot.
Read: How to Avoid the Tax Mandate on Obamacare
University Avenue in Silicon Valley and Greenwich Avenue in Greenwich, Conn., round out third and fourth on LaSalle's list with office rents of $95.00 and $93.00 respectively.
Read: China ETFs Quietly Becoming Go-To Performers
Fifth on the list is Pennsylvania Avenue, better known as "America's Main Street". As LaSalle's report explains, "Pennsylvania Avenue is home to many firms wanting close proximity to Washington's two main points of power, the White House to the west and the Capitol to the east. A big growth area in tenant demand in recent years has stemmed from the government affairs sector of corporate America. Vornado also controls two key properties along Pennsylvania Avenue: 1299 and 1750.
Read: Bulls Look for Rebound at Edwards Lifesciences
Rounding out the last five "blue chip streets" include California Avenue in San Francisco; Boylston Street in Boston; Avenue of the Stars in Los Angeles; Royal Palm Way in West Palm Beach; and Newport Center Drive in Orange County.
Follow @swan_investor