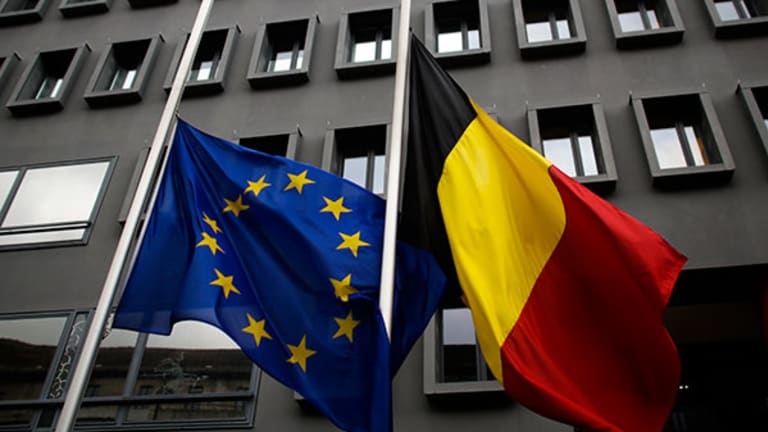 7 High-Yielding Health Care REITs as Safe Havens in a Terror-Stricken Market
In today's dangerous world, these often-overlooked investments can provide a reassuring combination of safety and growth.
Editors' pick: Originally published March 22.
Tuesday's terrorist bloodbath in Brussels is rattling investors to the core as they flee the equities markets for traditional safe havens such as gold. At least 30 people died in the attacks and more than 100 were injured.
Volatility is likely to prevail throughout 2016, as risks continue to loom around the world. In addition to terrorism, the list of fears includes a stumbling Chinese economy, wildly fluctuating energy and commodities prices, a deeply indebted global banking system, economic crises in emerging markets such as Russia and Brazil, a crazy (and violence-prone) presidential election in the United States, and a lingering refugee crisis in Europe. And this litany of woes is by no means exhaustive.
That's why the time is ripe to put your money in health care real estate investment trusts (REITs), an often overlooked class of investment that should provide both safety and market-beating growth this year.
The best way to make money over the long haul, even in dicey conditions, is to buy the stocks of growing companies whose products and services are crucial to everyday life. It's even better if these companies are tapped into unstoppable trends. Few companies better fit this description than health care providers. When packaged in the form of high-yielding REITs, the investment appeal of the health care sector is even greater.
Below, we've pinpointed the seven best health care REITs to buy now. In an era of 1% CDs and still-low interest rates, these dividend-payers are among the most enticing investments you can find right now.
REITs provide an investment product where the trust invests in income-producing real estate properties and investors buy equity in the trust. If the real estate purchased by the trust produces more rent or appreciate more than the expected, the equity value of the trust increases.
Essentially, this equity tool allows investors to purchase (and profit from) a selection of real estate without the hassle of investing in individual properties. In addition, as a REIT increases holdings of a wider variety of properties, the risk of the portfolio becomes diversified.
REITS are structured in many different ways. One can invest in rental properties, storage facilities, commercial properties, shopping centers, etc. In the case of our health care REITs, an aging population combined with greater health coverage through Obamacare should propel growth for at least a generation.
The following health care REITS offer dividends ranging from 4.71% to 8.94%, which is a strong return given the overall low risk. They maintained strong dividends even through the February downturn.
Let's take a closer look at our picks, all of which offer robust income combined with likely capital appreciation. They're also fairly valued, in terms of their respective trailing 12-month price-to-sales ratios (TTM P/S), as compared to the industry's TTM P/S of 7.94.
1. Ventas (VTR)
Dividend yield: 4.72%
Segments: Triple-net leased properties, senior living operations and medical office building (MOB) operations.
Portfolio: 786 senior housing communities, 371 MOBs, 46 specialty houses, nine U.S. acute care hospitals, 67 skilled nursing facilities (SNFs), and three international hospitals. Operates in the U.S., Canada, and United Kingdom. TTM P/S: 6.29.
2. HCP Inc. (HCP)
Dividend yield: 6.94%
Segments: Senior housing, post-acute/skilled nursing, life science, medical office, and hospital.
Portfolio: 1,040 properties under lease and 68 operating properties. HCP has interests in unconsolidated joint ventures representing 88 properties in its senior housing, life science and medical office segments. TTM P/S: 5.93.
3. Care Capital Properties Inc. (CCP)
Dividend yield: 8.94%
Segments: Ownership, acquisition and leasing of SNFs and other healthcare assets. Its specialty hospitals and health care assets include hospitals focused on providing children's care, inpatient rehabilitation facilities, long-term acute care hospitals and personal care facilities.
CCP's senior housing communities include independent and assisted living communities, continuing care retirement communities and communities providing care for individuals with Alzheimer's disease and other forms of dementia or memory loss.
Portfolio: Approximately 355 properties. TTM P/S: 6.86.
4. Omega Healthcare Investors Inc. (OHI)
Dividend yield: 6.58%
Segments: Invests in income producing health care facilities and long-term care facilities located throughout the U.S. The company provides lease or mortgage financing to qualified operators of skilled nursing facilities and assisted living facilities (ALFs), independent living facilities, rehabilitation and acute care facilities.
Portfolio: 900 properties located in 41 states and operated by 81 different operators. TTM P/S: 8.64.
5.Medical Properties Trust Inc. (MPW)
Dividend yield: 7.01%
Segments: Mortgage loans to health care operators collateralized by their real estate assets.
Portfolio: 202 properties, which includes 179 owned facilities and 14 properties controlled in the form of mortgage loans. The properties are leased/mortgaged in 28 states, and Germany, the U.K., Italy, and Spain.
Within MPW's total portfolio, nine facilities are under development. MPW's facilities consists of 64 general acute care hospitals, 69 inpatient rehabilitation hospitals, 23 long-term acute care hospitals, 43 free standing emergency rooms, and 3 MOBs. TTM P/S: 6.58.
6. Welltower Inc. (HCN)
Dividend yield: 5.12%
Segments: Seniors housing triple-net, seniors housing operating and medical facilities. Properties consist of land, building, improvements, and related rights.
Portfolio: Over 1,400 properties in the U.S., U.K., and Canada. TTM P/S: 6.29.
7. The Universal Health Realty Income Trust (UHT)
Dividend yield: 4.71%
Segments: Health care and human service related facilities, including acute care hospitals, rehabilitation hospitals, sub-acute facilities, surgery centers, free-standing emergency departments, childcare centers and MOBs.
Portfolio: 61 real estate investments, 48 MOBs, three free-standing emergency departments, and four preschool and childcare centers. TTM P/S: a bit pricey at 11.22, but still not seriously out of whack with the industry average.
Best biotechnology stock under $10: We've found a small-cap biotech "rocket stock" that's about to take off. UCLA researchers are stunned by a Nobel Prize-winning cancer breakthrough that's proven in clinical trials to eliminate lethal forms of cancer with a single dose. One small company owns the patent to this life-saving treatment. Now trading at about $5 a share, the stock of this innovative company is projected to surge 2,700% on an imminent FDA announcement. To download the full report, click here.
John Persinos is editorial manager and investment analyst at Investing Daily. At the time of publication, the author held no positions in the stocks mentioned.