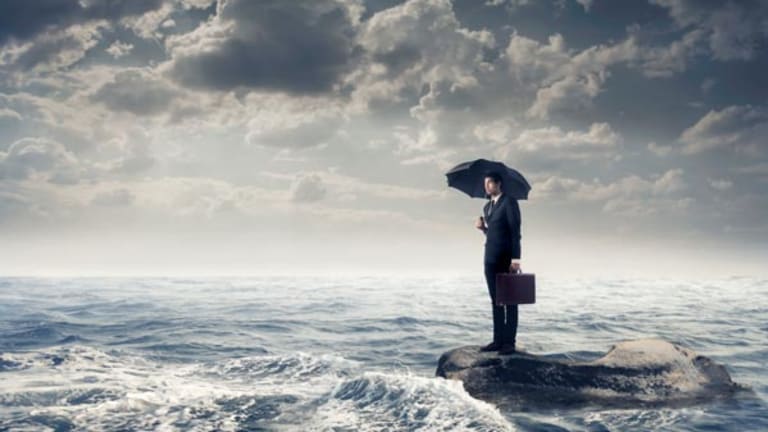 Regions: Financial Winner
Bank stocks were mixed, on 'Sandy Weill Day.'
NEW YORK (
) --
Regions Financial
(RF) - Get Free Report
was again the Winner among large U.S. financial names on Wednesday, with shares rising 4% to close at $6.91.
For the U.S. banking industry, the big news on Wednesday was former
Citigroup
(C) - Get Free Report
chairman Sanford "Sandy" Weill's early morning interview on CNBC. Weill -- who led the 1998 merger of Travelers Group and Citicorp to form Citigroup, creating the "financial supermarket" business model for the largest U.S. banks, including
JPMorgan Chase
(JPM) - Get Free Report
and
Bank of America
(BAC) - Get Free Report
-- dropped a
by saying that the United States should "go and split up investment banking from banking."
Weill said that "the financial crisis "was created by too much concentration in investments in the banking system, way too much leverage,
and very little transparency with lots of off-balance sheet things that didn't really count, and I think a lot of those things have to change."
Separating investment banking from deposit gathering and lending would meant that "the taxpayer will never be at risk, the depositors won't be at risk, the leverage of the banks will be something reasonable, and the investment banks can do trading... not subject to a Volcker rule," Weill said, adding that investment banks could then escape the current regulatory burden and "be creative, they can make some mistakes, they'll have everything
clearing with each other every single night so that they can be marked to market."
Unfettering the investment banks would leave "a creative investment banking system like we've always had, where the financial industry can again attract the best and the brightest young people like they do in silicon valley, like they're doing in engineering, so that we can lead the innovation that's necessary and the entrepreneurship that's necessary."
North Jersey Community Bank CEO Frank Sorrentino III says that "while the regulatory environment has been attempting to break up too 'big to fail', institutions, what CEOs and boards of directors will ultimately conclude is that the some of the parts may be more valuable than the whole." The stocks of many of the nation's largest banks trade at historically low valuations "because some parts of the bank are dragging down the value, while the better performing units are undervalued," he says.
"The Basel III requirements and the Volcker Rule are catalysts," according to Sorrentino, "but some of these institutions that are too large to manage, will in fact break themselves up."
Sorrentino says that "clearly, a vast majority of these organizations would have already gone away without government intervention," adding that "the banking system wouldn't have failed, but the banking institutions that were within these organizations would have survived, with other units spun-off as in a bankruptcy."
"Now that things have calmed down, we are finally getting to a point where some institutions will think about simplifying their business plans to create the highest shareholder value that they can."
The low price multiples for the shares of the nation's three largest bank holding companies point to potential value that could be unlocked by big
:
Shares of JPMorgan Chase (JPM) - Get Free Report rose over 1% on Wednesday to close at $35.17, returning 8% year-to-date, following a 20% decline during 2011. The shares trade just above tangible book value, according to Thomson Reuters Bank Insight, and for seven times the consensus 2013 earnings estimate of $5.21 a share, among analysts polled by Thomson Reuters. The consensus 2012 EPS estimate is $4.64. Based on a 30-cent quarterly payout, the shares have a dividend yield of 3.41%.
Bank of America (BAC) - Get Free Report closed at $7.07, returning 27% year-to-date, after dropping 58% during 2011. The shares trade for just over half their reported June 30 tangible book value of $13.22, and for eight times the consensus 2013 EPS estimate of 93 cents. The consensus 2012 EPS estimate is 56 cents.
Citigroup rose over 2% to close at 25.79, down 2% year-to-date, following a 44% decline during 2011. The shares trade for just under half their reported June 30 tangible book value of $51.81, and for six times the consensus 2013 EPS estimate of $4.54. The consensus 2012 EPS estimate is $4.09.
The broad indexes on Wednesday were mixed, following three straight sessions of declines, as investors speculated that the
e may be preparing
, in the wake of several weak economic reports.
The
KBW Bank Index
undefined
rose slightly to close at 44.67, with the 24 index components roughly split between advances and declines. .
Shares of Regions Financial continued to rise after the Birmingham, Ala., lender on Tuesday reported second-quarter earnings to common shareholders of $284 million, or 20 cents a share, beating the consensus estimate of a 16-cent profit.
In comparison, Regions earned $145 million, or 11 cents a share during the first quarter, and $55 million, or four cents a share, during the second quarter of 2011.
Please see
TheStreet's
for much more on Regions Financial's second-quarter results.
FBR analyst Paul Miller rates Regions "Market Perform," with a price target of $6.50, and said late on Tuesday that "the company had a solid operating quarter as lower operating expenses,
net interest margin expansion, and overall credit improvement supported earnings," adding that "credit metrics continue to be encouraging, prompting the company to release reserves."
While Miller also said that "Regions continues to make progress in stabilizing its balance sheet and improving funding costs, which should benefit NIM going forward," the concluded by saying that "until Regions can generate stronger core profitability and sustained loan growth, we will remain on the sidelines with regard to shares."
Miller estimates that Regions will earn 67 cents a share for all of 2012, followed by 2013 EPS of 65 cents.
Regions Financial's shares have now returned 61% year-to-date, following a 39% decline during 2011.
data by
The shares trade just above their reported June 30 tangible book value of $6.69, and for nine times the consensus 2013 EPS estimate of 79 cents. The consensus 2012 EPS estimate is 70 cents.
Interested in more on Regions Financial? See TheStreet Ratings' report card for this stock.
RELATED STORIES:
Break Up Big Banks: Sandy Weill (Update 2)
Weill Bank Breakup Plan Not Good Enough
Weill Can't Kill Banking Monster, but Shareholders Can
Sterling National Fights the Banking Trend
--
Written by Philip van Doorn in Jupiter, Fla.
>Contact by
.
Philip W. van Doorn is a member of TheStreet's banking and finance team, commenting on industry and regulatory trends. He previously served as the senior analyst for TheStreet.com Ratings, responsible for assigning financial strength ratings to banks and savings and loan institutions. Mr. van Doorn previously served as a loan operations officer at Riverside National Bank in Fort Pierce, Fla., and as a credit analyst at the Federal Home Loan Bank of New York, where he monitored banks in New York, New Jersey and Puerto Rico. Mr. van Doorn has additional experience in the mutual fund and computer software industries. He holds a bachelor of science in business administration from Long Island University.