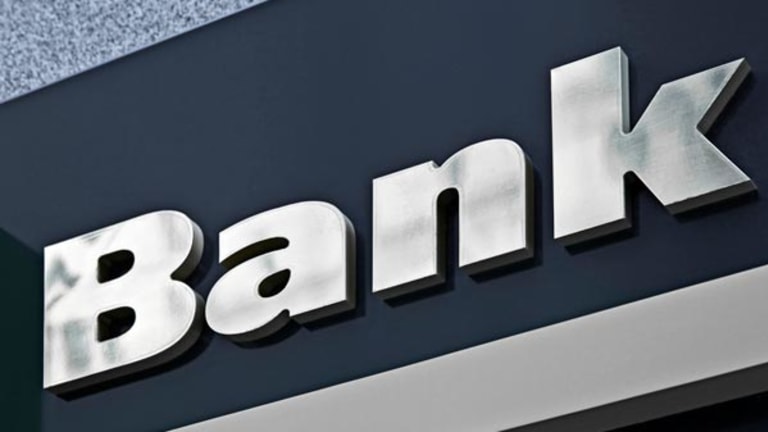 Regions Financial: Bank Stock Winner Again
The Birmingham, Ala., lender led bank stocks again on Wednesday, after showing good first-quarter progress on Tuesday.
NEW YORK (
) --
Regions Financial
(RF)
was the winner among major U.S. financial names on Wednesday, with shares rising 3% to close at $8.22.
The broad indexes ended mixed, after the U.S. Census Bureau reported that durable goods orders declined 5.7% in March after rising 4.3% in February. Orders excluding transportation were down 1.4%. The average estimate among economists polled by
Thomson Reuters
was for durable goods orders to fall by 2.8% in March, with core durable goods orders rising 0.5%.
The
KBW Bank Index
undefined
rose over 1% to close at 56.44, with all but two of the index components ending the session with gains.
The Bombshell Brown/Vitter Bill
Senators Sherrod Brown (D., Ohio) and David Vitter (R., La.) on Wednesday proposed the Terminating Bailouts for Taxpayer Fairness Act, which require "megabanks" with total assets of over $500 billion to raise capital levels to at least 15% of total assets. Under the proposal, "mid-sized and regional banks would be required to hold eight percent in capital to cover their assets."
The senators said in a press release that "Five years ago, risky practices at Wall Street banks puts our economy on the brink of collapse - and jeopardized the savings and pensions of millions of Americans. Today, the nation's four largest banks are nearly $2 trillion larger than they were then - aided by an implicit government guarantee awarded by virtue of their 'too big to fail' status."
"Our bill will ensure a level playing field for all financial institutions by ending the subsidy for Wall Street megabanks and requiring banks to have adequate capital to back up their liabilities," the senators said.
The TBTF bill's capital requirements would be much higher than the Basel III capital requirements for the largest banks, which will be fully phased in by January 2019, under the
Federal Reserve's
proposed rules. The Fed's proposed rules require large banks to have Tier 1 common equity ratios of 7%, plus additional requirements for "systemically important financial institutions," or SIFIs.
Based on determinations by the Basel Committee, the additional capital surcharges for
Citigroup
(C)
and
JPMorgan Chase
(JPM)
are 2.5%, so each of these banks has a fully phased-in minimum Basel III Tier 1 common equity ratio requirement of 9.5%.
For
Bank of America
(BAC)
and
Wells Fargo
(WFC)
, the surcharge is 1%, for fully phased-in Basel III Tier 1 common equity ratio requirements of 8% for each company.
Senators Brown and Vitter said that under their proposal, "regulators would walk away from Basel III, and institute new capital rules that don't rely on risk weights and are simple, easy to understand, and easy to comply with." They also said in their press release that the biggest banks "will be faced with a clear choice: either become smaller or raise enough equity to ensure they can weather the next crisis without a bailout."
In a report early this month, Rafferty Capital analyst Richard Bove called a draft version of the Brown/Vitter bill "anti-American legislation" that was based on a "total lack of understanding of banking."
"The immediate effect of this bill will be to force American banks to shrink reducing the lending they provide to the United States economy," Bove wrote, adding that "the second impact of this bill will be to allow Chinese banks to increase the dominant positions they are building in the global financial system.
"This bill will be of significant assistance to the Chinese in their attempt to push American banks aside and at the same time replace the dollar with the yuan as the global reserve currency. The bill is so anti-American as to have one think it was being written by the Chinese rather than any American legislator," Bove wrote.
Four Bank Stock Picks from Oppenheimer
In a report on large commercial banks late on Tuesday, Oppenheimer analyst Chris Kotowski said that "operating returns are still sub-par" for the banking industry, but also offered hope for a continued recovery for bank stock prices, since "it is rising returns rather than high returns that drive bank stocks."
When credit quality is "good and stable," banks can improve their earnings performance "by pulling on some combination of four key levers: pricing, underwriting standards, delivery costs and equity returns," Kotowski wrote. He added that "banks have been pulling the pricing and underwriting levers aggressively since the financial crisis hit, resulting in flattish loan volumes and flattish net interest income and low and still declining
net charge-offs."
Now that most of the large U.S. banks have announced their first-quarter results, it is quite apparent that "the expense lever is being pulled," according to Kotowski, who also wrote that extraordinary expenses for mortgage litigation and foreclosure costs "still have a long way further to go."
Oppenheimer projects a solid return on tangible common equity among large banks covered by the firm of 13.3% for 2013, improving from 12.9% in 2012 and 10.6% in 2011.
With returns rising, stock valuations "cheap" and "balance sheets improving," Oppenheimer's "recommended list" includes these four banking giants:
Citigroup. The shares closed at $47.12 Wednesday, trading for 8.9 times the consensus 2014 earnings estimate of $5.32 a share, among analysts polled by Thomson Reuters. Oppenheimer's price target for Citi's shares is $57.
Capital One (COF) . The shares closed at $57.06, trading for 8.6 times the consensus 2014 EPS estimate of $6.67. Oppenheimer's price target for Capital One is $69.00.
JPMorgan Chase. The shares closed at $48.73, trading for 8.2 times the consensus 2014 EPS estimate of $5.93. Oppenheimer's price target for the shares is $66.
Morgan Stanley (MS)
. The shares closed at $21.45, trading for 8.5 times the consensus 2014 EPS estimate of $2.53. Oppenheimer's price target for Morgan Stanley is $27.00
Regions
Regions Financial's shares were up again on Wednesday, following a 4% gain on Tuesday, after the Birmingham, Ala., lender reported first-quarter net income available to common shareholders of $327 million, or 23 cents a share, increasing from $261 million, or 18 cents a share, in the fourth quarter, and $145 million, or 11 cents a share, in the first quarter of 2012.
The year-over-year earnings improvement mainly reflected the bank's continued improvement in credit quality. The provision for loan losses declined to $10 million in the first quarter from $37 million the previous quarter and $117 million a year earlier.
Noninterest expense totaled $842 million in the first quarter, declining from $902 million in the fourth quarter and $913 million in the first quarter of 2012. According to the company, professional and legal expenses returned to "a more normalized level" of $31 million in the first quarter from $15 million in the fourth quarter, when Regions "benefitted from $20 million in lower legal reserves." The main factor in the sequential lowering of expenses was $42 million in costs in the fourth quarter to terminate a Real Estate Investment Trust investment.
Regions continued to benefit from the housing market recovery, with expenses to maintain repossessed real estate totaling just $2 million in the first quarter, declining from $6 million the previous quarter and $23 million a year earlier.
Another highlight for Regions in the First quarter was the widening of its net interest margin, running counter to the trend for most large banks in the prolonged low-rate environment. The bank's first-quarter net interest margin expanded to 3.13% in the first quarter from 3.1% in the fourth quarter and 3.09% in the first quarter of 2012.
Despite the margin expansion, net interest income was down to $798 million in the first quarter from $818 million the previous quarter and $827 million a year earlier. The sequential decline reflected a lower number of days in the quarter, but also a decline in average loans to $73.9 million in the first quarter from $74.6 million in the fourth quarter. Continued declines in commercial real estate (CRE) and residential mortgage loans, home equity loans and other consumer loans, were only partially offset by increases in commercial and industrial loans and indirect auto loans.
Average commercial and industrial (C&I) loans were up 2% sequentially to $27.1 billion in the first quarter.
FBR analyst Paul Miller on Wednesday reiterated his "market perform" rating for Regions, with an $8 price target, saying in a note to clients that the bank's first-quarter results implied a return on tangible common equity of 13.1%, "which represents marked improvement from the prior four quarters and demonstrates Regions' turnaround momentum."
When discussing the net interest margin, Miller wrote that "while competitive pressures will likely continue to weigh on loan yields, the company does continue to have material offsets on the funding side, something that is dissipating at most of its peers."
Still, Miller's enthusiasm was tempered. "Earnings growth outside of expense cuts should remain difficult given flat earning asset balances and relatively stable net interest income," he wrote. The analyst estimates Regions will earn 81 cents a share for all of 2013, with EPS rising to 85 cents in 2014.
data by
Interested in more on Regions Financial? See TheStreet Ratings' report card for this stock.
-- Written by Philip van Doorn in Jupiter, Fla.
>Contact by
.
RELATED STORIES:
Citigroup Reverse Split Still Irks Shareholders
Discover Keeps Cooking With 27% Return on Equity
CIT Group Ups Risk, Eyes $1.6B Tax Gain
Greenberg's AIG Case Is Intriguing, but Doomed
3 Bank Stock Picks From Deutsche Bank
Philip W. van Doorn is a member of TheStreet's banking and finance team, commenting on industry and regulatory trends. He previously served as the senior analyst for TheStreet.com Ratings, responsible for assigning financial strength ratings to banks and savings and loan institutions. Mr. van Doorn previously served as a loan operations officer at Riverside National Bank in Fort Pierce, Fla., and as a credit analyst at the Federal Home Loan Bank of New York, where he monitored banks in New York, New Jersey and Puerto Rico. Mr. van Doorn has additional experience in the mutual fund and computer software industries. He holds a bachelor of science in business administration from Long Island University.