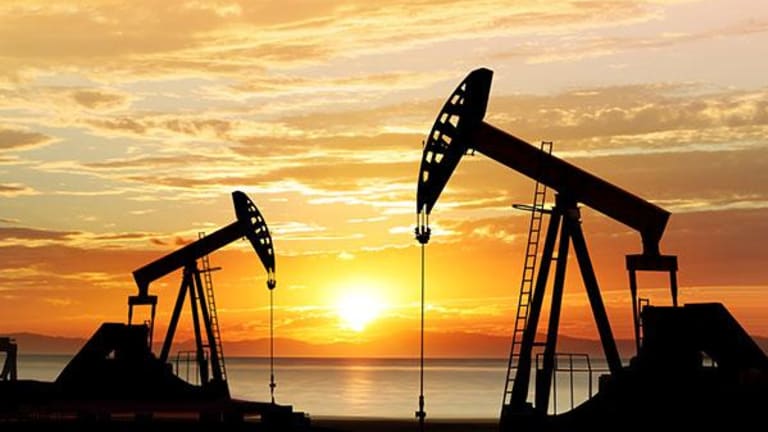 Refiners Stuck in Gap Between Price and Profitability
As some refiners prepare to report earnings, the oil glut continues.
As some oil refiners prepare to report their latest quarterly results, the spread between West Texas Intermediate (WTI) and Brent crude oil continues to widen.
Spread Between Brent and WTI for One Year
Some industry observers were watching the spread widen, which is normally seen as a positive. Even though the spreads are not as great as they were about five years ago, this widening spread is being driven by a gasoline glut.
Spread Between Brent and WTI for Five Years
Real Money contributor Daniel Dicker said there is added pressure on WTI because of the glut and refiners are facing the issue of trying to clear it.

The U.S. Energy Information Administration (EIA) reported Wednesday that U.S. commercial crude oil inventories increased by 1.7 million barrels from the previous week, for a total of 521.1 million barrels -- a historically high level for this time of year. Crude oil refinery inputs averaged 16.6 million barrels per day during the week ending July 22. Meanwhile, gasoline production increased last week, averaging about 10.1 million barrels per day, according to the EIA.
U.S. crude oil prices hit three-month lows Tuesday. Benchmark WTI crude prices averaged $46.59 per barrel over the past three weeks, according to the EIA -- a 40% increase over the average price in the first quarter of 2016. Meanwhile, Brent crude oil prices were hovering around $43.57 Wednesday, which represents a 5% increase since the beginning of the year.
Dicker also noted that the gasoline glut has been present since March, limiting refiners' ability to take on crude.
So how do refinery-sector analysts view this glut?
In March, Wells Fargo analysts wrote they expect a great amount of seasonality in crack spreads for all refiners, but it affects the mid-continent ones especially (located in the Texas Panhandle, Oklahoma and Kansas, and include Valero Energy (VLO) , Phillips 66 (PSX)  and Exxon Mobil (XOM)  among others). The Wells analysts said they favored Gulf Coast and light/heavy differential exposure, making Valero Energy and PBF Energy (PBF)  their top picks. (Crack spreads refer to the differential between the price of crude oil and petroleum products extracted from it.)
Valero, which reported earlier this week, saw its refining segment report operating income of $1.3 billion for the second quarter, compared to $2.2 billion a year earlier. The company said the decline was "primarily attributable to weaker gasoline and distillate margins." Valero also cited other factors such as narrower sweet crude oil discounts relative to the Brent benchmark and higher costs to meet its biofuel blending obligations -- primarily for the purchase of Renewable Identification Numbers (RINs). A RIN is associated with each gallon of ethanol that is blended into gasoline.
Goldman Sachs analysts said in a research note Monday that refining fundamentals and stock performance have been challenged by four factors: oversupplied gasoline/diesel markets, tight crude differentials, lower capture rates and higher RINs expenses.
"Despite the share ... selloff ... we still believe it is too early to get broadly positive on refining equities until consensus [earnings per share] estimates recalibrate," the Goldman analysts said. They also see a 14% to 20% median downside to 2016-17 estimates, with 10 of 13 refiners missing on second-quarter EPS.
Meanwhile, CVR Energy  (CVI)  , CVR Refining (CVRR)  and Phillips 66 are scheduled to report earnings later this week.
So what's the upshot for investors in this sector?
"In the past, when you had a huge discount of domestic crude versus global crude, it would be good for refiners," said Dicker. "This time it's sideways, and the pressure on domestic crude oil is being caused by refinery gluts." Dicker added that he expects the glut to take months to clear.
While the spread can favor mid-continent refineries, Dicker said the glut is a nationwide issue. The other premium crude oil -- Louisiana Light Sweet -- is highly in demand and has never had the kind of glut issue that WTI is experiencing, Dicker said.
So, until the gasoline glut subsides, Dicker -- and, it seems, the Goldman analysts -- are waiting to value the refinery stocks, although Dicker says an opportunity might present itself if the stocks were to go even lower.
-- Aidan Dougherty contributed to this story.
Editor's Note: This article was originally published at 6:05 p.m. EDT on Real Money on July 27.