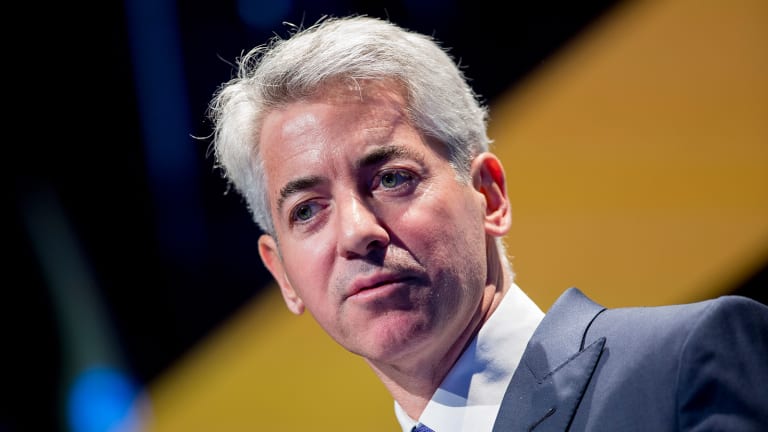 Reeling from Valeant investment, Ackman cuts CP stake
The embattled insurgent investor also announced that a director he installed onto the board of animal healthcare company Zoetis last year won't be returning.
 Bill Ackman and his beleaguered Pershing Square Capital Management LP late Friday reported a significantly reduced stake in in Canadian Pacific Railway Ltd., (CP) in the fund's latest move to unload shares in the wake of losses stemming from its investment in embattled Valeant Pharmaceuticals International Inc. (VRX).
Specifically, Pershing Square reported that it had cut its stake in the railroad company to 6.4% from 9.1%. The stake reduction suggests that Ackman, who sits on the board of Canadian Pacific is less likely to agitate behind-the-scenes to push CP into making another major unsolicited bid after it canceled hostile efforts earlier this month to acquire Norfolk Southern Corp. (NSC). Ackman had been a major advocate for consolidation in the railroad space, arguing last year that Norfolk was "an ideal activist situation." In 2012, he engineered a board takeover at CP, in a major victory that pushed out the railroad company's then CEO, Fred Green.
Pershing had acquired an original 12% CP stake in 2011, at prices ranging from $46.41 a share to $63.52 a share. On Friday he sold shares at $148.25 a share.
The share sale likely has to do, partly, with efforts to try and balance Pershing Square's portfolio, which is struggling with its significant investment in Valeant. Its stock price dropped by more than 50% on one day last month and trades at roughly $35.98 a share - down from its high of about $262 a share in August. The stock price drop helped drive Pershing Square, once the darling of the activist investor community, to an abysmal -20.5% return net of fees for 2015 and a -19.7% in early 2016, according to a Feb. 29 report. As Valeant's share price dropped, Pershing Square accumulated more shares, hiking its position in the drug company to 9% from 8.5% in February.
On Monday, Valeant named a new CEO, Joseph Papa, who resigned from his post as chief executive at Perrigo Co. Papa's installation came as part of an effort by the pharmaceutical company to calm nerves in the wake of its significant stock price drop. It also came after Valeant on Friday received notices of default from debt holders due, in part, to a decision to delay filing of its annual report.
In another indication that Ackman and Pershing Square may be cutting back on its activist activities, on Friday, Pershing also announced that a director he installed on animal healthcare company Zoetis Inc. (ZTS), as part of a settlement, will not be returning for another term as a director. In February, 2015, Pershing reached a deal with Zoetis to expand its board and include former Johnson & Johnson executive, Bill Doyle. On Friday, Pershing said in a filing that the fund "is pleased" with the company's progress in "implementing its previously announced initiatives to simplify operations, improve cost structure, and better allocate resources." Nevertheless, some proxy solicitor observers had argued early last year that Pershing's move to launch an activist campaign at Zoetis and include Doyle on the company's board was so that it would be acquired by Valeant, which was still considered a significant consolidator at the time. Such a strategy seems unlikely these days as Valeant itself is now discussed as a potential acquisition target.
Also, in March, Ackman cut Pershing Square's stake in Mondelez International Inc. (MDLZ) from 7.5% to 5.6%. Mondelez has come under pressure to be sold by Nelson Peltz's Trian Management. 
As far as railroad consolidation, a smaller deal may be in the cards for Canadian Pacific. CEO E. Hunter Harrison, on a call last week with analysts, said "there are other opportunities" for the railroad that it will continue to explore and that he "can't get into the level of detail about what that might be." The comments suggest that CP could be interested in acquiring a smaller railroad, perhaps Kansas City Southern (KSU), the smallest of the major U.S. railroads.
It is unclear what will happen to Ackman's fund in the wake of the Valeant stock price drop. In 2014, Ackman, in an attempt to create permanent capital, conducted an IPO for an Amsterdam-listed, publicly-traded closed-end fund whose holdings mirror Pershing Square's portfolio. The investment vehicle, according to a person familiar with the situation, could help Pershing Square limit the damage from Valeant and any potential investor redemptions.