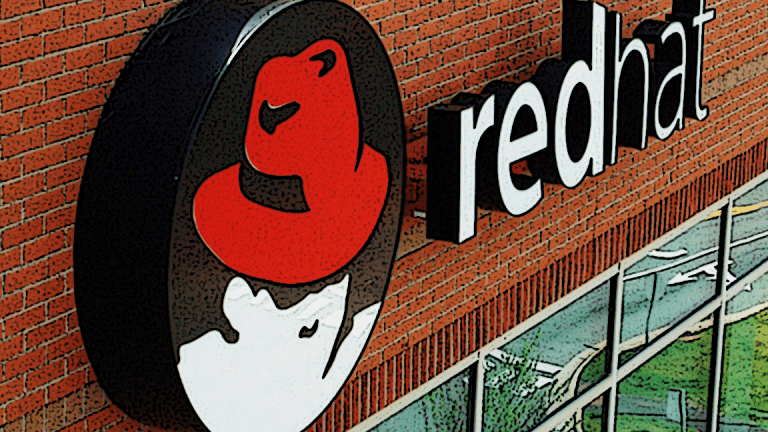 Red Hat's CEO Tells TheStreet Why He Isn't Worried About His Firm's Sales Miss
CEO Jim Whitehurst expects Red Hat's Linux sales growth, which recently slowed, to improve in time.
Red Hat (RHT) - Get Red Hat, Inc. Report shares may be hurting on Thursday, but its CEO isn't worried about where the company's business stands.
The open-source software giant missed revenue estimates and lowered its sales guidance, sending its shares tumbling by more than 6% on Thursday morning. But CEO Jim Whitehurst insisted in an interview with TheStreet and in the company's earnings call that some one-time events are to blame, and that his firm's competitive position hasn't changed.
Results and Guidance
After the bell on Wednesday, Red Hat reported August quarter (fiscal second quarter) revenue of $822.7 million (up 14% annually) and non-GAAP EPS of $0.85. EPS, which benefited from $250 million worth of stock buybacks, beat an $0.82 consensus. However, revenue fell short of an $828 million consensus.
For the November quarter, Red Hat is guiding for revenue of $848 million to $856 million and EPS of $0.87, which is below a consensus of $862 million and $0.92. And while the company is raising its fiscal 2019 (ends in Feb. 2019) EPS guidance by a penny to a range of $3.45 to $3.49, it's lowering its revenue guidance by $15 million to a range of $3.36 billion to $3.395 billion.
Shares fell almost 5% in after-hours trading on Wednesday and were down more than 6% to $134.27 on Thursday morning. They're still up 12% on the year, albeit down more than 24% from a June high that was hit shortly before Red Hat issued light sales guidance in June.
Red Hat's Explanation
The dollar's continued weakening is partly blamed for Red Hat's revenue numbers. The company asserts its August quarter sales would have been $3 million higher if currency rates stayed where they were in June. Forex also had a 2-percentage-point impact on Red Hat's deferred revenue balance; it grew 17% in dollars to $2.39 billion, but 19% in constant currency.
In addition, on the earnings call, Whitehurst noted that while 24 of the 25 largest deals that Red Hat had up for renewal were successfully renewed, one surprisingly didn't. He termed it "a rare competitive loss to a legacy on-premise provider based on pricing." Separately, CFO Eric Shander (interviewed in June) noted that an Army project "de-scope" impacted sales.
As was the case in March, I had a chance to talk with Whitehurst about Red Hat's latest quarter, along with some other things. Here's a look at a few of the topics discussed.
Linux Growth
Getting attention from analysts: Red Hat's "infrastructure-related" subscription revenue, which is driven by Red Hat Enterprise Linux (RHEL) sales and accounted for 64% of its revenue, saw annual growth slow to 8% from the May quarter's 14%. Red Hat, which predicts Linux growth will re-accelerate in the coming quarters, blamed this slowdown on a mixture of forex, the aforementioned deal loss and the fact that fewer large contracts are currently up for renewal.
At the same time, Whitehurst insisted that RHEL was still taking server OS share from on-premise rivals -- he asserted Red Hat has seen some "good competitive wins" against rival SUSE Linux, which was deemed to be struggling -- and holding its own in public clouds against rival Linux distributions such as Amazon Linux, which Amazon.com (AMZN) - Get Amazon.com Inc. Report  provides for free to AWS clients.
When I asked about competition from Microsoft's (MSFT) - Get Microsoft Corporation Report Windows Server OS, which will be seeing a major refresh later this year, Whitehurst stated industry research still points to Linux "taking a fair amount of share" from Windows, while adding that customer decisions on which OS to deploy tend to be driven by the workloads that they're deploying rather than direct competition. And on this count, he suggested that the use of Linux for fast-growing workload types is helping drive share gains.
"The big secular driver of Linux is that big data workloads run on Linux. AI workloads run on Linux. DevOps and those platforms, almost exclusively Linux," he said. "So much of the net new workloads that are being built have an affinity for Linux."
Middleware
Thanks to strong demand for newer offerings such as its OpenStack (cloud infrastructure), OpenShift (app container management) and Ansible (IT automation) solutions, Red Hat's "application development and emerging technologies" subscription revenue grew 31% to $196 million. However, growth slowed from the May quarter's 37% and the February quarter's 39%.
The main culprit behind this slowdown: Some of Red Hat's middleware products, which act as software glue for integrating apps and services, are seeing slower growth. In particular, Whitehurst singles out slower growth for Red Hat's JBoss EAP solution, which acts as an application server for Java Enterprise Edition (EE) apps and isn't typically used to run apps built with public cloud deployment in mind.
"People aren't necessarily writing big, stateful, Java EE applications at the rate that they used to," Whitehurst admitted. At the same time, he reiterated Red Hat's stance that growing OpenShift adoption will lead to stronger middleware growth in time, since apps running inside of containers managed by OpenShift (whether in public clouds or elsewhere) still have a need for middleware.
The Microsoft Partnership
Though they compete in the server OS market, Red Hat and Microsoft have a partnership dating back to 2015 in which (among other things) Red Hat products are supported on Microsoft's Azure cloud platform. In May, the partnership was expanded to include a jointly-managed OpenShift service that runs on Azure.
Whitehurst asserted Red Hat is still "seeing very strong growth of RHEL on Azure." He also sounded quite enthusiastic about customer interest in the OpenShift service, which becomes generally available later this year and will allow companies to moves between Azure and their on-premise infrastructures.
"I was in Europe last week and a ton of customers were saying 'We really want to build on a container platform, but we don't want to be locked into a cloud'," he said. "Even Microsoft will say to that, 'Well, then use OpenShift as a way to run on Azure but protect yourself for the future'." OpenShift, it should be noted, competes against proprietary container management services provided by Microsoft, Amazon and Alphabet/Google (GOOGL) - Get Alphabet Inc. Report for their cloud platforms.
Amazon.com, Microsoft and Alphabet are holdings in Jim Cramer's Action Alerts PLUS member club. Want to be alerted before Jim Cramer buys or sells AAPL or GOOGL? Learn more now.
Sales Capacity
On the earnings call, Whitehurst stated Red Hat is "running into a little bit of a sales capacity issue" that's impacting RHEL sales. When I asked about whether this issue will require Red Hat to ramp its sales hiring, Whitehurst insisted the issue can be fixed by having sales teams work more efficiently, particularly when it comes to inking deals that involve OpenShift.
"Things like a container platform take more [sales] work, because there's more hand-holding, more [proof of concepts], etc. and so it's a less efficient sale," he said. "[W]e can do both, we can walk and chew gum at the same time...we just need to make sure that we are talking about both [RHEL and OpenShift] and that we can deliver."
Stock Buybacks
Three months after launching a new $1 billion stock buyback, Red Hat disclosed that its buybacks had grown by $100 million sequentially to $250 million. When asked about how buybacks will trend from here, Whitehurst declined to give specifics, but suggested Red Hat will remain an active buyer of its stock.
He also took the occasion to note that unlike some tech peers, Red Hat's stock repurchases aren't fully offset by the dilution caused by stock compensation. "[I]f you look, we generally have a continuously declining share count," he said. "Which is a positive for our shareholders, certainly relative to many of the growth-y tech companies that issue so much in stock comp expense that even with significant buybacks...[they] aren't able to reduce their net share count."