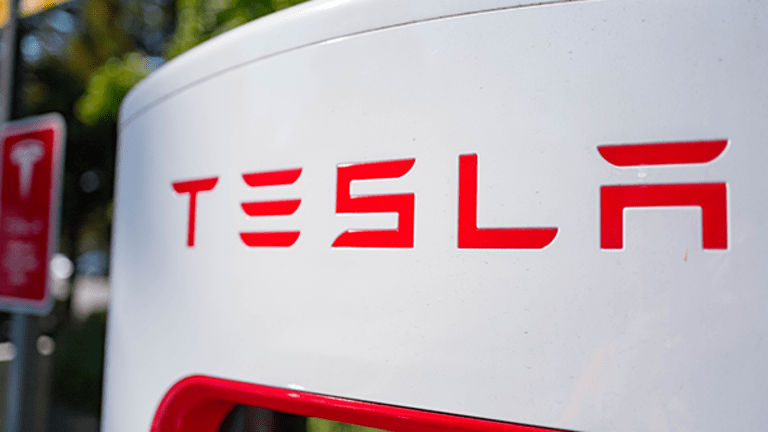 Recurring Technical Shadow Over Tesla Shares
A candle is forming on the weekly chart suggesting an intermediate-term top is in place.
A candle is forming on the weekly chart suggesting an intermediate-term top is in place.
A long upper-shadow candle has been forming on the weekly chart of Tesla (TSLA) - Get Report , even before the earnings miss reported by the company after Wednesday's close. This candle, which is characterized by a high upper-range and a small lower opening and closing or "real body" range, reflects selling pressure, and similar candles have formed at previous highs in the stock over the past several years. If the pattern repeats, Tesla shares look prepared for a significant pullback.
The weekly chart highlights the high-wick candles that have marked intermediate-term tops over the past three years, and the trend line they have delineated in the $288.00 area. This trend line resistance was broken last month as the stock moved up to the $327.66 level early this week before turning lower in the two sessions prior to the earnings release. The relative strength index reading and the percentage of the mean diversion from its 40-week moving average are reflections of an overboard condition, but Chaikin money flow is still in positive territory.
The daily chart shows the rally off the December low meeting resistance at the multiyear horizontal trend line and pulling back to the rising 50-day moving average, before returning to trend and breaking through resistance. It is overlaid with an Andrew's Pitchfork channel tool consisting of a median line and parallel lines drawn off reaction high and low points, which act as support and resistance lines. The lower reaction line first acted as resistance, then last month became support, and that support has been broken with the stock trading in the $304.00 area in after-hours trading on Wednesday. The moving average convergence/divergence and the relative strength index have been moving in slight bearish divergence to price for the past several weeks, and this week the accumulation/distribution line is crossing below its signal average and Chaikin money flow is entering negative territory.
Tesla is a speculative short sale candidate at its current level using a position size that accommodates an initial buy-to-cover stop over its recent high. The target price objective is the area of the intersection of the 50-day moving average and the multiyear horizontal resistance line.
No position.