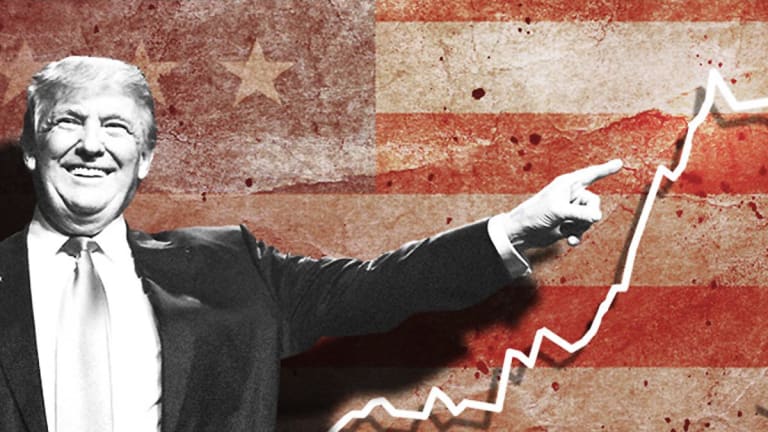 Don't Expect a U.S. Recession Any Time Soon
Our experts don't see one on the near-term horizon.
Our experts don't see one on the near-term horizon.
The fear of a U.S. recession is increasing, but panelists on TheStreet's March Trading Strategies roundtable with Jim Cramer said they're not worried yet.
One reason for the optimism: the current administration in Washington. Cramer said he believes that President Trump's administration has created a regulatory environment that's beneficial to businesses, and therefore the economy. "This federal government has created an environment where you want to expand yourself because you do not fear the call from someone in the federal government," said the stockpicker, who operates a Brooklyn bar in addition to his media work.
Tony Dwyer, senior managing director and chief market strategist for Canaccord Genuity, agreed, noting that the Small Business Confidence Index has hit a record high. 
Dwyer added that he won't fear an imminent recession until we see the U.S. Treasury yield curve invert, where short-term interest rates are actually higher than long-term ones. Dwyer said that "99.9% of the time, an inversion of the yield curve is the harbinger of a recession. Even including all the new factors today, you need an inversion of the yield curve to have a recession."
In the meantime, Action Alerts PLUS senior portfolio analyst Jeff Marks recommended playing the current market conditions regardless of when the next recession will come. "You have to be thinking: 'How can I position my portfolio right now in this moment to capitalize on the trends that are going on?'" Marks said.
He added that the Action Alerts team is looking at Honeywell International Inc. (HON) - Get Report , JPMorgan Chase & Co. (JPM) - Get Report , The Goldman Sachs Group (GS) - Get Report and the FAANG stocks as some of the names best-positioned to rise in the current market. 
Stephen "Sarge" Guilfoyle, co-manager of TheStreet's Stocks Under $10 model portfolio and author of TheStreet's Market Recon morning newsletter, believes that there's chance of a recession in a few years -- but only toward the end of Trump's current term of the beginning a potential second term. 
More Great Ideas
Want more great ideas about what to buy, sell or hold this month and beyond? You can watch a replay of our full one-hour Trading Strategies roundtable here. Or check out our March Trading Strategies special report for lots of great ideas from top market experts and columnists.
Catch the Instant Replay , sponsored by Charles Schwab