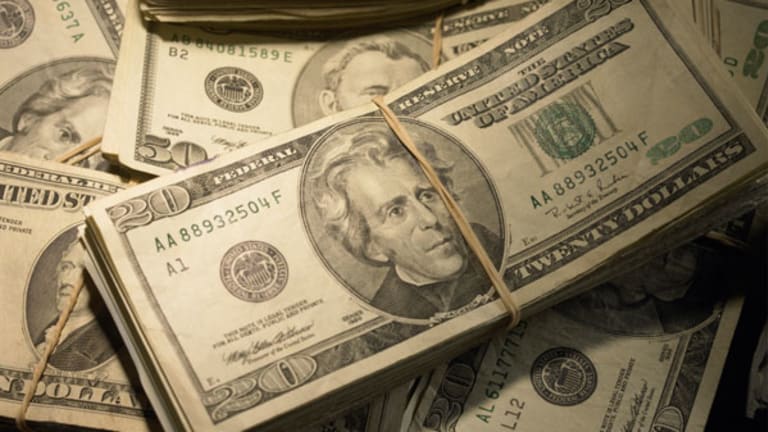 Rebound Reality; Best Tech Story: Jim Cramer's Best Blog
Jim Cramer discusses the rebound and also mentions the best tech story that no one knows about.
Jim Cramer fills his blog on RealMoney every day with his up-to-the-minute reactions to what's happening in the market and his legendary ahead-of-the-crowd ideas. This week he blogged on:
How the rebound is real
How no one knows about the best tech story around
Click here for information on RealMoney, where you can see all the blogs, including Jim Cramer's -- and reader comments -- in real time.
Cramer: The Rebound Is Real. Now What?
Originally published May 19 at 1:04 p.m. EST
Day 3 and the buyers are everywhere.
At the time of publication, Action Alerts PLUS, which Cramer co-manages as a charitable trust, was long AAPL and SBUX.
Interest rates are going up, which satisfies those who own the bank stocks and gives you hope about rate hikes. Deere (DE) put up numbers this morning that made it clear that its construction cycle has most clearly bottomed and is going much higher, putting a bid under the cyclicals. The oils have come alive over OPEC shortseller bad mouthing, and natural gas has garnered fans because of the heat.
Meanwhile one of the most hard hit sectors besides oil of late has been drug distributors. We have liked Cardinal  (CAH) after its disappointment and today Mckesson (MCK) delivers fabulous guidance and some encouraging discussion about some of its new programs including one with Walmart  (WMT) .
Meanwhile how about that delicious breakout in Starbucks  (SBUX) for the patient, as we grow ever more confident that the mobile ordering problem is solved and the selloff seems over. Perhaps domestic same-store sales are indeed turning up.
We had the wind at our backs anyway given that AppliedMaterials (AMAT) reported a fantastic quarter and talked about how strong demand is for machines to make all kinds of chips from DRAMS and flash-commodities both-to artificial intelligence and light emitting diode semis.
The read-through here was great for everything from Apple  (AAPL) cellphones to Nvidia (NVDA) semis.
Autodesk  (ADSK) , the company we highlighted as the most undervalued tech you have never heard of, seems to have garnered some much needed attention after talking about adding 180,000 new customers. Their computer aided design business powers everything from smart phone architecture to skyscrapers to race cars to movies.
And the stock of Salesforce  (CRM) is exploding higher, not because of takeover talk but because of an incredible surge in business both here and in Europe, the latter being particularly strong and aided by a weak dollar. Boy, it's been a long time since we heard that.
Most important of all, there's been nothing new from our president and the appointment of former FBI director Mueller has indeed tamped the drumbeat of leaks that have so plagued the administration.
Put it altogether and you can see we had the classic rally after a vicious selloff with the soft goods recession stocks bottoming first in the last hour of day one, the fast growers levitating all day through day two and now pretty much everything in rally mode.
So the question is no longer, is the rally for real. It is.
The question is, have we shaken out enough weak hands in many sectors to hang on to stock instead of using this moment of strength to trim back.
Normally, I would say, wow, we are all the way back and you know what, I am not taking any chances. Now that we have a bullish tape I will use it to exit.
But for my charitable trust I was only able to buy a little stock and put a little cash to work in the downturn. As far as I am concerned that means it may be too risky to be a buyer or a seller here.
Day three, you stand pat after a successful test yesterday and you say to yourself that some of the most vociferous anti-Trump bearish investors are starting to factor in a Pence presidency, and they are getting nervous that they missed the bottom to cover some of their bountiful shorts.
Cramer: Here's the Best Tech Story That Nobody Knows
Originally published May 19 at 8:06 a.m. EST
It's hard to figure who won the night. Maybe it doesn't matter: Applied Materials (AMAT) , Salesforce  (CRM) and Autodesk (ADSK) were that good.
Action Alerts PLUS, which Cramer co-manages as a charitable trust, has no positions in the stocks mentioned.
The one that will be up the most is Autodesk, which remains the best tech story that nobody knows. That's because Autodesk, which makes software you badly need to make cellphone building and a host of other structures, gained 183,000 customers who now pay on a subscription model, 90% recurring revenue. That's an amazing transformation in just two years' time from a regular old software company.
Applied Materials portrayed itself as no longer cyclical, which is incredible because the semiconductor equipment business has been boom-bust forever. Why? Because of artificial intelligence and deep learning, and the equipment needed to make chips for them. Their chip machines make semis for phones, data centers and cameras.
Meanwhile, its traditional DRAM and NAND (flash) making machines are just on fire, with huge year-over-year rev gains because of scarcity -- 45%. Cash has built by 87%. Demand is extraordinarily strong. Just to be sure, the proper readthrough is to say this is fantastic for Nvidia, because there just aren't enough machines available to allow others to catch up with them.
Salesforce was all about picking up ecommerce business from retailers, basically giving them all access to the kind of Amazon  (AMZN) -like interface--if you like this, you might like that--using artificial intelligence. This is a new and powerful vertical that they are beginning to take big share from--witness the takeaway from SAP (SAP) of Ralph Lauren (RL) . The IDC numbers--independent--do show big share gains.
Which is best? They are all powerful, and here's the thing you must remember: when we have a reset day like we had two days ago, these three will attract money on the way down.
Oh, and not to spoil tech's ascendancy here, but Deere's (DE) report this morning shocked people with worldwide strength on agriculture.
Maybe it was the best of all.
Action Alerts PLUS, which Cramer manages as a charitable trust, is long SBUX and AAPL.