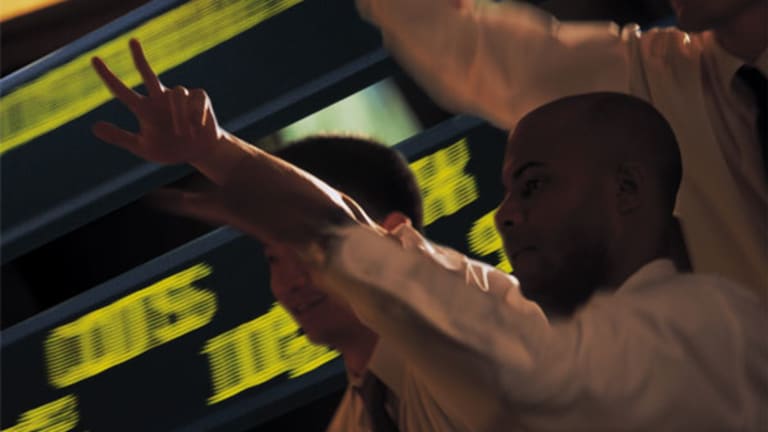 Reasons to Sell Stocks; Cantor's Defeat and the Market: Best of Kass
In highlights from his trading diary in the past week, Doug Kass shares a friend's bearish take on the U.S. market and what Eric Cantor's defeat means for the market.
NEW YORK (TheStreet) -- Doug Kass of Seabreeze Partners is known for his accurate stock market calls and keen insights into the economy, which he shares with RealMoney Pro readers in his daily trading diary.
This week Kass wrote about the bearish market predictions of a successful entrepreneur and what Eric Cantor's defeat means for the financial markets.
Please click here for information about subscribing to RealMoney Pro.
A Message From Big
Originally published on Friday, June 13, at 8:08 a.m. EDT.
In the course of writing my diary over the last 15 years, I have chronicled the lives, contributions and views of numerous iconic investment figures: Warren Buffett, Jim Cramer, David Einhorn, Leon Cooperman, Nouriel Roubini, Byron Wien, Barton Biggs, Alan Abelson, Sir Larry Kudlow, Stanley Druckenmiller, Jeff Saut, Peter Boockvar, Mark Grant, Jerry "The Chief" Jordan and many others.
In my upcoming book, Doug Kass on the Markets: A Life on the Street, I have even devoted a chapter to some of these investment pros.
I have also highlighted some less-known (or even unknown) characters that live on the periphery of the Wall Street community: The Bearded Prophet of the Apocalypse and perhaps the most colorful figure, Boca Biff. These are also actual people but for various reasons I shroud their identities in anonymity and have given them monikers instead of using their real names.
[Read: Soft Retail Sales Report Points to Stop-Start Economy]
This week a new personality was unveiled, Big, who has recently adopted a strong and bearish market view.
Similar to the Bearded Prophet of the Apocalypse, Big is known in investment and corporate circles, so I can't divulge much about him for fear of him being identified (for which he has not granted permission).
Indeed, two members of both TheStreet and CNBC communities will immediately be able to identify Big, and I am asking them this morning to respect Big's privacy.
Unlike Boca Biff, Big is not reckless.
Big is a longtime pal of mine and a neighbor in southern Florida.
He has founded and has successfully sold out of two public technology companies and has probably made nearly $400 million in the process.
He is a consummate sportsman and a very large gambler. (He recently won a well-publicized $7 million in a sports-related bet).
Big is rough around the edges, a street guy. He is quite smart, however, and despite not having an advanced degree, Big has invented numerous products, one of which is well-known today and is often seen in advertisements in the business media.
Most important, he is a good friend to me and has a kind heart.
He is among the most charitable people I know.
[Read: 5 Reasons to Be Optimistic About the Economy]
As I have written, Big has taken a very large short position in the U.S. stock market. He is short the S&P 500, Nasdaq and Russell 2000 indices in size.
Big is a man of few words as illustrated in an email I received last night from him, which I wanted to share with everyone:
It's been five years since recession and the U.S. and global economies have not made many strides.
Homebuilding is weak, unemployment remains high, and there is no future for many.
The only advances we have made are because of zero cost money.
Our banks and investors are making the same mistakes they made in the last cycle. Leverage multiples are back to 2007 levels. There are loads of very bad business loans out to companies that will eventually fail.
The earnings improvement is all financial engineering where companies like IBM (IBM) - Get International Business Machines (IBM) Report get free (0%) money and buy tons of their stock back. Then they earn more in EPS because interest rates are so low.
If AT&T (T) - Get AT&T Inc. Report, Verizon (VZ) - Get Verizon Communications Inc. Report and many others were borrowing at rates from a few years ago, they wouldn't even be profitable.
In other words, we have hardly gotten out of recession, and the stock market has more than doubled.
Economic growth will continue to be anemic, and signs of deflation will appear.
This week is the beginning of the market going down.
It will be more than a correction, because it will not go higher in 2014-2015 than where it stood a few days ago.
Pension and other funds want a break and haven't had one for five years.
They will get one now.
Most traders and investors should take a summer-long vacation and, at the very least, close out many of their long positions.
At the time of publication, Kass was short SPY, QQQ and IBM.
[Read: Single Dads Face Distinct Financial Challenges]
What Does Eric Cantor's Defeat Mean?
Originally published on Thursday, June 12, at 8:06 a.m. EDT.
I recognize that, over the course of the last five years, Mr. Market has ignored almost every adverse event and development
But in the fullness of time, Cantor's defeat seems likely to be something of a headwind to the markets and to valuations. Maybe not today, maybe not tomorrow, but likely soon.
Jim "El Capitan" Cramer detailed a well-thought out rationale as to the market ramifications in his column yesterday. In that writeup Jim observes that most of the recent years' corrections were politically inspired.
Here are some of my tentative conclusions:
Cantor's defeat underscores the political dysfunction in the Republican party and hastens a period of renewed partisanship and discord between the parties in Washington, historically an anathema to the capital markets.
The Democratic party will be emboldened, likely viewing the Viriginia primary as rationale for being more confident of policy and electability in the November elections. It is unlikely that Democrats will be cooperative with the Republicans and vice versa.
The probability of the Republicans regaining the Senate in November 2014 has been reduced. This is generally not seen as positive for the markets.
Ted Cruz becomes a front-runner for the 2016 Republican presidential nomination.
With an inert leadership body in Washington, the shoulders of economic growth remain squarely on the Federal Reserve. But since QE's impact is moderating, a self-sustaining growth in domestic economy is far from certain. (Note: Goldman Sachs just reduced its 1Q 2014 Real GDP to -1.9%.)
While gridlock is historically good, at no time in history has there been a greater need to focus on numerous fiscal, energy and other reforms.
The Tea Party win means ever-higher hurdles to fiscal, regulatory, energy and immigration reform.
This is a shot across the bow for any new deal or debt limit agreement (March 2015), no matter how much market damage is inflicted. (Remember Tea Party voters were angry about this last time). 
At the time of publication, Kass had no positions in stocks mentioned.
Doug Kass is the president of Seabreeze Partners Management Inc. Under no circumstances does this information represent a recommendation to buy, sell or hold any security.