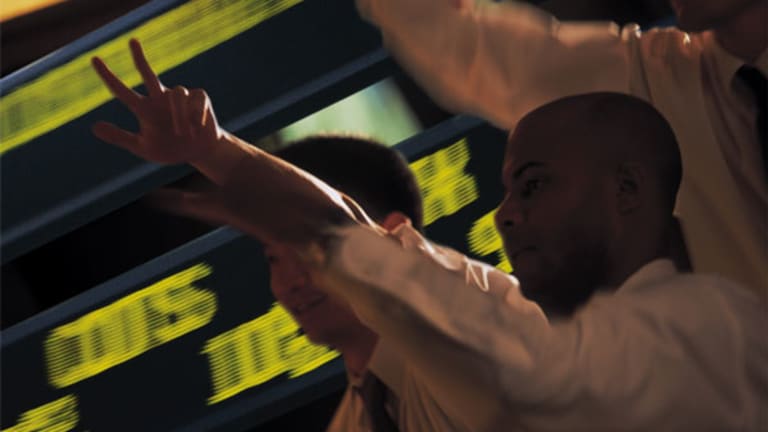 Real Money's Tim Melvin on Value Investing: Don't Fear Volatility
These manic price swings can create enormous opportunity.
(Editors note: This article was originally published on Real Money Pro Oct. 27 at 3 p.m. EDT)
NEW YORK (Real Money) -- The stock market has seen some pretty impressive short-term swings of late.
There have been several 100-plus-point moves in the major indexes as markets have responded to continued economic weakness in Europe, earnings reports and the latest developments in the Ebola outbreak. The pundits and commentators are starting to talk about market volatility and its impact on investors.
Of course, let's be clear: If prices are rising 1% or more every day, no one really thinks much about volatility. Instead, that is characterized as a strong move up into a volatile market.
Value investors know that volatility isn't something to fear. In fact, volatility can be an investor's best friend and partner.
Professional investor Benjamin Graham called volatility Mr. Market, investors' manic-depressive business partner whose mood swings can be a source of long-term profits.
When he is too excited, Mr. Market wants to pay any price for a percentage of investors' business, and when he is depressed, he wants to sell it back to investors at just about any price he can get, regardless of the value of the assets. When his mood is at either extreme, it represents opportunities for investors to act in a contrary fashion for long-term gain.
The constant day-to-day focus on each little move in the market isn't a healthy exercise for most investors.
As Graham warned in TheIntelligent Investor:"Basically, price fluctuations have only one significant meaning for the true investor. They provide him with an opportunity to buy wisely when prices fall sharply and to sell wisely when they advance a great deal. At other times he will do better if he forgets about the stock market and pays attention to his dividend returns and to the operating results of his companies."
In other words, short-term moves don't really matter if investors adopt the private-equity mindset when managing their portfolios.
Rather than hide from volatility or attempt to protect themselves from it, investors should actively seek it out, especially amid volatile markets that are moving lower.
Consider the recent action in energy stocks. Investors can either be worried that some of their oil holdings are moving lower because of concerns that the Saudis are willing to accept lower prices, or they can be delighted that so many high-quality energy-related companies are selling at ridiculous prices relative to their respective asset values.
Applying a private-equity viewpoint to the sector, indicates that it is highly unlikely the Saudis will chew up their own balance sheet by tolerating low prices forever and that oil demand is likely to rise over the next five to seven years.
Given that information, the idea of buying companies such as Gulf Island Fabrication (GIFI) - Get Gulf Island Fabrication, Inc. ReportNobel (NE) - Get Noble Corporation Report  and Rowan (RDC)  starts to make a lot of sense. These stocks are volatile, and they are likely to go lower in the short term, but odds are pretty high that they will trade at much higher prices several years from now.
Investors are looking at the volatility in European banks in the aftermath of the European Central Bank stress tests.
These things are trading all over the place. The ones that passed are selling off right along with the failures.
If an investor's mission was to avoid volatility, they wouldn't go anywhere near these stocks. But let's look through the results and review the situations at large entities such as Deutsche Bank (DB) - Get Deutsche Bank AG Report , which is highly unlikely to fail.
It is also intriguing that Alpha Bank (ALBKY) passed with flying colors and that the stock is trading lower Tuesday.
These are trading at huge discounts to book value, and they could be fantastic long-term bargains at these prices.
For those who are more aggressive in their approach to deep-value investing, that presents another reason to love volatility as it is one of the legs of the options-pricing tool, along with price, time and interest rates.
When volatility picks up, investors can sell options at higher prices. It can allow them to collect more cash when they sell cash-secured puts, and they can get back into almost-cheap-enough stocks at below-market prices.
Everyone fears volatility. But the truth is, investors should embrace it and make it their friend.
Wild price swings are what create bargains or cause outlandish valuations that represent an opportunity to sell. Most of the time the day-to-day moves have no impact on deep-value investors with a private-equity mindset, but at the extremes these can be a source of significant profits.
At the time of publication, Melvin was long RDC, NE and ALBKY, although positions may change at any time.
Tim Melvin is a writer from Stevensville, Maryland, who spent 20 years a stockbroker, the last 15 as a Vice President of Investments with a regional firm in the Mid Atlantic area. Under no circumstances does the information in this column represent a recommendation to buy or sell stocks. Melvin appreciates your feedback;
to send him an email.