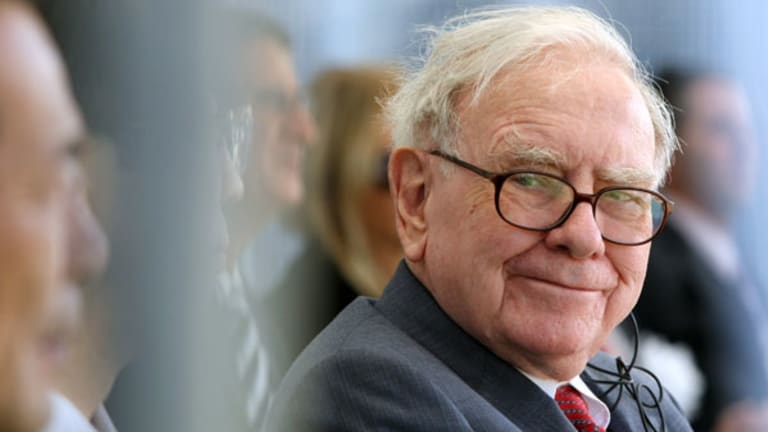 Real Money's Sham Gad: Buffett's Strategy to Cut His Losses on Tesco
Investors can learn from Buffett's recent misstep with Tesco.
NEW YORK (TheStreet) -- Warren Buffett, the billionaire investor and CEO of Berkshire Hathaway (BRK.A) - Get Report , (BRK.B) - Get Report , is often lauded for his investment triumphs -- and rightly so. Buffett's successes have far outpaced his failures. That said, Buffett gets little credit for what may be more important: knowing when to cut your losses and walk away.
As an investor, Buffett is keenly emotionless, and he should get a lot of credit for that. A recent case in point occurred last week, when Berkshire Hathaway announced it had reduced its stake in British retailer Tesco (TESO) . Last year, Berkshire owned more than 400 million shares for a stake that was worth well more than $1 billion. Buffett sold a big chunk last year, but still held on to approximately 300 million shares.
Tesco shares have been crushed this year, and they have fallen more than 50% in the past 52 weeks. The decline has represented a significant loss for Berkshire. Last month, Buffett called the Tesco investment a "huge mistake." And last week, a stock filed showed that Berkshire had unloaded another big chunk of the investment.
What's interesting about the sale is one could argue that, since the shares are down by more than 50%, now is the time for a value investor such as Buffett to buy more of Tesco, and not sell it. After all, Buffett clearly understands Tesco's business and presumably invested based on the company's long-term fundamentals. But, with the shares down 50%, Buffett chose not to follow his advice of being "greedy when others are fearful."
I can think of a couple of reasons for the sale. First, it allows Berkshire to pick up some capital losses that the company may choose to offset as capital gains elsewhere. While I doubt that was Buffett's primary reason, it is not an insignificant one.
Second, and more likely, is that Buffett decided that Tesco's fundamentals were no longer as strong as previously thought. For example, there is legitimate competition from grocers, such as Aldi, that provide similar products for significantly less. The accounting issues currently surrounding Tesco may have also turned Buffett off.
Regardless of the primary reason, Berkshire appears to be getting rid of Tesco at a significant loss. The key lesson here is that, when an investment thesis doesn't play out, cut your losses and move on. If the world's greatest investor -- who has enough capital to ride Tesco for years without ever being short of cash -- can do it, then it's clearly a lesson that many more investors should take very close to heart.
Even in today's frothy market, where investors are sitting on some tidy gains, cashing in some chips may not be so foolish either.
(Editors note: This article was originally published on Real Money Pro on Oct. 20 at 12:00 p.m.)
At the time of publication, the author held no positions in any of the stocks mentioned.
Sham Gad is the managing partner of
, a value-focused investment firm based in Athens, Ga. Gad has written extensively for
The Motley Fool
and was a securities analyst for UAS Asset Management, a small value investment fund in New York City, in 2007. From 2002-2005, Gad managed assets for the Gad Investment Group.
Additionally, Gad has just released a new book,
The Business of Value Investing: Six Essential Elements to Buying Companies Like Warren Buffett
. He earned his BBA and MBA at the University of Georgia. Gad appreciates your feedback;
to send him an email.