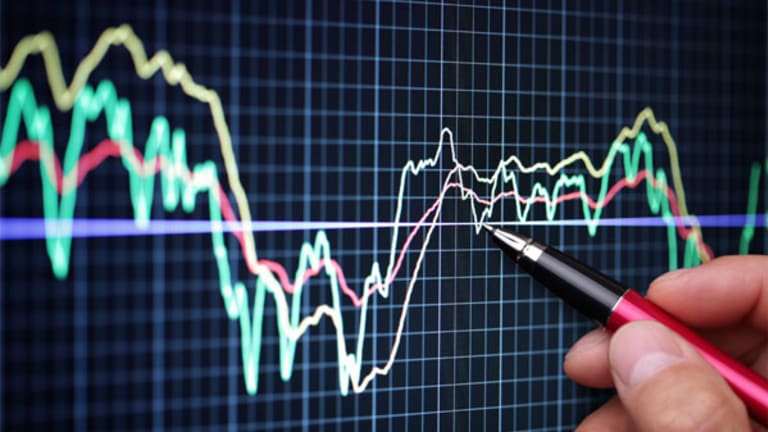 Real Money's Brian Sozzi: A Primer on Investing in Retail Stocks
Some thoughts on the outlook of the retail sector and what to look for before you invest.
NEW YORK (Real Money) -- We are nearing the home stretch in the latest earnings season, and the hurricane of information that arrives at Wall Street every three months has not broken the markets. Perhaps it has even fueled the market's comeback from the correction seen a few weeks ago. Amid all this, there are important emerging themes that you have to be aware of as we approach the peak of the fourth quarter. Understanding the deeper issues beneath the news of the day is incredibly helpful when it comes to your decision to adjust (or not adjust) your portfolio into year-end.
Will Gas Savings Boost Consumer Spending?
Gas prices at the pump plunged by about 33 cents per gallon in October, following an approximate 10-cent drop in September. Parts of the country are reporting gas prices below $3. According to research firm Gasbuddy, if oil continues to average $80 a barrel (it appears set to fall a bit further), gas prices may fall a few cents more. Should oil remain below $78, gas prices could be on a new downward trajectory into Black Friday and Cyber Monday.
The gas-price decline is not being reflected in sales, margins or outlooks of consumer-focused companies. Following earnings reports from such names, none of the executives I have talked to have voiced optimism that the gas-price decline in the U.S. would unlock spending power in the holidays, nor in the first quarter of 2015. I continue to use "gas" as a search keyword in earnings-call transcripts, to look for indications that consumer companies have experienced renewed foot traffic as a result of lower gas prices. No dice.
The data support these observations. Consumer spending declined 0.2% in September, a weaker result than what the consensus had forecast. Spending advanced 0.5% in August -- before the plunge in gas prices.
Maybe August spending trends, coupled with the recent consumer-confidence reading -- which is the highest we've seen since July 2007 -- are signals of the spending power that consumers are reluctant to unleash before the holidays. I am not willing to position clients based on that thesis just yet, but I am prepared to reverse course, should Walmart (WMT) - Get Walmart Inc. Reportmention quarter-to-date sales trends improvement next week in its earnings announcement.  
Consumer Stocks I Am Considering
Here are a few consumer stocks to which I would want exposure, when consumers start to spend gas savings:
Target  (TGT) - Get Target Corporation Report : I remain concerned about the company's trends in Canada, and I expect the company to exit a good number of stores there in 2015. However, gas savings will be spent more aggressively in Target than Walmart, given the higher-income demographic that shops the chain.
TJX  (TJX) - Get TJX Companies Inc Report : Interestingly, the performance of the stock in the past couple of weeks hints at consumers spending their gas savings this holiday season. The consumer at Marshalls, armed with a few more dollars, will likely leave it in the cash register amid a stock-up mindset for basic apparel and sneakers for the family. Nike (NKE) - Get NIKE, Inc. (NKE) Reportsneakers dominate the Marshalls sales floor. Another popular stock-up brand is Hanesbrands (HBI) - Get Hanesbrands Inc. (HBI) Report , whose products are consistently out of stock at Walmart and Target.
What's Really Happening at Michael Kors and Coach
There is more going on at Michael Kors (KORS) and Coach (COH) than the notion that each has over-expanded and has saturated the market for handbags, wristlets and shoes. I continue to voice concern that Michael Kors is getting reckless with new site selection (openings in B- or C-rated malls), and is not receiving top-tier placement for men's products at department stores. Also, Coach's turnaround may never appear. Nevertheless, there are bigger trends to discuss:
China: Tourist traffic and local spending in China and Macau have weakened, due to geopolitical turmoil and the government's revised rules on gift-giving. Furthermore, digging into the China results from Ralph Lauren (RL) - Get Ralph Lauren Corporation Class A Report , I found that they were driven by one-time factors. Core trends on the ground are softening, in line with the macro data on the country as a whole.
Nike has been an outlier to the expanding number of consumer companies mentioning unimpressive sales in China.
Factory store channel: Ralph Lauren noted last week that traffic at its factory stores remained weak. Coach said the same thing. This hints at challenging third quarters and holiday guidance from fellow retailers Gap (GPS) - Get Gap, Inc. (GPS) Report and J. Crew, and even chain restaurant Texas Roadhouse (THRX) , which operates at outlets.
Consumer: Newcomers have entered the accessories marketplace at lower price points, and among these are Polo Ralph Lauren, Zara, Forever 21 and Aldo. Coach and Michael Kors are no longer luxury purchases because the companies have invested in lower-priced lines to entice Middle America. Price points are under pressure. Investment spending on new store designs and technology is elevated for most players in retail, both in apparel and in large-box. I'm not sure how a gas-savings splurge could change this margin-constraint materially in the ensuring quarter or two. That's why it's hard to invest in the sector for long.
Basic Rules for Investing in Retailers
Observe a few basic rules when investing in retailers (and Nasdaq names) valued for growth. These names include Michael Kors, Lululemon (LULU) - Get Lululemon Athletica Inc (LULU) Report and Nike. By following these basics, you can avoid getting burned on a "disappointing" quarter of 20% growth in sales and earnings per share.
Same-store sales last four quarters: Growth must be accelerating quarter over quarter. If Company X reports a 5% same-store sales increase in the first quarter, there has to be a series of new products and/or service initiatives on the way that will deliver a second-quarter same-store sales increase well north of 5%.
Gross profit margin trajectory: Expansion must be accelerating quarter over quarter. If Company X reports a 100-basis-point year-over-year improvement in second-quarter gross margin, the aforementioned initiatives to encourage sales acceleration (hopefully, high-quality full-price sales) will have to lead to gross-margin expansion well north of 100 basis points in the third quarter.
If you read the earnings-call transcripts and do not get the sense that these two qualifiers will be met, don't go long that stock.
(Editors note: This article was originally published on Real Money Nov. 5 at 11 a.m. EST)