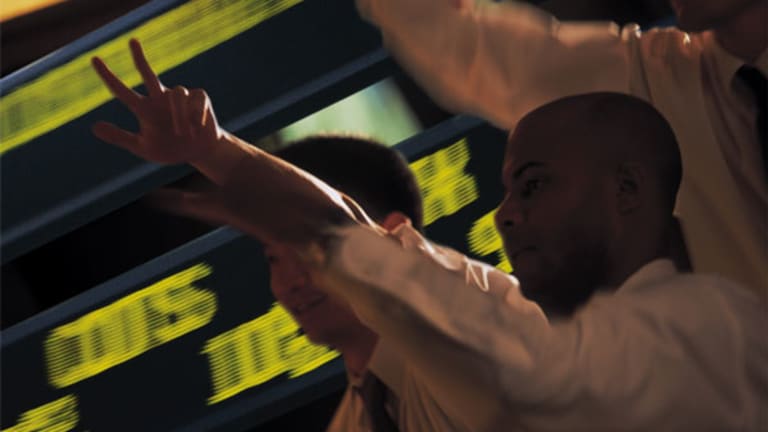 Real Money Pro's Bret Jensen: Scouring for Plays Amid the Volatility
I'm adding shares in the energy sector and industrials, and have pocketed profits in airlines.
(Editors note: This article was originally published on Real Money Pro Oct. 27 at 8 a.m. EDT.)
NEW YORK (Real Money) -- We saw little volatility for most of 2014, but the market has gotten quite rocky recently. After a decline of more than 9% for the S&P 500, and following the Russell 2000's official entrance into official correction territory, equities have staged an impressive snap-back rally over the last week and a half.
Fueling the comeback have been better-than-expected third-quarter results. Earnings among S&P 500 companies have increased approximately 5.6% year over year so far, better than the consensus estimate of 4.5%. Also reassuring the market have been recent soothing comments from a couple of Federal Reserve governors.
On the flip side, valid concerns remain regarding global growth. Europe looks to be on brink of turning over, and bank lending there is actually contracting. In addition, the market is not cheap, running 15% above the historical norm on an earnings-valuation basis. Falling interest rates and plunging oil prices make a case for the possibility of deflation, which is the predominant fear of the central banks.
I had a solid cash position prior to the recent dip, and I used just over half of that to average down on some energy names that have gotten beaten up so badly of late. It looks as if oil is trying to stabilize at around $80 a barrel, and natural-gas prices should be bolstered as soon as the first heavy snowfall hits.
I believe some of the mid-majors -- such as Devon Energy (DVN) - Get Devon Energy Corporation Report and Chesapeake Energy (CHK) - Get Chesapeake Energy Corporation Report -- are oversold, and they have shown some resilience recently. Both of these stocks would be good bargains for long-term and patient investors.
I added some shares of Gilead Sciences (GILD) - Get Gilead Sciences, Inc. Report and Apple (AAPL) - Get Apple Inc. Report during the last part of selloff, as these stocks finally cracked before bouncing right back. I plan to add more on any additional decline in the overall market, although with Gilead reporting earnings on Tuesday, and I expect good results, so that may be unlikely.
As I stated last week, I ended up selling some out-of-the-money calls on my positions in Delta Airlines (DAL) - Get Delta Air Lines, Inc. Report and American Airlines (AAL) - Get American Airlines Group, Inc. Report . I picked up both of these cheap equities when they were under $30 a share on the recent overreaction to the Ebola scare. I still like both, but with volatility in the sector, this was a good opportunity to add some cash back into the portfolio.
For investors seeking stocks that have no exposure to Europe and are cheap as well, Tutor Perini (TPC) - Get Tutor Perini Corporation Report had a nice week and still is undervalued at nine times forward earnings. Tutor's order backlog, in addition, is back up to pre-financial-crisis levels.
Chicago Bridge & Iron (CLDT) - Get Chatham Lodging Trust Report , similarly cheap, had a great week after the company posted solid results that gave no additional evidence to allegations of purchase-accounting liberties, which have dogged the shares. This is more of a high-risk/high-reward play, given those concerns, but this could be the beginning of a rally. Even after last week's lift, the stock has lost more than $25 since early in the summer.
Finally, for investors seeking out more of a yield play, I continue to recommend Chatham Lodging Trust (CLDT) - Get Chatham Lodging Trust Report , and I am adding on dips myself. It is my favorite play in the lodging-real-estate space, and one that I have discussed many times on these pages. A major recent acquisition should power growth for years at this company, and so should higher growth in revenue per available room (revPAR) and occupancy levels, as demand continues to exceed supply in the domestic-lodging space.
The stock is cheap at 10 times forward funds from operations (FFO), the go-to metric for real estate investment trusts, and the dividend yields at nearly 4%.
I do not think we have seen the last of the high volatility. It seems as if the market wants to continue to rise from here through the rest of the year. However, I do not think the major averages will significantly break through their earlier highs, established in late summer, and I believe the possibility of additional pullbacks remains high.
That is why I am remaining flexible, keeping a decent amount of cash on hand and only making incremental moves until I have more confidence in the direction of global growth.
At the time of publication, Jensen was long AAL, AAPL, CBI, CHK, CLDT, DAL, DVN, GILD and TPC.