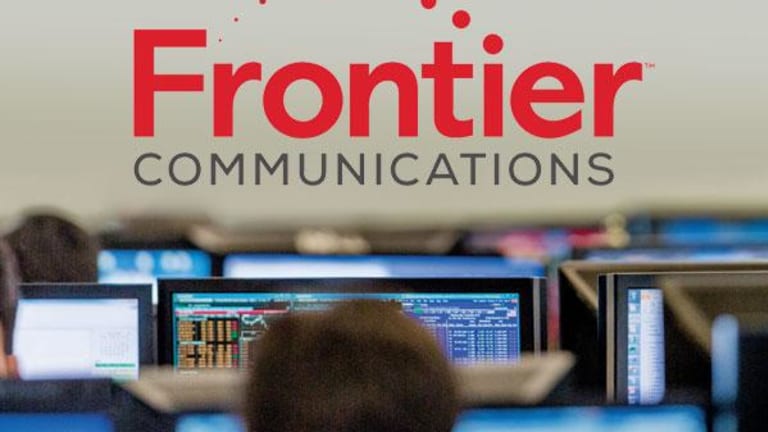 Ready for More Mergers? Here Are 3 Telecom Targets
U.S. telecoms have used mergers to offset revenue pressures and protect their rich dividends.
Little did we know when it was announced that AT&T's (T) $85.4 billion deal to buy Time Warner (TWX) would kick off a wave of fall merger and acquisition activity by U.S. telecom companies. In each case, it looks as if the buyers want to use acquisitions to diminish the impact of intense top-line pressures facing their telecom and pay-TV businesses.
Considering how widespread those pressures are, and the cost and network synergies that can be obtained by rolling up smaller players, more deals might be in store.
Nine days after the AT&T/Time Warner deal was announced, CenturyLink (CTL) , perhaps the Rodney Dangerfield of large-cap American telcos, announced that it's buying fiber network owner Level 3 Communications (LVLT) in a $34 billion cash/stock deal. The companies declared that combining their fiber networks would yield superior efficiency and reach, and that the deal would also expand the scope and quality of CenturyLink's broadband and business network offerings.
And on Monday, smaller peer Windstream (WIN) announced it's buying age-old ISP and business data service provider Earthlink (ELNK) in a $1.1 billion all-stock deal. Much like CenturyLink/Level 3, the companies claim the deal will yield a network of "increased scale and scope" that can deliver an expanded set of services to clients, as well as major cost and tax synergies.
AT&T's deal coincided with the release of less-than-flattering third-quarter results, and so were CenturyLink and Windstream's. CenturyLink's business and residential segment revenues fell 1.1% and 2.5%, respectively, on an annual basis, thanks in large part to a 7.9% revenue drop for "Legacy" businesses such as landline phone connections.
Windstream's adjusted service revenue fell 4%, and its total revenue 10%. A 6% drop in households served, together with substantial drops in small business accounts, more than offset a 2% increase in enterprise customers. In addition to landline disconnections, cord-cutting and tough pay-TV and broadband competition from cable providers are weighing on Windstream (AT&T can relate).
The future doesn't look much brighter: Analysts respectively forecast CenturyLink and Windstream's revenue to drop 1.6% and 1.7%. The estimates don't account for their recent deals.
One common financial thread between AT&T, CenturyLink and Windstream: They all have substantial dividends that they're looking to protect. AT&T's dividend yield stands at 5.4%, while CenturyLink and Windstream's are each at 8.9%. All three companies claim their purchases will improve their ability to support their large payouts.
Which other telcos facing similar top-line and dividend challenges might also turn to M&A?
Frontier Communications (FTR) looks like a possibility. The company's shares are down 31% in 2016, as it steadily continues shedding broadband, TV and local phone accounts. Residential customers fell by 153,000 sequentially in Q3 to 5.07 million, and business customers by 12,000 to 516,000. And Frontier has a sky-high 13.4% dividend yield to protect.
At the same time, Frontier is in the midst of digesting its $10.5 billion acquisition of certain Verizon (VZ) wireline assets, which closed in early April. And before that, the company spent $2 billion to buy AT&T's Connecticut wireline assets. That might make Frontier hesitant to pull the trigger on another major deal in the short-term.
Verizon could also go deal-hunting. Big Red has a 4.9% dividend yield and is coming off a Q3 in which its wireless service revenue fell 5.2% -- tough low-end competition from T-Mobile and Sprint weighed -- and its wireline revenue fell 2.3%. And while a $100.2 billion net debt load could give Verizon some pause, a strong cash flow profile should allow it to pull off a deal without much trouble if it wants. In addition, Verizon may be close to raising $3.5 billion through the sale of its data centers to Equinix.
Here are a few names that growth-starved U.S. telecoms could target:
Cogent Communications (CCOI) -- Cogent owns a large fiber network spanning multiple continents, and has been posting solid growth thanks to rising demand for the Internet and data center colocation services it sells to businesses and service providers. The company sports a $1.8 billion market cap.
Zayo Group (ZAYO) -- Zayo owns a giant fiber network, and is doing brisk business selling access to it to businesses and service providers, as well as Internet giants such as Google. The company has a $7.9 billion market cap, and $4.1 billion in long-term debt.
Lumos Networks (LMOS) -- More of a low-cost regional play for a potential acquirer. Lumos owns a fiber network and data centers in the mid-Atlantic that are used to service businesses and carriers. Its sales growth is lower than Cogent and Zayo's, but remains positive. The company has a $326 million market cap and slightly less than $400 million in net debt.
Editor's Note: This article was originally published at 5:42 p.m. EST on Real Money on Nov. 7.