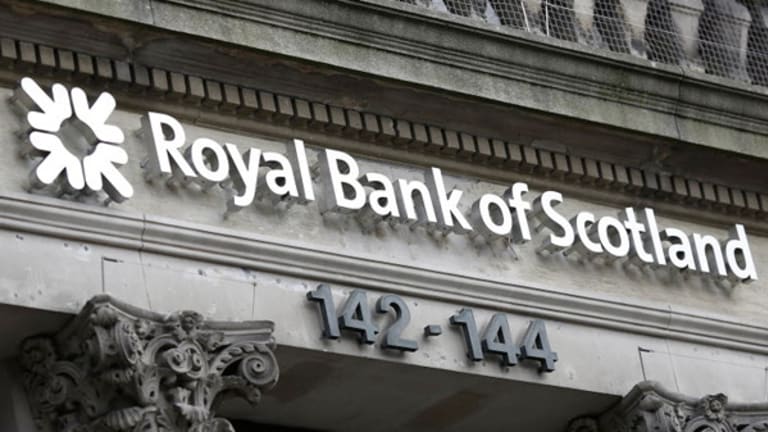 RBS Warns of Another EC Deadline Miss as It Beats Profit Forecasts
Shares in the lender rise more than 4% in early trading.
Royal Bank of Scotland (RBS) - Get Royal Bank of Scotland Group Plc Report reported a smaller loss than expected in the third quarter and warned it would miss a deadline to close a European Commission-mandated branches sale as it increased restructuring charges for those operations.
The Edinburgh lender said it made a net loss of £469 million ($570.6 million) in the third quarter, better than the £1.1 billion loss three months earlier and compared with analysts' expectations, as compiled by FacstSet, for a loss of £998 million. The bank swung £255 million into the black at operating profit level and said its common equity Tier One capital ratio - a key measure of lenders' strength - had risen to 15.0% as of the end of September from 14.5%.
Net interest income of just under £2.19 billion came in marginally ahead of forecasts. RBS shares were up more than 4.3% at 204.90 pence in early trading. 
RBS, led by CEO Ross McEwan, said it won't meet an end-2017 deadline to offload the 300 or so bank branches that the EC told it to sell back in 2009 as a condition of £45.5 billion of state bailout funding . RBS also lifted restructuring charges for the branches to £1.5 billion from £1 billion after it abandoned an earlier plan to shed the assets through an IPO.
The branches portfolio, dubbed Williams & Glyn, has been the subject of a tortuous disposal attempt dating back about seven years. In October 2012 the complexities of integrating the branches' IT infrastructure with its own led Banco Santander (SAN) - Get Banco Santander S.A. Sponsored ADR (Spain) Report to abandon a more than two-year-old purchase agreement worth £1.65 billion. The Spanish bank recently walked away from the assets for a second time but this week Clydesdale Bank parent CYBG said it was in talks about buying the business.
"Work has continued to explore means to achieve separation and divestment of the business previously described as Williams & Glyn. RBS has had positive discussions with a number of interested parties concerning a transaction related to substantially all of the business," RBS said.
"These discussions are ongoing and may or may not lead to a viable transaction. However, none of the proposals under discussion can deliver full separation and divestment by 31 December 2017. RBS is therefore in discussion with HM Treasury, and expects further engagement with the European Commission, to agree a solution with regards to its State Aid obligations."
If RBS can't negotiate a deadline extension the EC could force the U.K. government to appoint a trustee to get rid of the branches at a fire-sale price. The nuclear option, making RBS repay the state aid it received, would decimate the lender. The EC's original deadline for a sale was the end of 2013. It's unclear how Brexit will play into the bank and the U.K. government's attempt to win more time from Brussels.
In the third quarter RBS took charges including restructuring costs of £469 million, litigation and conduct costs of £425 million and a £300 million deferred tax asset impairment. It once again warned of "substantial additional charges" in the coming quarters in relation to conduct-related investigations and litigation, including a Department of Justice probe into its sale of residential mortgage-backed securities before the credit crisis. (Rival Deutsche Bank (DB) - Get Deutsche Bank AG Report is currently trying to negotiate lower a $14 billion fine from the DoJ on that same issue).
RBS reiterated it no longer expects to achieve cost to income and returns targets it had set for 2019 because of the "low interest rate, low growth environment."  But it said it will present a new plan for how it will deliver its targets with its full-year results in three months' time. At the time it will also announce new cost saving goals, it added.
RBS said it will achieve a target to cut costs this year by £800 million.
It lifted its estimate for losses related to the rundown of noncore assets to £2 billion from £1.5 billion.
RBS stock before Friday had fallen 40% in the past year.