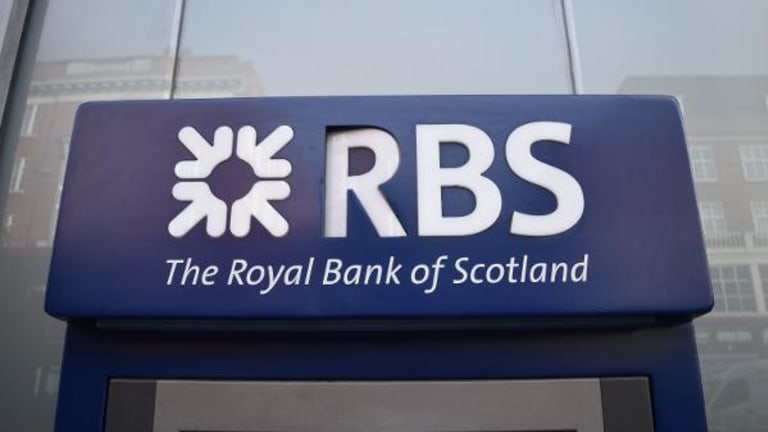 RBS to Miss Target for Asset Sale - Takes $920 Million Charge
The bailed-out lender is exploring an alternative plan after saying it will miss an EC target to dispose of assets, including Williams & Glyn, and repay state aid

Bailed out British lender, Royal Bank of Scotland (RBS) - Get Royal Bank of Scotland Group plc Sponsored ADR Report  said Friday that it will miss a European Commission deadline for selling off assets, including its Williams & Glyn division, and repaying taxpayer aid given to it during the financial crisis. 
It will report a £750 million ($935 million) exceptional charge when it reports full-year results on Feb. 24 and is now considering an alternative plan for repaying state aid. 
This is on top of the £3.1 billion of provisions it has already said it will book ahead of an expected settlement with the U.S. Department of Justice over the sale of mortgage-backed securities in the run-up to the financial crisis.
RBS was ordered by Brussels to dispose of hundreds of its branches in order to shrink itself following the financial crisis. It has attempted to carve out and sell 341 branches to multiple suitors over the years but a creaking IT system and other complexities have always prevented it from achieving a full separation. 
None of the proposals it has received in relation to the assets will enable it to achieve a full sale ahead of the Dec. 31 deadline imposed by the EC.
The alternative plan now under consideration will see RBS create a fund that will be used to support smaller rivals, so-called challenger banks, in their efforts to gain scale. In addition, it will create another independent fund that will invest in financial technology companies. 
Further measures on the table could see the bank making IT systems and branch facilities available to smaller rivals as part of an effort to enhance competition in the banking sector.
"Today's proposal would provide a path to increased competition in the SME market place. If agreed it would deliver an outcome on our EC State Aid divestment obligations more quickly and with more certainty than undertaking a difficult and complex sale and would provide much needed certainty for customers and staff," said CEO Ross McEwan.
Once the world's largest bank by assets, RBS collapsed into the arms of the British government in November 2008 after a festering pile of toxic mortgages held on its balance sheet pushed the lender close to insolvency. 
Those same mortgages still cast a shadow over the bank to this day.
RBS is widely expected to face the largest of all mortgage related fines given its position as a preeminent underwriter in the RMBS market before the crisis, second only to Lehman Brothers and Bear Stearns.
In December, both Deutsche Bank (DB) - Get Deutsche Bank AG Report  and Credit Suisse (CS) - Get Credit Suisse Group AG Sponsored ADR Report agreed to settlements with the DOJ, for $7.1 billion and $5.3 billion respectively. RBS' fellow British lender, Barclays (BCS) - Get Barclays PLC Sponsored ADR Report , has decided to fight the DOJ in court.
TheStreet reported in December that the DOJ could ask RBS for as much as $16 billion when it gets around to beginning proceedings against the lender. 
RBS stock fell by 1.1% in London on Friday, to change hands at 240.2 pence.