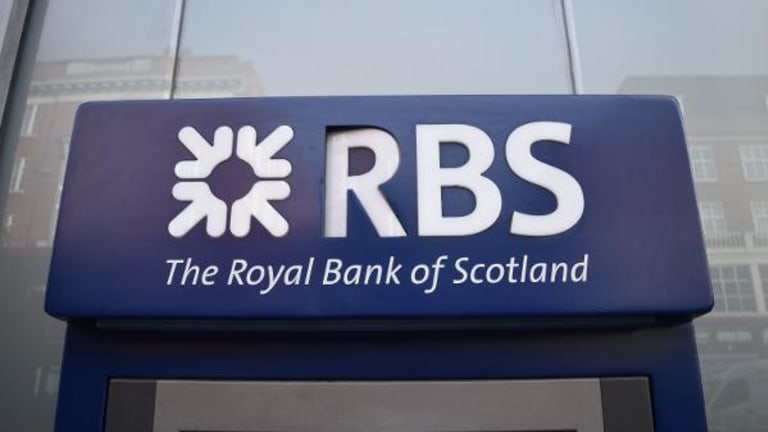 RBS Shares Surge Amid Plans To Abandon Sale of Williams & Glyn Retail Bank
Royal Bank of Scotland shares surged Monday after the state-owned lender said that it's preparing to the abandon a plan to sell part of its Williams & Glyn retail unit.
Royal Bank of Scotland (RBS) - Get Royal Bank of Scotland Group Plc Report shares surged Monday after it said it may abandon a plan to sell part of its retail bank, Williams & Glyn, in favor of alternative options to meet its commitment to repay taxpayer aid given during the financial crisis.
RBS will take a £750 million ($920 million) exceptional charge when it reports fourth-quarter results on Thursday, the bank said, but will re-consolidate the retail operation back into its group results.
The alternative plan now under consideration will see RBS create a fund to support smaller rivals -- so-called challenger banks -- in their efforts to gain scale. In addition, it will create another independent fund that will invest in financial technology companies.
RBS shares rose more than 6% after the opening bell Monday, to change hands at a one year high of 239.6 pence, before paring gains. The move outstripped the 1.6% gain for the Stoxx Europe 600 Banks Index, which rose to 176.78, close to its own one year high.
Further measures on the table could see the bank making IT systems and branch facilities available to smaller rivals as part of an effort to enhance competition in the banking sector.
Abandoning the attempt to separate Williams & Glyn removes a longstanding uncertainty that has cast a shadow over the the lender as it restructures and attempts to move on from the legacy of the financial crisis. 
"Today's proposal would provide a path to increased competition in the SME market place," said CEO Ross McEwan. "If agreed it would deliver an outcome on our EC State Aid divestment obligations more quickly and with more certainty than undertaking a difficult and complex sale and would provide much needed certainty for customers and staff." 
The bailed-out lender was told by the European Commission that it must sell more than 300 retail branches by the end of December 2017 as part of an effort to make amends for having sought taxpayer assistance during the financial crisis.
It has attempted to carve out and sell 341 branches to multiple suitors over the years but a creaking IT system and other complexities have always prevented it from achieving a full separation.
Giving up the ghost, RBS reiterated on Monday that none of the proposals it has received in relation to the assets will enable it to achieve a full sale ahead of the EC deadline.