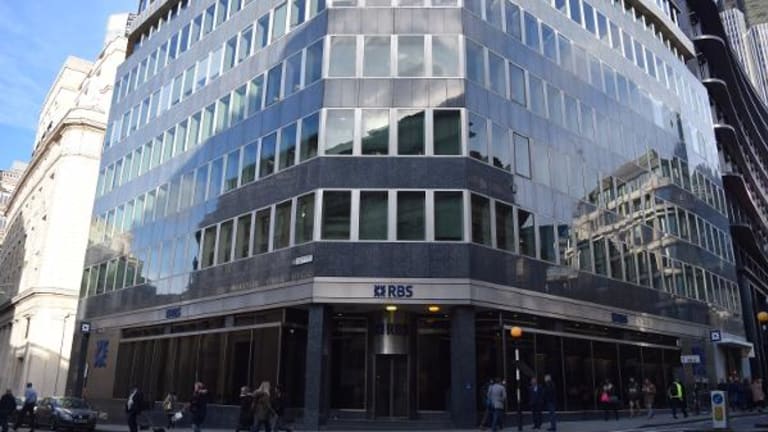 RBS Could Be Next on DoJ Christmas List With Possible $16 Billion Bill
The scale of the Deutsche Bank settlement means investors might be underestimating the cost faced by British lender RBS.
RBS (RBS) - Get Report  shares edged higher in thin holiday trading Friday even as the state-owned lender now looks like the last of the European banks facing U.S. Department of Justice fines that could reach as high as $16 billion.
The bailed-out lender has been widely expected to face the largest of all mortgage related fines given its position as a preeminent underwriter in the RMBS market before the crisis, second only to Lehman Brothers and Bear Stearns.
RBS stock was up by 0.92% Friday to trade at 229.7 pence each as investors bet on the bank achieving a similar settlement structure to Deutsche where a substantial portion of the cost is paid by providing long term relief to consumers.
European bank investors reacted in a mixed fashion to Friday's mammoth settlement between the DoJ and both Deutsche Bank (DB) - Get Report  pegged at $7.1 billion and Credit Suisse (CS) - Get Report , which was revealed as $5.3 billion.
The Stoxx 600 Europe Banks Index, the region's broadest measure, fell 0.37% by 12:15 GMT after news of the settlements to trade at 172.22.
Deutsche's settlement was equivalent to roughly half of the $14 billion of bonds that were reportedly involved in the DoJ's complaint. But the investigation of RBS relates to the sale of $32 billion worth of allegedly-faulty mortgage bonds to federal agencies before the crisis.
If the same ratio holds true when RBS reaches a settlement, then it could ultimately face a total charge of as much as $16 billion, which is significantly above the market expectation for an eventual deal in the region of $13 billion.
Although a Deutsche-like settlement structure might mean that the impact on RBS' capital position is less dramatic than the headline number would suggest, it could still have a big impact, as analysts will be left with no choice but to revise earnings estimates for future years.
The dilemma facing RBS does not end with the DoJ. It also failed the latest round of Bank of England stress tests, leading management to pledge to do more on costs and non-core asset disposals - while ruling out 'further management actions'.
The bank also tapped the AT1 market, issuing a further £2.8 billion ($3.2 billion) of so called co-co bonds during the second half. 
Separately, RBS is also attempting to manage multiple legal cases in the U.K., many of which are shareholder lawsuits over its £12 billion rights issue back in 2008, where it is alleged that the bank misled investors over its financial position. This was just months before falling into the arms of the British government. 
RBS has offered to settle the claims for a total of £800 million, for all shareholders, but one group of investors is pushing for a £4.8 billion deal if the lender is unable to reach an agreement with all groups then the case will go to trial in March 2017.