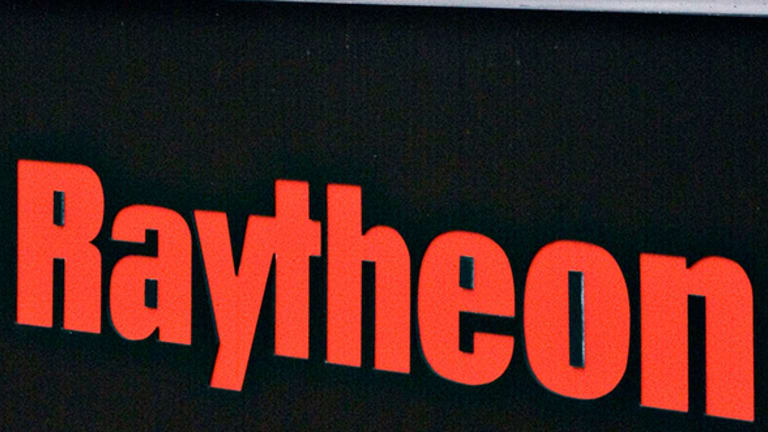 Raytheon May Be Best Defense Stock to Own Over the Next 10 Years
Raytheon is one defense stock that gives you the opportunity to play the growing drone market, as well as cybersecurity and other key military technologies.
Despite nearly gaining 35% over the last 12 months, shares of Raytheon (RTN) - Get Free Report deserve a place in long-term shareholders portfolios that are looking to gain exposure to the growing world-wide drone market or a cyber-security play.
Now before we get too deep into Raytheon and why you should buy it, I will admit Raytheon isn't the first stock you think of when you hear defense stocks, drones, or cyber-security, but Raytheon operates in all of those businesses plus more. Furthermore Raytheon also provides investors with a strong dividend, healthy operating cash flow, reasonable debt and price to earnings ratios, and reliable revenue and growth in the coming years.
Drones, Drones, Drones
Most people have heard about the Predator and Reaper drones. These are big "bad" drones that fly long-range medium to high altitude surveillance and attack missions. While these drones built by General Atomics, a privately held company, not Raytheon, Raytheon is still profiting from them. Raytheon has partnered with General Atomics to integrate new radar technology in these two drones.
But Raytheon doesn't only help other company's build better drones -- it is in the drone game itself. In early 2015 the company purchased a small Arizona-based drone company called Sensitel from the British company BAE Systems (BAESY) . Sensitel makes small drones that are used for recon missions. Raytheon has taken Sensitel's technology and developed small one-time use drones. The drones are small enough to be carried by foot soldiers, deployed and are designed to crash when the mission is complete.
While the larger drones can be used over again, the one-time use Raytheon drones are a great reoccurring revenue stream for the company, especially at $400,000 apiece. Plus, Raytheon is not directly competing with the other drones that it offers support for, ruling out any conflict of interest issues.
Radar
Raytheon is not only helping drones with new radar technology, but also other military equipment. The company recently won a contract to worth $723.1 million to build the next generation radar for future Navy aircraft carriers and amphibious assault ships.
Furthermore, Raytheon using its expertise in radar technology has also helped in the development of Israel's "Iron Dome" defense system and just last year signed a $2 billion contract to sell Saudi Arabia its Patriot missile and air defense system. Raytheon's Patriot System, which gets its name from its radar system, is now used in over 13 countries and is expected to be in us in the US until 2040, giving the company a long runway of likely continued defense contracts.
And speaking of long-term contracts, just last month Congress was asked to increase the level of annual U.S. military aid given to Israel from $3 billion a year to $4 billion for ten years. Part of these aid packages usually include riders that require a large percentage of the funds be used to buy equipment from U.S. based companies and two of the big U.S. defense contractors in Israel are Boeing (BA) - Get Free Report and you guessed it, Raytheon.
Both Boeing and Raytheon have 50-50 partnerships with Israel companies and would likely get a large portion of the aid money if Congress approves the package.
Cybersecurity Play
Raytheon also has partnered with Northrop Grumman (NOC) - Get Free Report to help modernize its ground control systems for Northrop's Global Hawk drone. Raytheon received a $104 million contract to help upgrade these control centers and provide cybersecurity for the Global Hawk.
While increasingly we see advanced technology integrating with different weapons systems, the threat of a cyber-attack on these systems is very real. Raytheon has taken on that challenge and is a leader in keeping these smart, computer driven remotely controlled weapons secure. As a key innovator in military technology, Raytheon is positioned for long-term growth in a world that will always need robust defense spending.
While Raytheon's drones and related business will certainly help drive growth as drones are used more and more, the cybersecurity business may be were the real long-term growth comes from. From my point of view this business is similar to the old razor and blade business model. Raytheon lets someone else sell the expensive razor, drone in this case, while sitting back and offering the blades, in this case the security systems for that drone. And the cybersecurity angle doesn't stop with just the drones, but the guided missiles and munitions the drones are firing since for the most part they also are on some sort of secured network which needs to be guarded from an attack as well.
Some investors may shy away from Raytheon, due to its lack of name recognition and full understanding of how embedded it is in the defense industry, which is why investing in the company today makes even more sense. Once the market realizes Raytheon's full potential as a secular growth play, the stock will pop and trade at a much higher price-to-earnings (P/E) ratio then its current trailing 19.7 P/E or forward P/E of 18.2.
Happy hunting, drone style.
---
A crisis is coming. And when it hits, weak companies and their investors will be washed away. Don't let that happen to you! I've found seven companies you should own no matter what the economy is doing. Each one of these powerful yet overlooked companies barely notices when the market tumbles. And they'll skyrocket when it rebounds. You can pick all seven up for pennies on the dollar right now. But that'll change the instant average investors catch wind of just how bad things really are. Get their names here before it's too late.
This article is commentary by an independent contributor. At the time of publication, the author held no positions in the stocks mentioned.