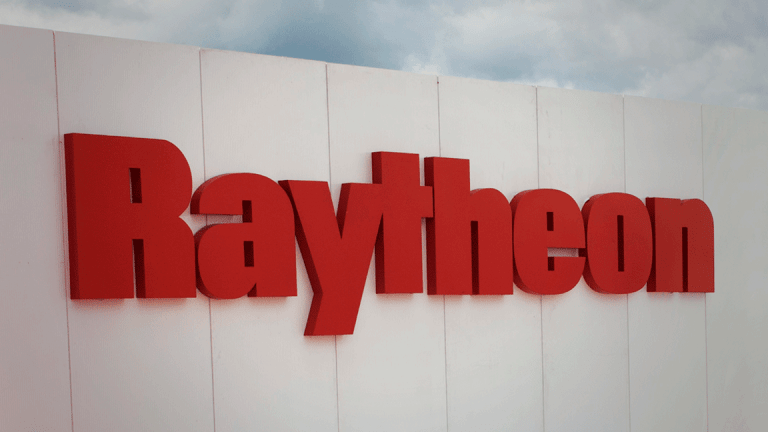 Raytheon Falls on Disappointing Third-Quarter Guidance and Cash Flow Outlook
The Waltham, Mass.-based aerospace and defense company reported adjusted earnings of $2.45 per share on revenue of $6.6 billion.
Raytheon Co. (RTN)  fell on Thursday, July 25, after it issued disappointing third-quarter guidance and trimmed its cash flow outlook due to a pension contribution, even though it beat second-quarter earnings and revenue estimates.
The Waltham, Mass.-based aerospace and defense company expects third-quarter sales in the range of $6.575 billion to $6.7 billion, below the consensus estimate of $6.71 billion, according to FactSet. Earnings from continuing operations are anticipated to be between $1.88 and $1.93 per share, well below expectations of $2.56 per share. 
Raytheon also cut its full-year operating cash flow guidance to $2.6 billion to $3 billion, down from a range of $3.6 billion to $4 billion, due to the $1.25 billion pension contribution this quarter.
"A $1.25 billion pension contribution and unloading nearly $1 billion of pension liabilities should reduce required contributions in 2019 and beyond," said J.P. Morgan analyst Seth Seifman. "This puts upward pressure on RTN targets for $3.5 billion to $4 billion in annual operating cash flow in 2019 and 2020." 
Still, Raytheon raised its full-year earnings forecast to a range of $9.77 to $9.97, a 7-cent increase to previous guidance, as it expects an effective tax rate of 10.5%, which is down from 18%. The revenue outlook was also raised to $26.7 billion to $27.2 billion, compared to prior forecasts calling for $26.5 billion to $27 billion. The increase in the revenue outlook is "split between Missile Systems and [Intelligence, Information and Services]" business units, according to Jefferies analyst Sheila Kahyaoglu.
Shares of Raytheon, which is a holding in Jim Cramer's charitable trust Action Alerts PLUS, closed at $192.61, down 2.5%.
"While we are obviously disappointed with the share price reaction, we believe the underlying fundamentals remain strong and are unwavering in our conviction," Cramer and the AAP team wrote in a note to subscribers. 

For the second quarter, the company posted sales of $6.6 billion, up 5.5% year over year. Raytheon reported earnings from continuing operations of $2.78 per share, up from $1.89 a year ago. The company said the increase was driven by lower taxes associated with the tax reform. Excluding a pre-tax discretionary pension contribution of 33 cents per share, adjusted earnings came out to $2.45. Those results topped analysts' forecasts calling for earnings of $2.34 per share on revenue of $6.5 billion.
The maker of the Tomahawk missile also said bookings, which is a measure of firm orders won by Raytheon, rose to $8.96 billion, compared to $6.53 billion during the second quarter last year.
The company's strong quarterly results come as the Trump administration has bolstered U.S. defense spending and global demand for weapons and fighter jets has strengthened.
"RTN delivered a Q2 that was significantly above expectations even before taxes," said Wells Fargo analysts Sam Pearlstein and Gary Liebowitz. "As a result, we think the overall results were positive."