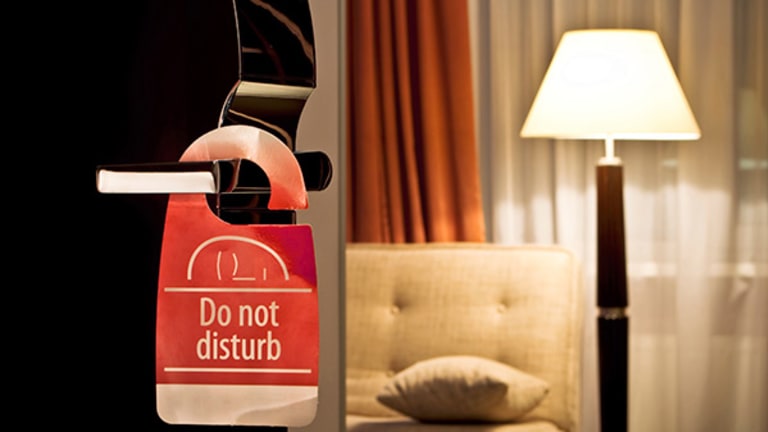 Ray Dalio's Hedge Fund Labeled 'Cauldron of Fear' in Harassment Claim
Bridgewater Associate's culture of "radical transparency" is called into question, after an employee claims his account of workplace harassment was taped and shared around the firm.
Bridgewater Associates, one of the world's largest and most successful hedge funds, is well-known for the cultural quirks instilled by founder Ray Dalio, who insists on "extreme openness" and "radical transparency" in a 100-page manifesto titled Principles, distributed to all employees.
An employee who accused the firm of mishandling his harassment complaint, however, describes the atmosphere very differently.
"The company's culture is nothing more than a cauldron of fear and intimidation achieved by constant surveillance -- audio and visual recording of every employee interaction and security guards patrolling both office floors," the employee says in an affidavit obtained by The Street, which was filed with Connecticut's Commission on Human Rights and Opportunities in January. The claims were first reported by the New York Times.
In the complaint, Bridgewater Client Advisor Christopher Tarui described a pattern of sexual harassment from a male supervisor and said a meeting he had with a human resources staffer regarding his concerns was taped and "widely shared" among co-workers. 
Tarui, 34, joined Bridgewater in 2011, moving from California with his wife and young family for the job. His first sign of trouble at the hedge fund came two years later, he says, on a 2013 business trip with the supervisor, who was also a married man with young children.
On that business trip, which was to Dallas, Tarui said he went to a strip club with the manager and watched as the manager had "sexual intercourse with a stripper." The supervisor later told Tarui ("preposterously," Tarui notes) that he felt "taken advantage" of by the exotic dancer, the affidavit claims. The gender of the stripper is unclear. These allegations, like the others in the complaint, could not be independently verified.  
In May 2014, the two Bridgewater employees were on a business trip in Denver. Sitting together on a couch in a hotel room, Tarui said that the team leader "caressed the small of my back," which "made me feel extremely uncomfortable." Tarui departed the room hastily saying he needed to sleep, but said that his colleague was undeterred, and sent a text message urging him to come back.
Two months later, the two men were staying at a Boston hotel when the supervisor "brazenly explained" that he had "an itch to scratch," asking his married coworker if he ever "thought about being with other men," and going on to specifically request the two men share "a sexual experience," Tarui said.
Tarui declined the advances, replying that he was "not wired that way," and "did not want to be with a man," but noting that he made "no judgment" regarding his college's desires.
Fearing personal humiliation and anxious about his future with Bridgewater, Tarui said he kept the matter to himself until last summer, when his "worst fears" came true, and the supervisor rated his performance poorly and began to suggest other career options.
"I realized I could no longer keep silent about what was happening to me," Tarui said. He approached human resources, and described the alleged harassment in a meeting that, like all others at Bridgewater, was taped, he said.
Dalio, in his principles treatise, acknowledges that there are "some times when privacy is required," but recommends taping nearly all meetings and sharing them with all relevant people. An outside spokesperson did not respond to request for comment, but the company in an e-mailed statement to the New York Times said "we are confident our handling of this claim is consistent with our stated principles and the law ... We look forward to operating through a legal process that brings the truth to light."
Exactly what legal process is unclear, though many employment contracts require closed arbitration. Tarui's complaint was withdrawn from the Connecticut employment oversight agency in March after a request he and Bridgewater filed jointly. His lawyer, Scott Grubin, did not respond to requests for comment.
Matters came to a head for Tarui in December, when he said he declined a senior manager's request to describe his "personal journey" at Bridgewater in connection with an upcoming "Quality Day" meeting. "A majority of 'Quality Day' is devoted to subjecting junior employees to rapid-fire questions, regarding a wide range of investment and socio-cultural topics as well as questions about Principles, in front of approximately 200 of their colleagues," according to Tarui.
Another senior manager confronted Tarui that evening, he said, on the sidewalk outside the New York Public Library in Manhattan, where employees were attending an event. ""Nothing happened to you," Tarui claims the manager told him. "You are blowing this whole thing out of proportion."
On Jan. 6, two days before filing the complaint with the state, Tarui was placed on paid leave from Bridgewater and escorted out of its offices in Westport, Conn.