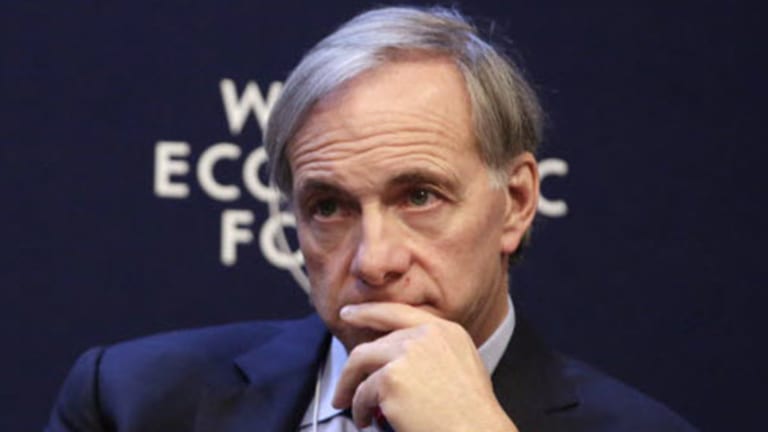 Ray Dalio's Biggest Hedge Fund Hits the Pain Button
While Bridgewater's flagship hedge fund is reportedly down double digits for the year, one inspired by the Chicken McNugget is up.
Bridgewater Associates is the world's largest hedge fund firm, and possibly also the weirdest.
Founded in 1975 by Ray Dalio, Bridgewater embraces a work culture of radical transparency, where employees are encouraged to challenge each other's decisions, and register their negative emotions with an iPad app called Pain Button.
"Bridgewater's a hard place," former executive and current FBI director James Comey has said. "It probably took me three months, maybe four months, before I relaxed.
Now Pure Alpha, the firm's biggest fund and as of last year the world's most profitable for investors, may be ready for a pain button of its own. It's down 12% for the year, according to a Wall Street Journal report citing sources.
Dalio's second-largest fund, All Weather, is up nearly as much though, with a 10% gain for the year, the report said. All Weather has roughly $60 billion under management, and Pure Alpha roughly $68 billion.
The All Weather fund is designed to perform across unpredictable economic environments by divvying up its assets based on their underlying cash flows. Dalio has said that the strategy was inspired in part by his consulting work with McDonald's (MCD) , which in the early 1980s wanted to ensure its chicken costs would remain stable ahead of the launch of the McNugget.
Dalio helped McDonald's poultry suppliers design a futures contract that hedged against price fluctuations in corn and soybeans, the underlying costs of their chicken.
Bridgewater's overall portfolio is tilted heavily toward emerging markets, with roughly a third of its holdings in publicly traded securities in the Vanguard FTSE Emerging Markets ETF  (VWO)  as of the first quarter. Dalio's other top-five holdings are also ETFs: SPDR S&P 500 (SPY) , iShares MSCI Emerging Markets (EEM) , iShares iBoxx Investment Grade Corporate Bonds (LQD) , and iShares S&P 500 (IVV) .
All have posted healthy single digit gains for the year, and  (VWO) tops the list with an 8.5% climb in the first two quarters.
As for Pure Alpha's struggles, it's doubtful Dalio will wallow much in dejection. "The pain of problems is a call to find solutions," as he puts in in his 100-page principles manifesto. "So it's silly, pointless, and harmful to be upset at the problems and choices that come at you (though it's understandable)."