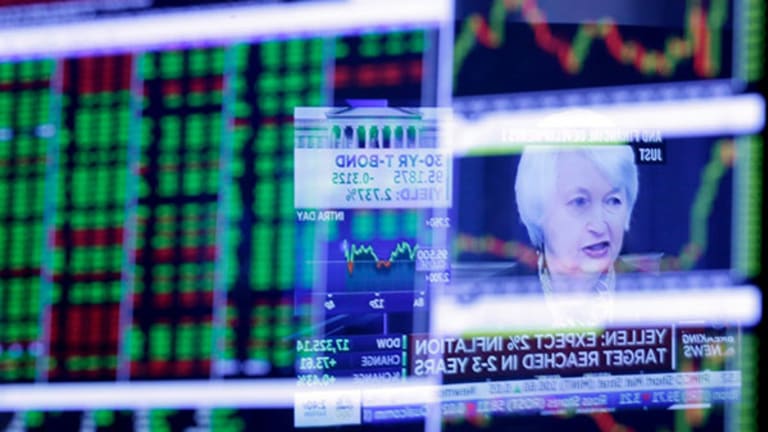 Publish date:
Rate Hike: Now You Don't See It, Now You Do
Looks like it's back on the table for the Fed this month.
Looks like it's back on the table for the Fed this month.
All the Fed rate hike fears that had built up almost to hysterical proportions prior to Janet Yellen's Jackson Hole speech two weeks ago have evaporated. Just like that. I mocked those fears. Basically, I explained how ridiculous it was to manage your money based on a single speech and I also explained, for the umpteenth time, how rate increases are actually fiscal expansions, meaning they are not necessarily bad. 
Now nobody, or hardly anybody, thinks there's going to be a rate hike at the Sept. 21 meeting. The CME Group's Fed Watch tool, which gives the probabilities of policy changes based on where fed funds futures are trading, only shows a 15% probability of a rate hike. Ten days ago, it was at 33%. Even Goldman Sachs, which only one day ago said unequivocally that the Fed would raise rates at the September meeting, now says there's only a 40% chance. 
What do we do now? Obviously, we go against the current, prevailing belief because it'll inevitably be wrong again. 
Let's face it. The big shift in expectations came after last Friday's jobs report. Clearly, the 151,000 payroll jobs added in August were a disappointment; however, let's examine that. A friend of mine sent me a post from the blog Calculated Risk. The author showed how past August employment reports have been notoriously subject to revision. Since 2005 there have been 11 revisions, eight of them upward. 
For example, in 2011 the initial report showed zero job creation; however, that got revised up by 107,000. In 2012 the initial number was only 96,000, but that got revised upward by 94,000. In 2013 the initial number was revised up by 100,000 and in 2014 the upward revision was 76,000. There is a table of all August revisions going back to 2004 posted on that blog page. 
I'm just taking a wild guess here, but when 73% of the August revisions were upward, there's a good chance that August 2016 will be revised up, too. Don't you think? 
Then there was yesterday's ISM Services report, which elicited a hyperbolic reaction in gold and the forex markets. Gold shot higher while the dollar got slammed. The figure was 51.4. The market went crazy because that was less than the 54.7 reading the market expected and lower than July's figure of 55.5. Anything over 50, however, is still considered expansionary, so 51.4, while perhaps disappointing to some who wanted to see a higher number, nonetheless represents an expansionary situation. 
Yesterday I put up a post where I discussed how federal spending might be decelerating. I said it was too soon to tell and I needed more data, but if it was decelerating, it portended some trouble for stocks and the economy. Well, I have news to report: I got more data yesterday off the Daily Treasury Statement and it now looks like spending is back on trend. It seems the "dip" was related to a calendar quirk after all. That's when some major government expenditures for this year vs. last year (I look at year-over-year spending patterns) don't line up precisely on the calendar; however, after several days they adjust. 
If spending is back on trend, then I think it means current market trends remain intact, too, so you want to be in risk assets and selling safety. It also means a September rate hike is still in play.
At the time of publication, Norman had no positions in the stocks mentioned.