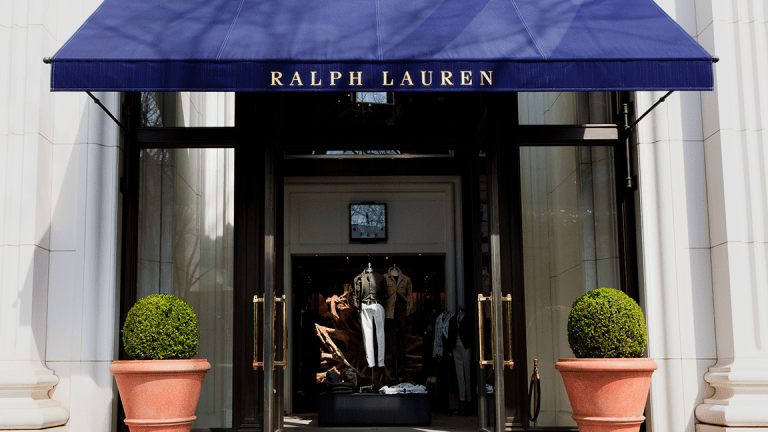 Ralph Lauren Stumbles Despite Earnings Beat
Ralph Lauren reports adjusted first-quarter above analysts' estimates but the stock is declining Tuesday.
Ralph Lauren's  (RL)  stock declined Tuesday although the company reported adjusted fiscal first-quarter earnings per share that beat consensus estimates.
The New-York based apparel maker reported first-quarter adjusted earnings of $1.77 a share vs. $1.54 a year ago and better than the consensus estimate of $1.67.
The American mid-range to luxury retailer said first-quarter total comparable-store sales in constant currency were up 2% vs. a loss of 3% in the same quarter last year. Analysts polled by Bloomberg called for a 3.2% gain.
Ralph Lauren said its home market saw softer digital performance in the quarter but its digital business refocus has been paying off overseas. International online sales surged nearly 10% last quarter, fueled by a 22% spike in Europe. 
The company saw stronger-than-expected sales in Asia (up 5% vs. 4.5% consensus), but missed in North America (up 1% vs. 2.3% consensus) and Europe (up 4% vs. 4.5% consensus).
Improving it "North America business against a more volatile backdrop" is the goal, said President Patrice Louvet in a statement.
The company expects second-quarter revenue growth of 1% in constant currency. Second-quarter operating margins ex-foreign exchange is expected to be up 40 to 60 basis points.
The stock was trading at $107.53, down 3.36%.
Save 76% with our Summer Break Sale. Subscribe to our premium site Real Money and become a smarter investor! Click here today to sign up!