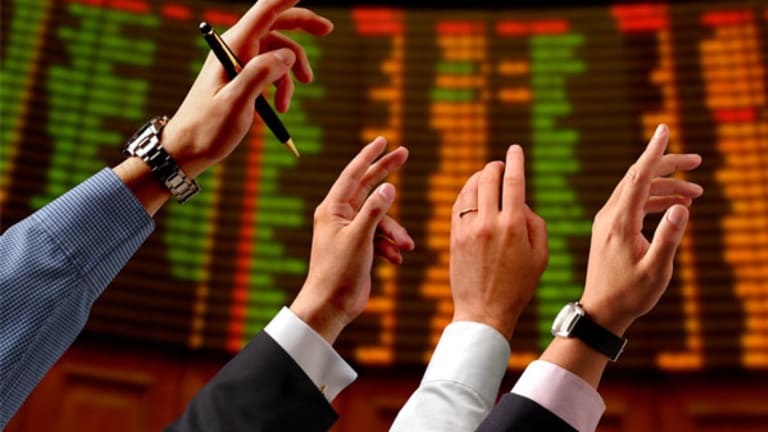 Rally Runs Its Course
How long can the rip-your-face-apart rally continue to unfold?
This column originally appeared on Real Money Pro at 8:27 a.m. EDT on June 11.
NEW YORK (
) -- On the morning of June 1, with the futures already down by 26 handles in the early going, I delivered the contrarian and variant view that we should be on the lookout for a
, citing Sir John Templeton, "The time of maximum pessimism is the best time to buy, and the time of maximum optimism is the best time to sell" (and technical analyst
the day before that, "When the time comes to buy, you won't want to").
A rip-your-face-apart rally could be, I surmised, the maximum pain trade given the broad de-risking by most investing classes.
With investor sentiment (individual and institutional) so downbeat, Wall Street strategists silenced and crestfallen (according to Mother Merrill, sell-side strategists are more bearish on equities than they were at any point during the collapse of the tech bubble or the recent financial crisis), expectations for worldwide economic growth and profits subdued, undemanding valuations, a five-decade high in risk premiums and a growing consensus view of "no way out" of Europe, the dour investment backdrop seemed to have the potential for a meaningful surprise to the upside for the U.S. stock market.
Ten days ago, I went through a number of conditions that could (either single-handedly or in a combination) contribute to a rip-your-face-apart rally.
Europe: A more activist ECB surprisingly intervenes (before markets force them) in order to stabilize the growing debt crisis. The ECB lowers interest rates, reintroduces SMP to support the purchase of weak sovereign debt, endorses a bank-chartered ESM and introduces a FDIC-like deposit insurance program for European banks. The concept of eurobonds floated by a heretofore reluctant 17-country constituency could also be a rally catalyst.
Greece: Two weeks from now, the Greek election will bring forth a pro-troika coalition. The election is followed by a less demanding austerity edict by European authorities.
QE3: The Fed hints of more easing in the days leading up to the June Fed meeting. Job growth is anemic in the U.S., stock markets around the world are plummeting, commodities are weakening, and the situation in Europe is unsettling (raising the risks of a deflationary shock) -- all of which are conditions for an imminent move by the Fed. (Indeed, the odds now strongly favor a near-term and synchronized monetary easing in China, Europe and in the U.S.)
U.S.: Economic data show renewed strength following May's uneven results. (For example, in times like this, we ignore some of the positives such as the lower price of gasoline, which could fuel retail sales in the period ahead, improve consumer sentiment and buoy corporate profit margins.) Another catalyst to the upside could be if the Republican Party gains momentum in the polls. (On Intrade, the likelihood that Obama wins the Presidency is down to about 56% from 62% a month ago. Today's jobs report is likely to result in an increased likelihood of a Romney victory in November.)
Mergers and acquisitions: One or two large, high-profile takeovers emboldens investors. (Corporations sell at large discounts to private market value. As evidence, to date in 2012, there have been 40 deals at over $300 million in market cap. The average takeover premium was 35%.)
Individual investors: Retail investors cease redemption of domestic equity funds and begin to reallocate funds into stocks and out of bonds.
Out of the blue: One day, with no news or provocation, the market ignites to the upside because all of the negatives are known and discounted.
Understandably, some of the most ardent bulls grew sheepish a week ago after the June 1 session saw the
S&P 500
fall by almost 3%.
Several observers were down right ghoulish -- for instance,
(hat tip
) suggested a Chicken Little economic scenario, featuring a Depression-like deflationary spiral that could lead to plunging asset prices that would end the economic world as we know it.
My call for a rip-your-face-apart rally was quickly met with skepticism from numerous quarters (on
Real Money Pro
, on Twitter, on message boards, etc.), but even as the S&P 500 threatened its 200-day moving average and even with individual stocks breaking down on June 1, the rally occurred almost immediately.
As the European news deteriorated last week, the market did what it does time and time again; it rallied in anticipation of another policy move intended to keep the sovereign debt crisis from expanding.
Indeed, it rallied hard and had its best week in months.
This Weekend's Announcements
Over the weekend, the Spanish banking industry was
, and on Sunday night S&P futures extended last week's spirited recovery in stock prices. (S&P futures were up 21 points last evening and are now only up 10 handles.)
Liquidity risk and the worst-case outcome in the eurozone has been temporarily thwarted, but solvency issues remain on the table and the heavy lifting of austerity lies ahead.
Spain will face
in the years ahead. The
essentially becomes another layer of sovereign debt and will do little to improve
its regional real estate markets
.
Indeed, Spanish yields are higher this morning despite the financing package announced on Saturday.
Moreover another European risk has emerged.
Will
Ireland
and Greece want a little of what Spain has gotten (in its
attached to the bank recapitalization)? Will Greece's socialist party hold Europe's leaders economically hostage? Will Germany view Spain (and the others) as engaging in
economic and financial blackmail
? And where do we go from here?
As BTIG's Dan Greenhaus wrote on Sunday, "Italy remains the elephant in the room, and while 100 billion euros is helpful to Spain, the EFSF/ESM are not bottomless pits, especially when more and more of the 'contributing' countries become 'receiving' countries."
Above all, let us not lose sight that
is far more unified and better structured than Europe, as our authorities moved swiftly to remedy our economic and financial crisis in 2008-2009.
We Are Muddled in So Many Ways
Our investment world remains imperfect, as my buddy/friend/pal
Thoughts From the Frontline's
John Mauldin
every week.
The world is engaged in the daunting challenge of executing a balanced deleveraging, consisting of monetary easing, austerity and restructuring debt, that has led to numerous bumps along the way. To combat this imperfection (and tepid global economic growth), central bankers around the world are easing.
Fortunately, all the risks (both here and over there) appear relatively well known and are reflected in multi-decade high risk premiums.
As mentioned previously, valuations are undemanding relative to corporate profits, interest and inflation rates, returns on investments and against private market values. By almost any measure (employment, PMIs, production, etc.), the rate of real growth in domestic economic activity is decelerating, but the deceleration is still (for now) a muddle-through trajectory. Lower prices for energy products and other commodities are not trivial factors in sustaining corporate profits and consumer spending.
At the same time, the sovereign debt crisis will drag on, with June being another crucial month in Greece (and elsewhere in the eurozone).
As I wrote late last week:
The challenge in the U.S. is that monetary policy has done almost all that it can do and the onus in now on fiscal policy, which will require a less divided and more cooperative Washington, D.C. Slow but positive growth in a muddle-through backdrop of +2% real GDP growth remains my baseline expectation.The challenge in Europe is for central bankers and leaders to get back in front of the monetary curve (which they have now fallen behind).Time is of the essence. The market is temporarily losing the trust that it's trying to win back, as individual and institutional investors have continued to de-risk. We see this in continued outflows out of domestic equity funds, inflows into fixed-income funds and record unfavorable ratings for our politicians (Republicans and Democrats).
2012 Might Be a Back-End-Loaded Year
Given the magnitude of the market's rally since the close on June 1, the ambiguity seen in recent domestic economic releases and the continued economic pressures and issues (and heavy economic lifting ahead) in Europe, I would expect stocks to mark time in the weeks ahead.
Nevertheless, for now, based on the
, my fair market value calculation for the S&P 500 (1455) is unchanged (representing about 9% upside).
I expect my S&P price target to be realized but that the 2012 investment year may be back-end loaded.
My base line case (scenario No. 4 with a 65% probability) is still in place, providing 15% upside to the S&P from current levels:
Scenario No. 4 -- Muddle Through (probability at 65%): The U.S. muddles through, with 1.5%-2.25% real GDP growth, and the European economies suffer a modest (but contained) business downturn. China's and India's economies grow in line relative to consensus forecasts. There is no further quantitative easing. Obama regains the White House, and the Republicans control Congress. The fiscal cliff is reduced by half (to $275 billion). S&P 500 profits for 2013 trend toward a range of $107-$109 per share as some modest margin slippage occurs (coincident with escalating inflationary pressures). Stocks, valued at 14.25x under this outcome, have 15% upside over the next nine months. S&P target is 1540.
The second most likely outcome (scenario No. 3 with a 25% probability) suggests that the market is about 3% overvalued:
Scenario No. 3 -- Below-Consensus Economic Growth (probability at 25%): The U.S. experiences a disappointing sub-1.5% real GDP growth rate, Europe experiences a medium-scale recession, and China's economic growth disappoints modestly relative to expectations. QE3 is initiated and has a modestly favorable impact on aggregate growth. Obama regains the presidency, and the Republicans control Congress. The fiscal cliff is reduced by less than half (to $275 billion-$350 billion). The S&P 500 profit forecasts for 2013 are reduced to levels slightly below 2012's results as corporations' pricing power is limited and profit margins are pressured, so S&P profit forecasts are cut back to below consensus of $98 to $100 per share. Stocks, valued at 13.0x under this outcome, have 3% downside risk over the next nine months. S&P target is 1290.
Doug Kass is the president of Seabreeze Partners Management Inc. Under no circumstances does this information represent a recommendation to buy, sell or hold any security.