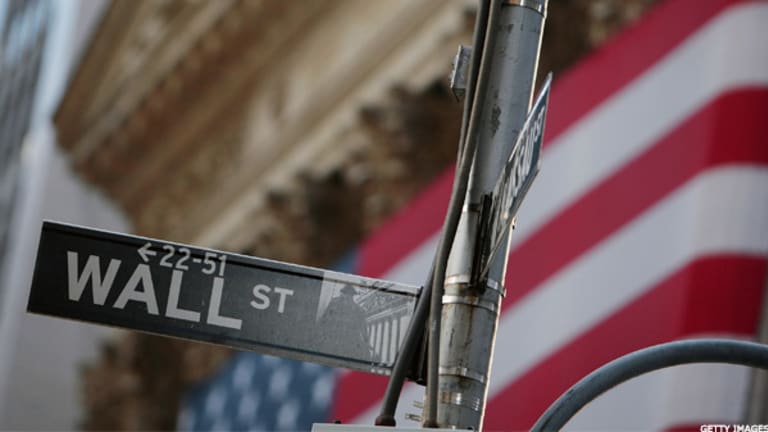 Railroads Are on a Fast Track, Thanks to Bakken Oil
Two companies in particular have cornered the market for the transport of crude oil from the Bakken shale region.
BOSTON (TheStreet) -- Among the biggest beneficiaries of the demand for transport of crude oil out of North Dakota's Bakken shale region are the owners of the two main rail links to the region, Canadian Pacific Railway (CP) - Get Canadian Pacific Railway Limited Report and Burlington Northern Santa Fe, which is owned by Warren Buffett's Berkshire Hathaway (BRK.B) - Get Berkshire Hathaway Inc. Class B Report.
The companies are exploiting the lack of pipeline capacity needed to ship the region's rapidly growing production of crude to refineries thousands of miles away and that demand is serving to more than offset expected weakness from their shipment of agricultural products due to the drought and lower coal shipments as utilities shift to burning the cheaper natural gas.
Oil production from the 200,000-square-mile Bakken basin, which extends into Montana and southern Canada, is skyrocketing, thanks in part to the use of hydraulic fracturing, or hydro-fracking, a process where a mixture of water, sand and chemicals is blasted deep underground to release oil and natural gas trapped within shale rock.
North Dakota recently became the second-largest oil-producing state in the nation, passing Alaska, and in May it pumped an average of 639,000 barrels per day, a 75% increase from a year earlier, according to the U.S. Energy Information Administration.
My recent visit to the Bakken underscored the importance of rail traffic to the region, as this projected long-term boom, still in its infancy, is in dire need of infrastructure to support it.
That means material for the build-out of roads, housing, pipelines and oil-storage facilities has to be shipped in, in addition to the pipes, machinery, chemicals and sand used in the hydro-fracking drilling process creating high demand for inbound rail traffic, while oil is being shipped out over the same rail network.
Because of the cost and time it now takes to get Bakken crude to the price point for the West Texas Intermediate (WTI) at Cushing, Okla., or to refiners in the Midwest or Gulf Coast, Bakken oil now sells at a discount of $5 to $25 per barrel to the benchmark WTI, a significant loss of potential income to producers.
But the outbound backlog keeps growing, such that more and more oil is being stored in the region as new storage tanks are being raised quickly.
About 62% of Bakken crude is shipped out of the region by pipelines now, while about 25% currently goes by rail and the balance by truck. That ratio will fluctuate as there are major projects under way to add capacity for both rail and pipelines, but the pipeline work in particular will take years to complete, giving the railroads a leg up for now.
Eventually, it is hoped that
TransCanada's
(TRP) - Get TC Energy Corporation Report
Keystone XL pipeline project, held up by the Obama administration on environmental concerns, will get done and a link to it from the Bakken will be finished and help alleviate the current bottleneck.
TransCanada said in a press release in May that it "expects to begin construction of Keystone XL in the first quarter of 2013, with completion slated for late 2014 or early 2015."
That would ease some of the pressure on rail traffic, but for now, though, rail still rules. In June, about 325,000 barrels a day were shipped out by rail, more than double the rate from at the end of the year, according to the North Dakota Pipeline Authority.
And the rail carriers are rapidly building on their capacity. For example, Burlington Northern Santa Fe said its recent $197 million investment in rail infrastructure has increased its hauling capacity by 25% over the past year, and it now expects to carry 89 million barrels of oil out of the Bakken region this year, up from 1.3 million barrels in 2008.
It reported that its volume of outbound oil railcar shipments jumped 75% in the second quarter from a year earlier.
BNSF has said that, eventually, it expects to have the capacity to ship as much as 730,000 barrels of crude daily out of North Dakota.
But that's not enough for the oil companies, which are going into the transportation business on their own. Last week, the international oil giant
Statoil ASA
(STO)
of Norway, now a major player in the region after paying $4.4 billion for the U.S. exploration and production firm Brigham Exploration last year, said it plans to lease 1,000 rail cars to ship its oil.
And, previously, refining firms, including
Tesoro
(TSO)
,
Marathon
(MRO) - Get Marathon Oil Corporation Report
and
Phillips 66
(PSX) - Get Phillips 66 Report
, have been either buying tank cars or leasing tank cars and in some cases dedicated "unit trains," including engines and tank cars, to move oil to their refineries.
Burlington Northern Santa Fe made up 14% of Berkshire Hathaway's 2011 revenue of $144 billion, so it's part and parcel of a much bigger story. Berkshire Hathaway's shares are up 10.4% this year, versus the
S&P 500's
13.5% gain. Its shares get two "buy/holds" and one "hold" from the three analysts that rate the company, according to S&P.
Berkshire Hathaway bought Burlington Northern Santa Fe in 2009 for about $26 billion, little more than a year after founder Warren Buffett paid a visit to the Bakken oil fields.
Canadian Pacific, up 23% this year and sporting an average annual return of 21% over three years, is more of a pure play on the railroad industry.
Activist hedge fund investor William Ackman and his Pershing Square Capital Management, which bought a 14.2% stake in the company late last year, has been successful in getting new management at the company, which is aggressively adding to its already significant Bakken presence.
Building on its base of 1,000 miles of track there, the company has said that within a few years it expects to increase its capacity to haul about 125,000 barrels per day from the Bakken or 70,000 carloads, from about 23,000 barrels per day in 2011.
Analysts' consensus estimate for Canadian Pacific is for earnings of $4.36 per share this year, and growth of 25% to $5.45 per share next year, said S&P.
Analysts give Canadian Pacific's shares three "buy" ratings, seven "buy/holds," 16 "holds" and one "weak hold," according to a survey of analysts by S&P.
Union Pacific
(UNP) - Get Union Pacific Corporation Report
, the largest publicly held U.S. railroad, lacks a direct rail line to the Bakken, but benefits from an interchange of rail traffic with Burlington Northern Santa Fe and Canadian Pacific systems to the West Coast.
A Union Pacific executive said on a July 19 conference call that the company's shale business is expected grow to about 400,000 carloads in 2012, or about double that of 2011.
Union Pacific's shares, up 14% in the past three months, or almost double that of the S&P 500, have an average annual return of 19% over the past five years, versus the S&P's 1.3%.
Union Pacific's shares get 11 "buys" and 10 "buy holds" from the 28 analysts who follow it, according to S&P. It's expected to earn a healthy $8.34 per share this year, and grow earnings by14% to $9.49 per share next year.
Disclosure: TheStreet's editorial policy prohibits staff editors and reporters from holding positions in any individual stocks.